21 May, 2018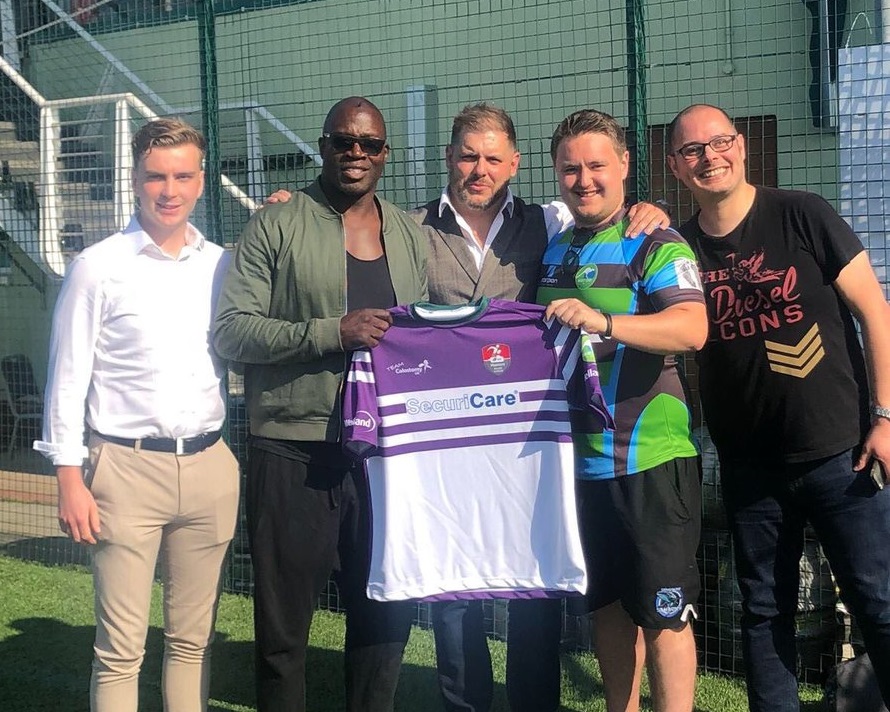 Sunday 20th May saw the much anticipated launch of our Team Colostomy UK Rugby League playing shirt,  and the announcement of Securicare and Welland as official sponsors.
Trailfinders Sports Club in Ealing West London, home to the London Broncos, hosted our launch with the shirt being unveiled to the crowd at half time of The London Broncos V Sheffield Eagles Championship fixture. London Broncos players Api Pewhairangi, Ben Hellewell, and Daniel Harrison were photographed with the new shirt as was Rugby League Legend and Former London Bronco and Great Britain International Martin Offiah
Robbies Roos were also revealed as a partner of Team Colostomy UK RL and their logo will feature on the shirt sleeves.
Our Team Colostomy UK RL  initiative aims to use Rugby League to raise awareness of what is very much still a misunderstood condition, and is part of our bigger Active Ostomates project which encourages ostomates to return to being active after surgery.
The new shirt will be worn for the first time when Team Colostomy UK RL face Medway Dragons Masters at Medway Park on July 21st as part of an Active Ostomates family day.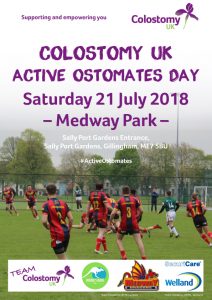 On behalf of Securicare Brand Marketing Executive Billy McLintock  who was in attendance for the launch said, "SecuriCare is delighted to be involved with this fantastic project – it's great to see so many ostomates demonstrating that having a stoma isn't a barrier to achieving anything you want. We are looking forward to cheering the team on at their debut on the 21st July!"
Giovanni Cinque from Colostomy UK commented 'it's great to have Securicare and Welland on board as official sponsors of our playing shirt. Their support has allowed us to produce a  fantastic looking kit which we can't wait to wear for the first time this July."
There is still plenty of time to get involved with Team Colostomy UK RL as a player, supporter, or in an off field position. To find out more email giovanni.cinque@colostomyuk.org call 0118 939 1537 or visit the Twitter feed at @teamcolostomyuk