12 April, 2019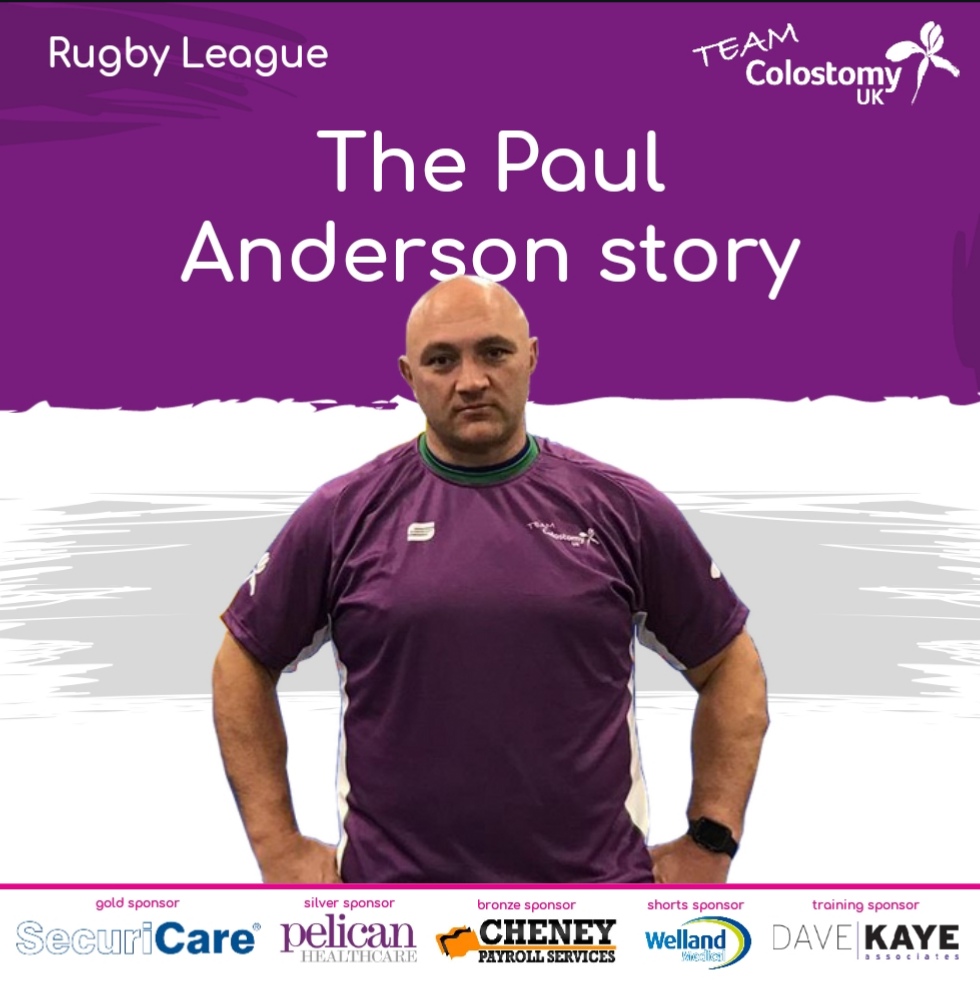 The last year or so has seen some hugely positive inclusive rugby league stories. Following the huge success of Physical Disability RL, we have seen the launch of Learning Disability RL teams. Such enlightened developments are driven by league-lovers affected by such challenges. Most are people you have ever heard of. But occasionally, someone involved can grab the public's attention. In the case of the Colostomy UK RL team, they can now reveal a high-profile figure to draw the spotlight on their cause.
Paul Anderson played five times for England and ten for Great Britain in an illustrious career that brought a string of honours in eight years at Bradford Bulls. Remarkably, all of which were won shortly after 'Baloo', as he is known to all in the game, had a colostomy – also known as a stoma
For those of you who are aren't familiar with the terminology, stoma surgery is used in the treatment of a range of conditions including cancer, Crohn's disease, colitis and diverticulitis, or following abdominal trauma. It involves diverting the bowel or bladder through a surgically created hole – known as a stoma – in the abdomen, so that bodily waste can be collected in a bag. People with stomas are often referred to collectively as ostomates, of which is estimated that there are around 120,000 in the UK, that's about one in 550 people. It's not just an old person thing: babies, women, boys, girls, and even professional athletes have the surgery.
In the 1993-94 season, when Anderson was an exciting young prop for Halifax, he developed an abscess in his bowel which refused to heal. The unpleasant, debilitating symptoms grew progressively worse over 18 months until he was pretty much incontinent. The physical and mental toll was considerable and by the end Paul says he was desperate.
"I'd had a fistula in my bowel for a good 12 months and I'd had enough, " recalls Anderson, now in charge of the Under-19s at Warrington Wolves and head coach of England Knights. "Every time I went in to hospital I was told 'See you in a couple of weeks' but there was no improvement. I decided to change specialists and get a second opinion from a professor in Leeds. He said I had two options: carry on as I was or have colostomy surgery. He made the decision for me really. I'm pretty black and white, so that suited my personality. It was a no brainer: I had the surgery. It is what it is, a means to end. It was the quickest route from A to B. If anyone asks me now I'd say 'don't hesitate – do it'."
In June 1995 he underwent stoma surgery. The idea was that by forming a temporary colostomy, the bowel would be given the time it needed to rest and heal. "I was mentally fine about having the surgery because there was predetermined time when it would be reversed. I never felt my worldwas caving in. It was a temporary stall on my career – I was always going to get back. The Professor said it would be done between six and 12 months and it was actually seven or eight."
In a sign of the times, despite being a contracted first team player, former Leeds junior Anderson was only on a pay-as-you-play contract. He was full-time with no other job. Having no income was just part of a potentially disastrous set of circumstances.
"I had two years out from rugby so no wages coming in as I had no day job," explains Baloo, now 47. "Lisa and I had just bought our first house and we were about to get married, so it was very stressful. I actually got married with a stoma! Looking at the photos, you wouldn't think anything was wrong, though. When I look back now I think of our mind-set and how it made us stronger. Lisa was massive. She was so supportive, both emotionally and financially."
The immediate aftermath of the operation was deeply unpleasant – "I was coming off the morphine and wrenching every few minutes – I assume it was like childbirth: pain you soon forget!"
Anderson is also still appreciative to the support shown to him by the Halifax club, who stood by their giant man. "I was under no pressure from Halifax. They were very supportive and just said 'Get fit to play'. Who knows whether a club would be the same now, given the salary cap and all the other factors."
Once he was back from his colostomy surgery, Anderson was then out for another three months with a shoulder injury which also required knife work, during which time his career – and life – to a major twist.
"I did my shoulder after a couple of games back. One of those was against Bradford. I'd had a good game and I understand their coach Brian Smith had tried to sign me. While I was out, our coach, Steve Sims, got sacked. He was the only thing that was keeping me at Halifax. When Matthew Elliott took over at Bradford, he followed it up again and it was my call. So I went."
That was 1997, a few months after Anderson had been side-lined for two years and got married while attached to a stoma bag. In two years he had reached a Super League Grand Final and been capped by Great Britain against Australia, another two and he had played in a World Cup for England, won the Grand Final and the World Club Challenge. By the time moved from Odsal to St Helens, Anderson had played in five Grand Finals at Old Trafford, winning twice. He added another Super League ring to his collection in his final ever pro game, completing the double with Saints in 2006.
Colostomy surgery is often a lifesaver or improves lives. It definitely changes them. People have to learn to live with their stoma and how their body looks and functions. Ostomates have to learn to endure the stigma of having a 'bag', from negative media portrayals to cheap gags which add to the mental and physical demands of major surgery and illness. The impact of public ignorance, inadequate public facilities, post-op body image and stoma management can have a longer term effect. Mental health can suffer. Some ostomates even feel suicidal. Others become isolated and shun social interaction. But Anderson is able to look back quarter of a century and be glad he had it.
"Having the stoma probably gave me perspective that actually helped me in my career," admits Anderson, who went on to have huge success as Huddersfield Giants coach. "As I retired and moved into coaching, and got the sack inevitably, I was able to manage those situations better than some do. It was obviously stressful but it definitely kept things in perspective. I know a lot of stories and in times of adversity, when things go against you, I can reflect on what I went through and take notice of what I've got rather than what I've lost."
This year 13,500 people will undergo stoma surgery. They will be frightened and fearful of the future. Many will feel desolate and without hope. Some of them will be rugby league fans, others will be current players. That is why Colostomy UK set up 'Team Colostomy UK' their own team last year, playing games at Medway Dragons, South London Silverbacks and Featherstone. Current professional players Ben Kaye of Halifax and Jy Hitchcox from Bradford Bulls are on board, and they may even get Baloo to make a guest appearance.
"I'm not sure I'm ready to pull the boots back on but I'm committed to help anyone I can help out there. When I saw on Twitter that Colostomy UK had a team I thought 'really?!' It's unbelievable as it's not that well known out there. I told them I was a former patient and if I can help the issues become more recognised, all the better. Anyone who plays with a stoma, or the PDRL team, or have anything wrong but just get on with their life, I have the utmost respect for. Most people without any physical challenges just take things for granted.
Written By Gavin Willacy, Richard Biddle & Giovanni Cinque.
Read the full story in 40-Twenty magazine. Available now in WH Smith's and all good newsagents.