27 September, 2019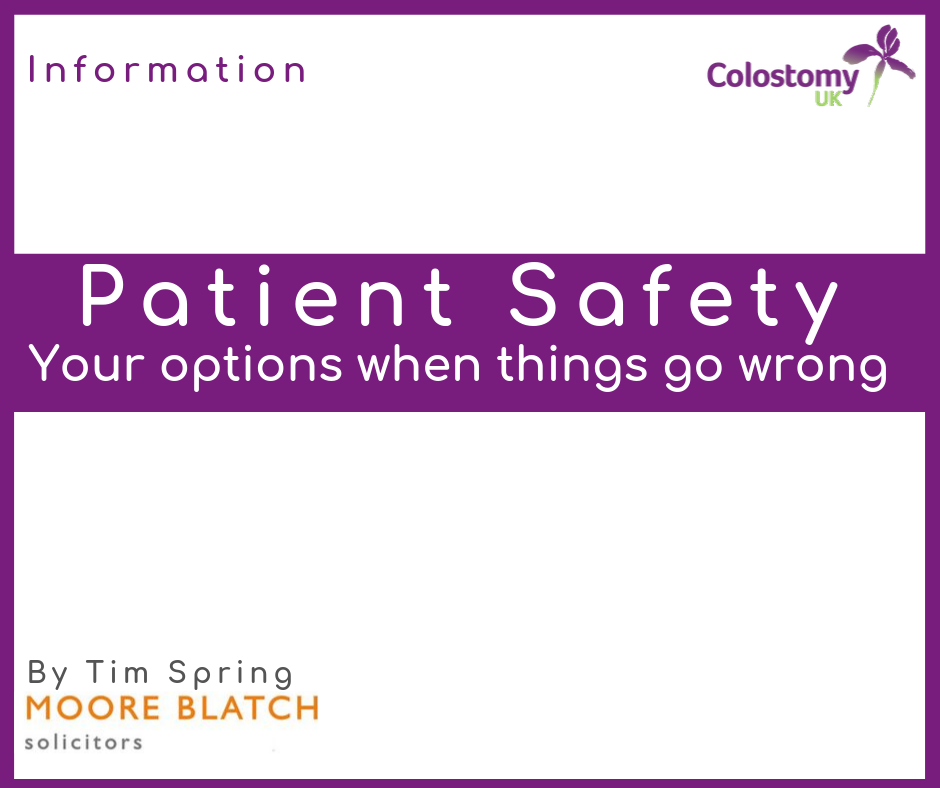 Ostomates each have their own story to tell, and most have nothing but praise for those responsible for their health care, but sometimes things go wrong. When they do, my many years spent as a solicitor investigating serious clinical errors for the NHS provide a great resource when deciding what advice to give.
For the overwhelming majority of patients, a colostomy, ileostomy and urostomy will be the only and inevitable consequence of illness, but that is not the case for a significant  minority of patients. For many, appropriate and timely medical care could, and should, have led to a different outcome.
Delays in diagnosing cancer, surgical errors and delays in treating abdominal infection can all lead to a stoma. Failure to properly diagnose and treat bladder cancer in an adult, or failure to identify occult spina bifida in an infant can lead to a urostomy. Appreciating that a different outcome was possible is often not recognised for some time, or at all.
In recent years learning from errors to prevent harm in health care has taken centre stage. Whether it is the World Health Organisation, the Royal Society of Medicine, the Royal Colleges of Medicine, the General Medical Council or the British Medical Association, the emphasis on learning from error is now accepted. Our own Health Secretary has made this a key objective, recognising that every complaint or claim for compensation, contributes to the creation of data from which our NHS can learn.
Patients that have come to harm as a result of poor care usually want four things: an explanation, an apology, an assurance that lessons will be learned and fair compensation.
The patients I represent cherish the NHS and want it to be the best it can be, demonstrating altruism in the most challenging of personal circumstances.
What options do you have when things go wrong?
If there is an aspect of care which you are unhappy about, the first step should always be to raise your concern with those treating you.  Since 2014 the NHS has been subject to a duty of candour and you are entitled to a frank explanation.
You can involve the Patient and Liaison Service (PALS).  There is a PALS office at most hospitals and this is usually open during normal working hours. Their service can help address problems when you are using the NHS.  If that does not resolve the issue, you can make a formal complaint. Your letter should be polite, focused, succinct and the paragraphs numbered to make it obvious if a particular point is not responded to. Also, make sure you request a written reply.
Although the complaint process may be a useful tool in understanding what went wrong, seeking legal advice straight away may be the appropriate option when substandard care may have resulted in serious harm and/or a life changing physical or psychiatric injury. Redress can only be achieved through making a claim for compensation.
The thought of taking legal action can be daunting. The majority of patients who suffer harm do not seek legal advice, either because they are concerned about the cost or because they simply think they will have no chance against the machinery of the medical profession. Some worry about whether or not making a complaint, or bringing a claim, may adversely affect the care they will continue to need.  Although this is an understandable fear, my colleagues and I have never seen this happen.
The cases are often lengthy and complex, so choosing a specialist clinical negligence solicitor is essential.  Do not be frightened to ask questions about the solicitor's experience of investigating a case like yours and do not hesitate to ask about the firm's success rate.  The best solicitors are familiar with medical experts with a national and often international reputation, many of whom are leaders in their respective fields, who they will retain to work for you.
To successfully pursue a clinical negligence claim it is necessary to prove two things.  Firstly that care fell below an acceptable standard and secondly that in doing so injury, or a delayed recovery, resulted.
The process involves obtaining all your medical notes and records, information from you as the patient, the instruction of independent experts and the careful formulation of a letter of claim, to which the  defendant is obliged to respond within four months.
Only after this period has expired is it generally appropriate to commence legal proceedings. The overwhelming majority of cases are settled without reaching the door of the court, but the best guarantee of success is intense preparation with the objective of proving each and every allegation that may properly be made, so that it becomes clear to everyone at the earliest possible stage that a settlement must be achieved. The best way to avoid a trial is, therefore, to prepare as if one is on the horizon.
In addition, cases have to be properly funded and the overwhelming majority of clients are assisted with the benefit of a Conditional Fee Agreement (no win, no fee). This is the mechanism through which patients of ordinary means use to be on an equal footing with the other side in terms of financial and medical resources.
There are time limits that must be met to bring a claim.
While there are some exceptions, generally you need to bring a claim within three years of the date you knew, or ought to have known, that an injury might be attributable to an error. In the case of a child, the time does not start to run until they reach the age of 18.  However, it is better to consult a solicitor at an early stage before memories fade and any documentary evidence is lost.
Whether you think you have a complaint to make, or possibly a claim, a good solicitor will happily provide free advice as to your likely options, so do not hesitate to seek their legal expertise.