15 September, 2020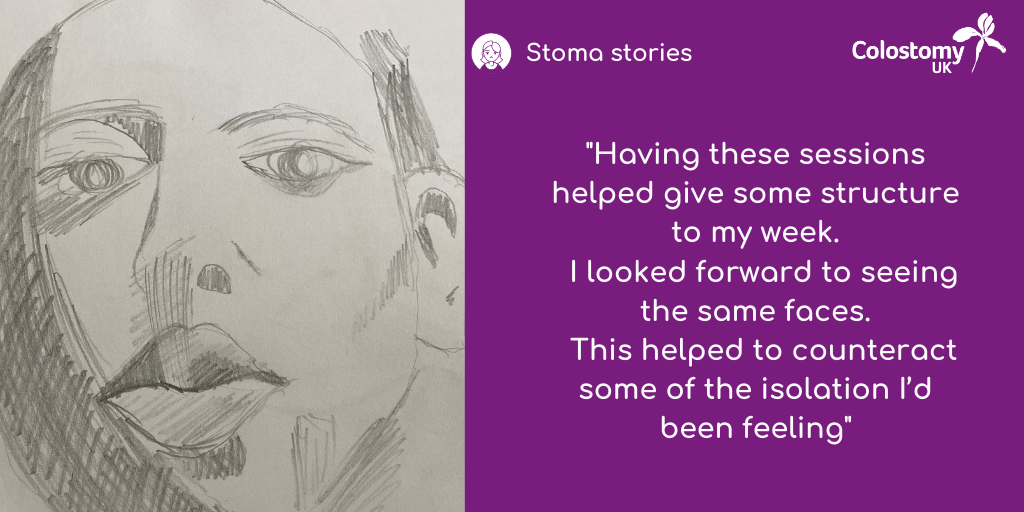 Samantha tells us how our Active Ostomates: at Home classes have benefited her
"Lockdown has been a challenge for all of us, to say the least.  Isolation from others and a lack of structure and routine has been difficult for me.  When I saw beginners' art sessions advertised on Colostomy UK's Twitter feed, I jumped at the chance to participate.
I've been lucky enough to get a place on eight art sessions so far, with more coming up, as they have proved so popular. Louise, our teacher, has been wonderful.  She is welcoming and relaxed, teaching us different drawing techniques from scratch. Being no artist but a bit of a perfectionist, I worried I would be no good at it, but there was no pressure on us to show our drawings, although we could do so if we wanted to.
The first set of sessions were mostly about drawing plants, focus sing on lines, shadow, negative space and shading.  I must admit I found some of the tasks difficult, but Louise is patient and encouraging.  The second set of sessions focused on drawing faces, which I really enjoyed.  We benefited from the previous sessions' groundwork and could build on the techniques we had learnt.
Having these art sessions in my diary helped give some structure to my week.  I looked forward to them and seeing the same faces each week.  This helped to counteract some of the isolation I'd been feeling.  Whilst we mostly drew in silence, I felt a sense of quiet companionship during this very strange time of Covid 19.
Chair yoga was advertised next, and once again I was excited to get involved.  Since getting my stoma I have been concerned about developing a parastomal hernia and so I often avoid mainstream exercise classes.  The fact that these classes were specifically for ostomates reassured me that the exercises would be suitable.  At the beginning of the first session we had the opportunity to let Lisa, who runs the class, know if we had any illnesses or injuries and she let (and continues to let) us go at our own pace.  We start off with relaxation and breathing exercises – for someone with a very busy brain, I do find it hard to switch off, but it's nice to be guided through this and almost be 'given permission' to relax!  Then we do some stretching and gentle yoga movements and poses involving the head, neck, arms and spine before moving onto some exercises in a standing position that work on balance and strength. The sessions end with a bit more relaxation whilst listening to some music.
I am only on session two of 12 and am really enjoying it so far.  I recognise some familiar faces from the art classes too.  After the sessions I have felt both energised and relaxed, my joints feel more supple and I feel like I've done a good workout, despite the moves being very gentle.  I would say these classes cater for all ages and abilities and Lisa is very approachable and friendly and would be happy to suggest an alternative movement if someone has limitations.
I am so grateful to Colostomy UK for putting on these sessions for ostomates.  They are really benefiting both my mental and physical well being and I would encourage ostomates of any age or artistic ability or 'bendiness' to give them a try!"
To find out more about our Active Ostomates: at Home sessions visit https://www.colostomyuk.org/active-ostomates/