15 November, 2023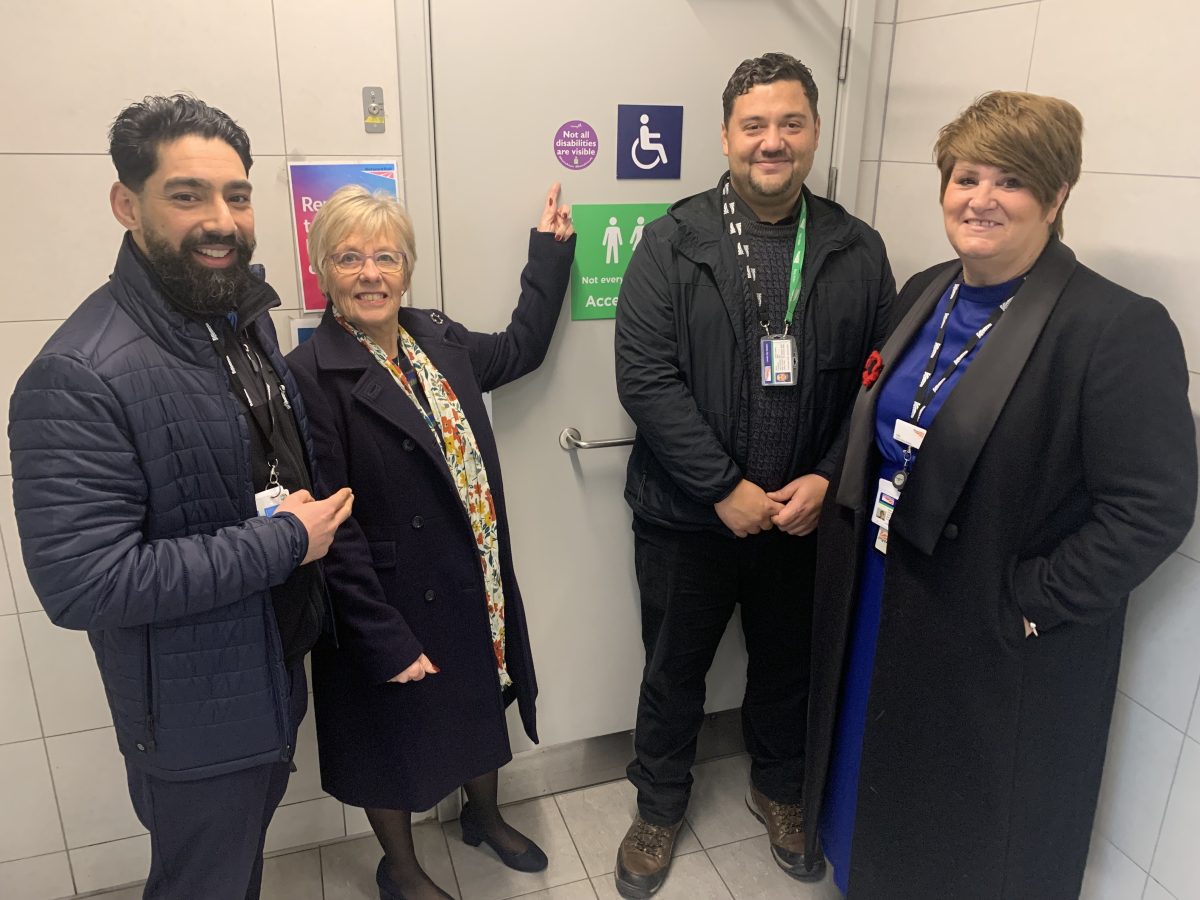 Network Rail and Colostomy UK are delighted to announce that Leeds Station has followed several London stations including Paddington and Liverpool Street in offering Stoma Friendly facilities following upgrades to all accessible toilets at the station.
Leeds is a vital transport hub for the North of England, and the third largest Network Rail managed station outside of London, with nearly twenty million passengers using the station in 2022.
Over 200,000 people in the UK are living with stomas, and accessible toilets often don't include features that allow people to change their stoma bag in a safe and clean environment or that make the process easy. The accessible toilets at Leeds Station are Stoma Friendly because they include the following:
Hooks to hang personal belongings,
Shelves to provide a clean surface where people can put their medical supplies,
A bin inside the cubicle to dispose of used stoma bags discretely, and
A full-length mirror which enables people to view their stoma while changing their bag.
Signage on the door reminds people that not all disabilities are visible, which has been shown to reduce any hostility towards those who are using accessible facilities with a hidden disability.
Julie Swift, Network Rail Station Interface Manager North, and Eastern route (Pictured with Jamie Clarke Shift Station Manager, Jane Jones Colostomy UK volunteer, Shazad Hussain Shift Station Supervisor) commented on the upgrades.
"We want Leeds station to be welcoming for everyone. Stoma friendly toilets enhance our offering providing an inclusive and safe environment for those who need it, encouraging the many thousands of people living with a Stoma in West Yorkshire and Beyond to travel with confidence"
Giovanni Cinque, Marketing & Campaigns Manager at Colostomy UK said.
"We're delighted that Leeds Station has adopted Stoma Friendly facilities following on from London Paddington, Liverpool Street,  Charing Cross, Canon Street, and the Southeastern station Network.
Results from our 2022 Stoma Aware survey revealed that 62% of respondents believe a lack of suitable toilet facilities is impacting on their day-to-day life, discouraging them from many of the activities much of society takes for granted, so these upgrades will encourage people with a stoma to use Leeds Station with confidence.
We are thrilled with how the city of Leeds has embraced our campaign this year, with the Council, White Rose Centre, Kirkgate Market, and Trinity Leeds, amongst the venues that have become Stoma Friendly, and there are more announcements to come!"
For more on Colostomy UK's campaigns please visit https://www.colostomyuk.org/campaigns/