18 July, 2018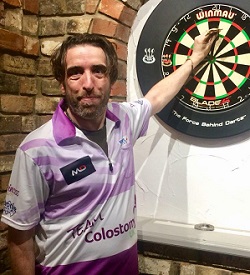 Introducing Julian Whitehouse, the newest member of Team Colostomy UK. Julian tells us his story.
Name – Julian 'The President' Whitehouse
Age – 41
Home town – Sutton Bridge Lincolnshire born in West Bromwich
How did you get the nickname – Because of the surname
Darts used – either razor edge 26g or Paul Hogan 24g
Walk on music – A personal mix (made by myself) starting with the US national anthem into American Idiot (Greenday) finishing off with United States of Whatever (Liam Lynch)
Shirt design – Colours inspired by Team Colostomy UK (Thank you) and Fremantle Dockers (AFL) with work logos (Emotive sound and light and Princess theatre Hunstanton), Maximum Darts (Local darts promoter) and Red Lips Design (Who made the shirt reality)
First started playing – 2005 when I first moved down to Odiham in Hampshire
Hours practicing– Not as much as I like but do try to get as many league and competitions in as possible
Practice routine – 5 minutes bullseye to focus in then doubles round the board and 501 v computer at a higher level than myself.
Biggest achievement – reaching the regional finals for a national competition.
Darts heroes – BDO Paul 'Crocodile Dundee' Hogan and Scott 'The MOD' Baker. PDC Jamie 'Yozza' Hughes and Simon 'The Wizard' Whitlock
Frustrates you about darts – Not being able to play at the ability I know I can following my operation (Its coming back slowly with hard work and dedication)
Advice to other players – Relax and enjoy the game. (Even if your losing)
Ambition – I want to hold a charity game at lakeside (home of British Darts) with a team of OstoMATES v a PCUK team. I'm sure we could pull this off.
Likes outside of darts – Avid fan of West Bromwich Albion and generally any sports. Music and photography
How did you get your Colostomy – I was going through life as normal then around Christmas 2016 I found myself constantly wanting the toilet. I was going but just straining. In the February I went to the doctors who referred me to the hospital. After the consultation I was diagnosed with rectal cancer in April 2017, by June I was booked in and had my Colostomy. In the September I started Chemo which finished April. I was getting told off by my Stoma nurse (Gill Skipper) for pushing myself so hard post surgery. After 2 weeks I was desperate to get playing darts and was playing (Sorry Gill).
I am in a position where a reversal would probably only have a very low chance of success. I am proud of my progress and the things I've learned about having a Stoma. In the short time of having it Gill has been more than impressed with what I've learnt and even been recently to have pre cut bags reduced in size. Gill has to confirm this for the prescription to be changed.
I would like to thank all who's been involved during the past year and half for their various roles. Dr A Rudd, Gill Skipper, Caz (my wife) Mr Z Kahn and all the staff involved at QEH King's Lynn.