23 January, 2019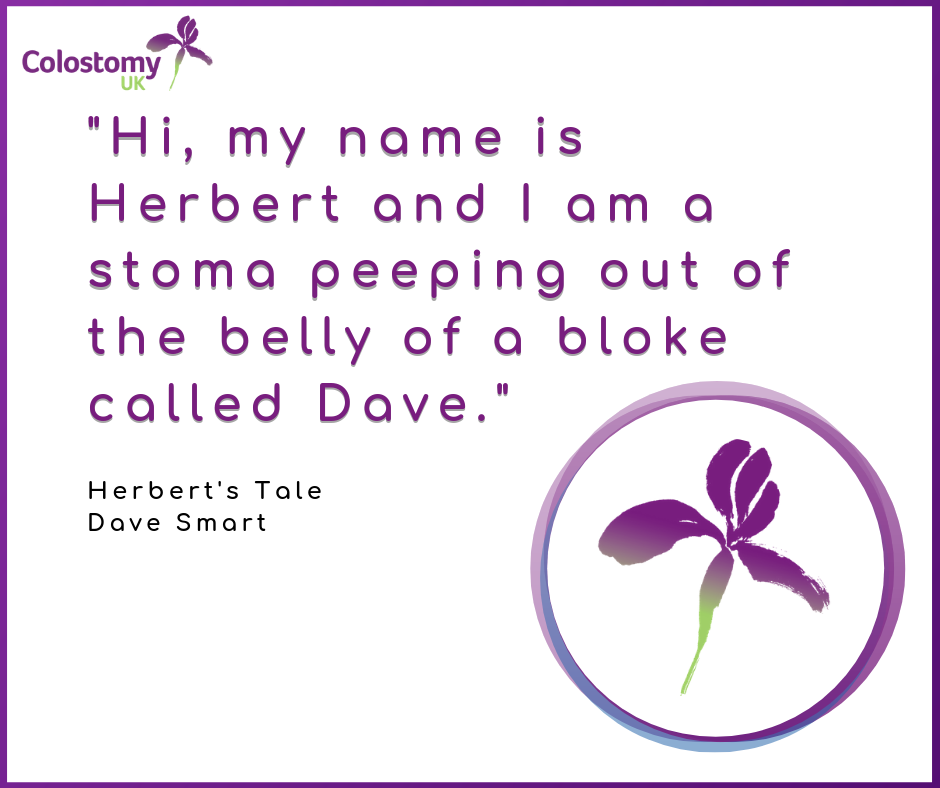 The year is 1977, James Callaghan is Prime Minister, the F1 grand prix at Silverstone is won by James Hunt in a McLaren-Ford, Red Rum wins the Grand National for the third time and our Queen becomes a grandmother for the first time when Princess Anne gives birth to a son.
The 14th November 1977 was when I first saw the light of day.
Hi, my name is Herbert and I am a stoma peeping out of the belly of this 33-year old bloke called Dave.  My mate the rectum has gone, pity I was quite attached to him. He is probably in a jar of alcohol on a laboratory shelf somewhere.
Why Herbert you ask, well I was named thus by a lovely New Zealand matron on the ward at the Royal Berkshire Hospital (RBH) in Reading. Every day she would come to see how I was getting on, raise the bed sheet and say how's Herbert doing today mate, and the name stuck.
Unfortunately I wasn't doing too well. Christmas dinner went down and promptly came up again, apparently something had stuck to something else and on the 1st January 1978 they had to open us up again.  Dave is down to 8st 4lb from his usual 10st 7lb self.
However, the second op was a success and we continued to improve.  After 6 weeks in the RBH we were transferred to a cottage hospital in Henley-on-Thames for a week's convalescence .  Dave will tell anyone who will listen, and those that won't, how he proudly walked down to the local shop to buy chocolate (his weakness) and thinking, here I am out and about with a colostomy and no one knows!
He had mixed feelings when told we could go home, after 7 weeks in hospital. I think Dave was starting to get institutionalised. However everything was fine and he continued to grow stronger and gain weight. By June he returned to work, (he is a Clerk of Works on construction sites). To celebrate Dave bought himself a motorbike and on the first ride out he didn't wrap me up, not even a bag cover, so I got really cold.
He got a nice lady to make me a couple of bag covers, one with a double layer of material on the outside with an open end at the bottom so one can slip in a piece of windproof material. It works a treat, ideal for cold days out.
Life continued, with work, holidays, motor biking, days out etc., everything was going along fine until :-
The year is 2004, Tony Blair is the Prime Minister, the F1 grand prix at Silverstone is won by Michael Schumacher in a Ferrari, double Olympic gold medalist Kelly Holmes is named as this year's BBC Sports Personality of the Year and the first Harry Potter film is shown on BBC One.
On the 24th July we were back in the RBH with our second dose of cancer and another big operation. This time my mate the colon was reduced to about 200mm long.
By 3 August we were home, no 7 weeks stay this time. At age 60, it took Dave a while to get over this op, fortunately his employer paid generous sick pay and Dave returned to work part-time after six months, he recalls getting home at lunchtime and promptly falling asleep!
He returned fulltime by mid-March, still tired, but on the road to full recovery.  He bought himself another motorbike, a Triumph this time, but it wasn't fast enough so it went. By the age of 65 and a bit he retired to enjoy a life of rebuilding old motorbikes, holidays, days out and volunteering at a local railway museum.
So what has he learned after 40+ years with a colostomy:
Ensure that the bag is warmed up to make it softer and pliable. This can be done by placing it close to, but not on, a radiator or, failing that, place it under your armpit until it warms up.
Ensure that the skin around the stoma is clean and dry.
Smear a smidge of vaseline inside the bag to help the contents slide down and prevent pancaking. This is best done by wiping a finger around the jar then transferred into the bag.
A few squirts of a lubricating deodorant in the bag via the outlet once the bag is on, helps to tackle odours. He uses the above in the day and a few drops of Eucalyptus Oil at night instead; it keeps the cost down for the NHS.
If you are concerned about possible leakage around the flange, try using 25mm wide tape, half on the belly and half on the flange at the point where it might start to leak.
A bag cover is a good idea, as described above.