18 October, 2019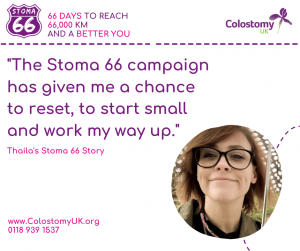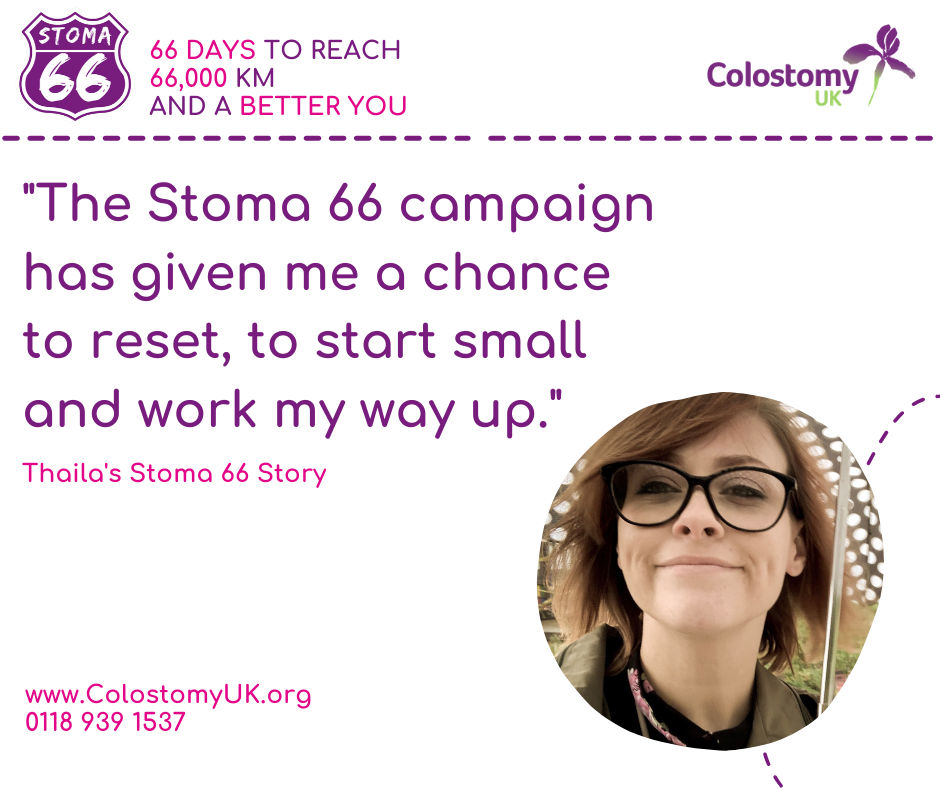 Thaila gives us her overview on why she had her stoma formed, why she wanted to get involved with our Stoma 66 challenge, and the benefits of regular exercise.
"I was diagnosed with Crohn's disease in November 2009 after a very quick deterioration of my health. In March 2010, my bowel perforated after a colonoscopy and I had sepsis. I had emergency stoma surgery and I was initially given two stomas (an end ileostomy and a mucous fistula). In May 2016 I had a second surgery to take down the ileostomy and to turn the mucous fistula into an end colostomy.
While I have never been one to go to local support groups, I had been quite vocal about having a stoma on social media by posting videos about it and sharing my experience. Over the years, Colostomy UK have continued to support and share my videos, and I've been so excited to see their presence on social media grow more and more to reach more people – both ostomates and the general public. In more recent years, I've been a huge fan of their campaigns to educate the public about stomas and their efforts to create better facilities for ostomates. They offer so much support and information, and I feel like they've always got our back when it comes to speaking out in the media.

My personal fitness has been quite on-and-off. When I'm feeling my usual 100%, I would do HIIT (High-intensity interval training) three or four times a week, but this year my health hasn't been the best, and so I've found it really difficult to commit to my usual workouts. It was starting to bring me down,  but the Stoma 66 campaign has given me a chance to reset, to start small and work my way up. Instead of feeling guilty about not doing my workouts, I've been excited about my daily walks, and especially during autumn because it's my favourite time of year for walking…not too hot, not too cold, and beautiful views!
Since starting Stoma 66, it has given me back my love for walking, taking time to think, reflecting, and also taking the opportunity to capture some lovely photos while out and about! As I mentioned, my health hasn't been great this year, both my physically and mentally and so taking time to be active is basically a bit of self-care.
I wanted to share my Stoma 66 journey because I remember the fear and uncertainty when I first had my stomas. I didn't know if I'd be able to be active, or even if I would ever have the confidence to leave my house! I remember the feeling of absolute elation when I made my first walk to the corner shop and back after stoma surgery,it was like I'd ran a marathon!
I want others to feel that same wonderful feeling. To know that they can go out and about after having stoma surgery. To know that they don't have to feel isolated. To know that they can slowly increase their level of fitness and to listen to their body. To know that it may take time, but you will get there, and to know that there are others out there who have walked that same path you are on, and that they're not alone on their journey."
Did you know our sport & fitness after stoma surgery booklet is full of hints & tips to get you active after surgery. From team sports to exercises you can try in your own home. Download your copy here: https://www.colostomyuk.org/wp-content/uploads/2018/06/Active-Ostomates-Sport-and-fitness-after-stoma-surgery.pdf 
Colostomy UK also offer a range of 'Active Ostomates' activities through support groups. To find out what's happening near you call us on 0118 939 1537 or email info@colostomyuk.org