18 October, 2021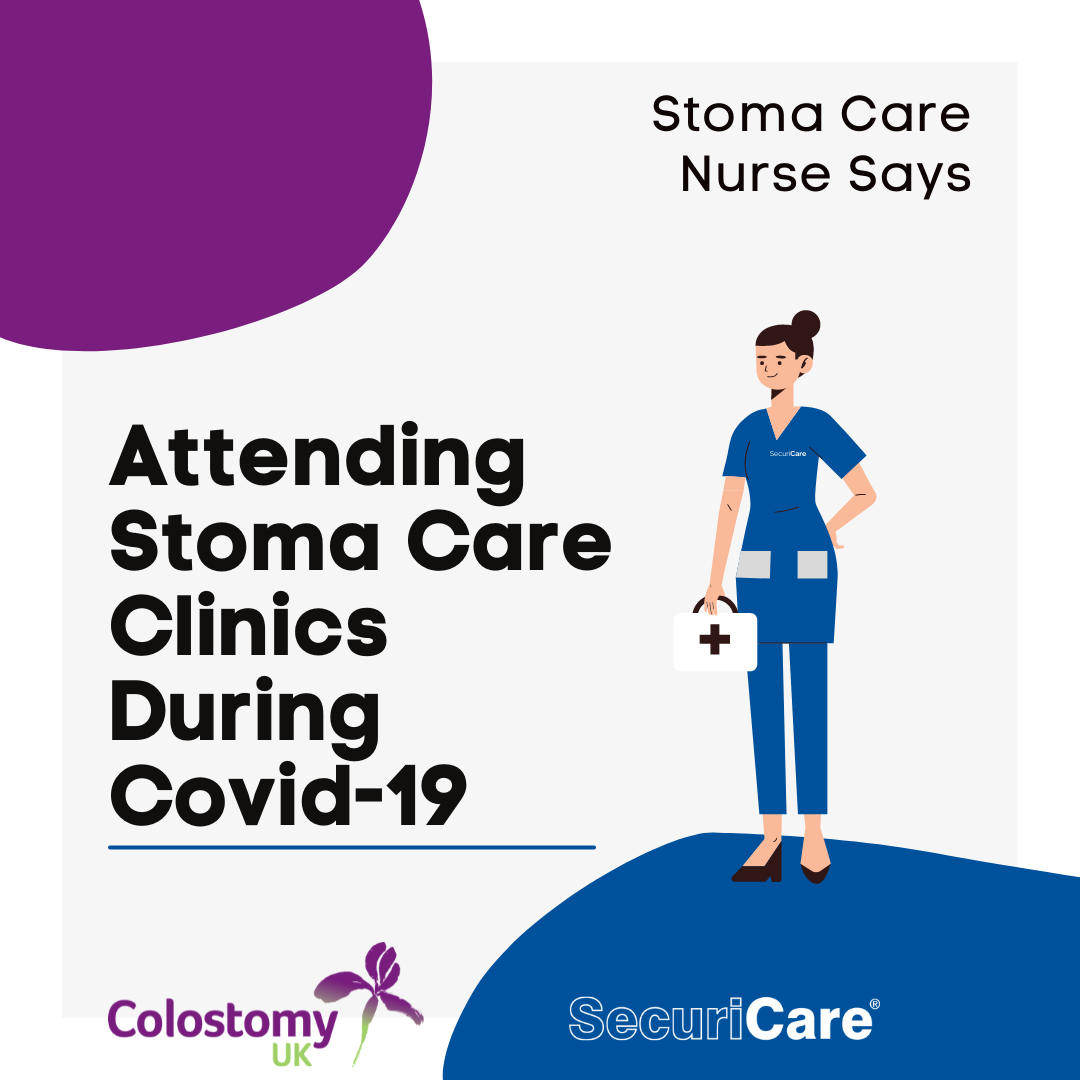 We have teamed up with SecuriCare a to bring you our 'Stoma Care Nurse Says' blog series. In this series, SecuriCare's Stoma Care Nurses will be giving you specialist advice about caring for your stoma.
In this blog, a Stoma Care Nurse discusses 'Attending Stoma Care Clinics During Covid-19'…
It has been a tough year for all of us during the Covid-19 global pandemic. Lots has changed and that includes my role as a Stoma Care Nurse.
As Stoma Care Nurses (SCN) we have had to adapt how we work to continue looking after everyone with a stoma, including those who have had their stoma for years, months, days and those who are yet to have their stoma surgery.
Lots of the changes we've had to make as nurses have been made to reduce contact and transmission of the virus, these have involved reducing face-to-face hospital and community clinics. We now do more phone and virtual methods such as Skype, Facetime or WhatsApp – whatever works best for our patients.
Any interaction with your Stoma Care Nurse is important, even if it's virtual.
If you are offered a phone or virtual call instead of your regular face-to-face appointment, you should still attend. It's important that your Stoma Care Nurse has the opportunity to:
• Discuss the condition of your stoma
• Assess your needs
• Review what products you're using and how many of them
• Answer any questions
• Listen to any concerns you have
Attending face-to-face appointments safely.
If your Stoma Care Nurse is able to see you face-to-face within a hospital or community clinic, please be assured that all steps have been taken to make the environment Covid-19 safe. This may include one-way systems that will guide you around the building, using hand sanitiser and personal protective equipment (PPE), wiping down surfaces after use and limiting the amount of people attending an appointment together.
If you feel that you are unable to attend an appointment alone, please inform your Stoma Care Nurse. Perhaps you need someone to help recall information given to you or you need a family member or friend for support you; be assured that alterations might be able to be made.
Please be assured that every step is being made to ensure you and your Stoma Care Nurse are safe to carry on supporting your individual stoma care needs.
Most Stoma Care Nurses have now had their first and second vaccinations and are completing multiple weekly Covid-19 rapid tests. These efforts should reduce the risk of spreading the virus.
Always seek help and advice from your Stoma Care Nurse.
It is a common thought that nurses are too busy and don't have time to answer your questions or concerns, that's what we're here for! It is better that we assess your stoma, skin and concerns at the earliest opportunity than wait until later when the problem might be worse. Always contact your Stoma Care Nurse, they will let you know how the service is currently being operated.
Please be aware that stoma care services all work differently and therefore might be at different stages of 'getting back to normal'. It is important to check with your Stoma Care Nurse to what they are offering in terms of support and consultation opportunities at this time.