05 October, 2019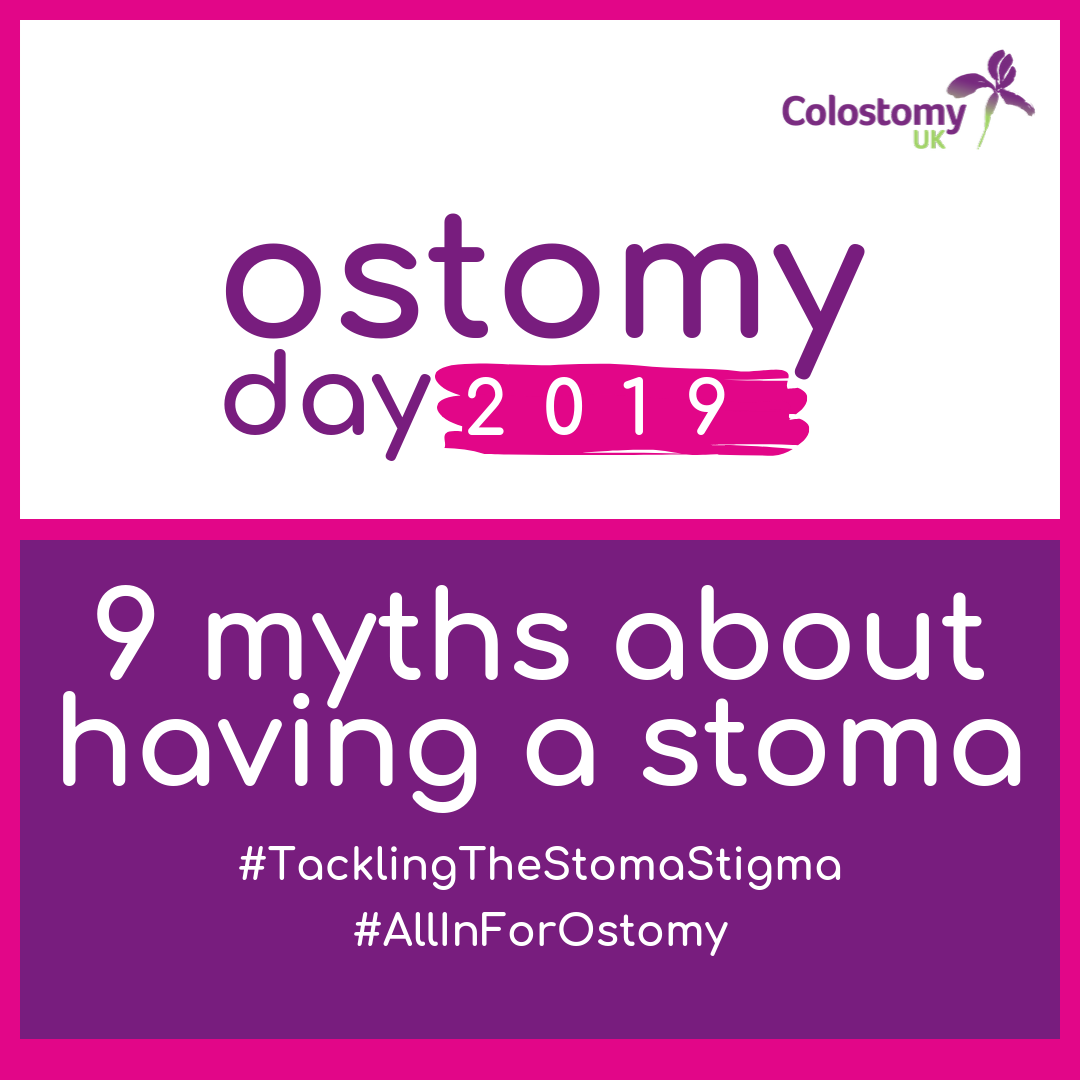 Saturday 5th of October is ostomy awareness day across the world. 
Together let's spread awareness and help with #TacklingTheStomaStigma. Colostomy UK would like you to engage and share our posts today to reach a wider audience #AllInForOstomy.
In this post we wanted to talk about some of the common myths associated with having a stoma.
Only old people have stomas
Despite improved public awareness of ostomates, many people still believe having a stoma is for the elderly. While the elderly are more likely to have a stoma, surgery can be performed on anybody at any age.
A great example of a younger ostomate doing his bit to raise awareness is Max, our Team Colostomy UK rugby league mascot earlier this year.
Having a stoma is permanent
Some are permanent, however some people might be able to have a reversal operation. The decision to have a reversal operation depends on how much and which part of the bowel has been removed. If very little of the rectum remains, then it is likely that bowel control will be impaired. Your healthcare professional will advise whether stoma reversal is possible, it is estimated that around 35% of ostomates have a temporary stoma.
Colostomy UK have produced a booklet which gives you a broad overview on what is involved in stoma reversal and what to consider if this is an option for you. You can also speak to one of our volunteers who has had a reversal.
Click here to download the booklet
Everyone can tell you have a stoma
One of the most common fears for new ostomates is that having a stoma is noticeable. Generally, people will only know if you choose to tell them.
The truth is that you will almost certainly have met/ passed by an ostomate and never realised it. It's estimated that around 1 in 500 people in the UK have undergone stoma surgery so it is likely you have met plenty of people with a stoma without even knowing.
If you work for an organisation of 2,000 employees, there is likely to be around 4 ostomates working there!
Smell
One of the major fears that new ostomates have is that the bag will smell and that this odour will be noticeable to others. Most stoma bags/appliances are made out of an odour-proof materials and will often encompass a charcoal filter for any gas that needs to be released. You might notice the smell when changing your bag in the toilet, but it would be no different from anyone else using the loo.
You can find out more information on odours and odour management here
Having a stoma means completely changing your diet
Whilst having a colostomy or ileostomy means that your digestive system has under gone some big changes , it doesn't necessarily mean you have to change what you eat. Everyone is different and where some ostomates can eat anything, others have found that it is best to avoid certain foods.
In the early days following surgery people can struggle to get back to a normal diet but the introduction of solid food helps the gut to begin to work as normal and allows the stool to thicken and become less watery. It is important to eat as well as possible as soon as your surgeon allows, as this will help to establish a normal stoma output.
Colostomy UK have put together a healthy eating booklet which goes over having diet and eating.
You cannot have a sex life with a stoma
Some people worry that having a stoma will end their sex life, either as a result of physically being unable to after the surgery or that the stoma will act as a barrier with their partner/future partners.
As with all major operations, it will no doubt take a number of weeks to recover from stoma surgery, but after this there should hopefully be no barrier to having a normal and loving relationship, or a full and active sex life. A small percentage of men report issues with impotence but often trying a different position or using a sexual aid can prevent this.
Although many people may be unfamiliar with what a stoma is, being open and honest with your partner can help dispel any concerns they may have and allow you to continue to enjoy an active sex life.
Colostomy UK have signed posted to a number of great publications on their website.
Ostomates cannot become pregnant
Undergoing stoma surgery itself will not cause fertility problems in the vast majority of cases. Some conditions can cause infertility, however having a stoma should not mean that you can no longer become pregnant.
Most women with a stoma do very well during their pregnancy and experience no complications. As the foetus grows your stoma and the contours of your skin might around the stoma will change, therefore the products to manage your stoma might need to change too.
You can't go swimming with a stoma bag
Many people fear that having a stoma means you cannot enjoy the same hobbies and activities that you did before the operation. While you may want to avoid any strenuous activities during the first few weeks after surgery, having a stoma is no barrier to living a full or active life.
One activity many assume you cannot enjoy with a stoma is swimming.
Swimming is considered to be one of the best forms of exercise as it works out every part of your body whilst putting minimum strain on your muscles. It is also however, a major source of anxiety for many ostomates who may worry about leakage or people noticing their bag.
You can read our tips to boost your confidence when taking a swim here.
You are alone
Yes it's a life changing operation, but you are not alone in this journey. Some of the myths and fears exist because ostomates don't reach out and seek advice.
There are over 120,000 ostomates in the UK today – of all ages, ethnicities, sexualities or gender. Whatever your fear or concern, there will be someone else who has gone through the same thing as you.
You do not have to feel alone or isolated. Colostomy UK are here to support you. We have a free 24-hour stoma helpline. We are good listeners and our volunteers are at the end of the line to offer you emotional support and advice. Call us on 0800 328 4257.
We also have the following article from Shirley Jones about being part of our closed FaceBook support group;
https://www.colostomyuk.org/shirleys-stoma-story-its-who-you-know/