14 March, 2019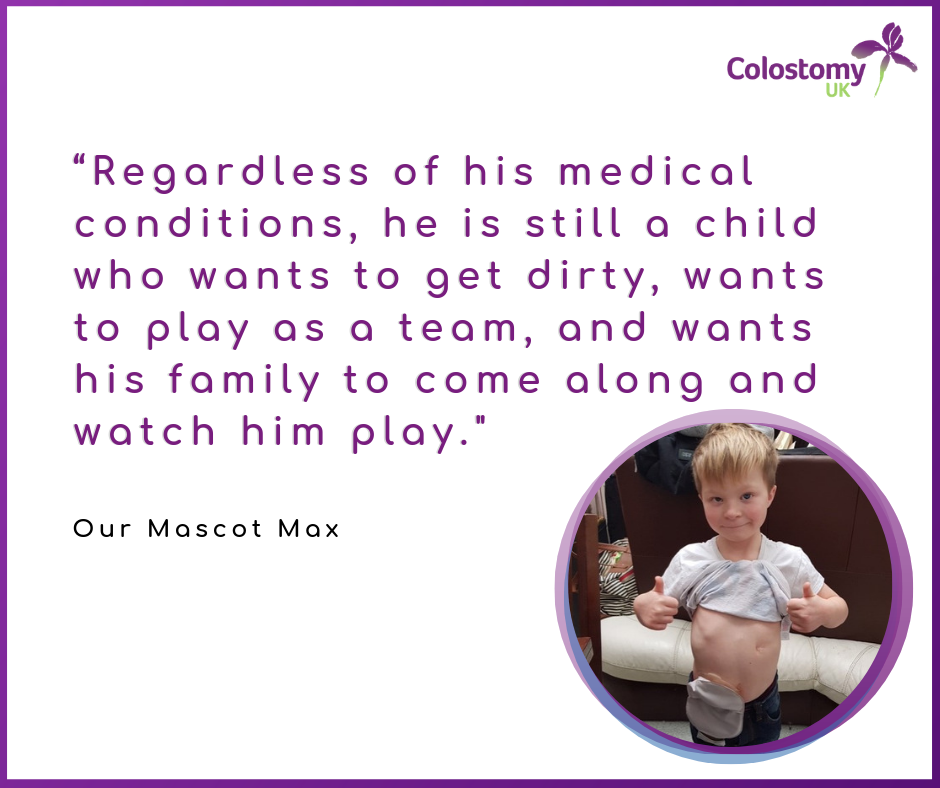 On Saturday 20th April at Medway Park, Gillingham our Team Colostomy UK Rugby League side will have the privilege of being led on to the field by Max. This is his story as described by his mother Rachel.
"Max is a typical seven-year old boy. He loves electronics and playing out but, most of all, he is in love with his new found sport, rugby.
Max was born with many medical conditions, the main ones being: a rare genetic eye condition called peters anomaly (born blind); hyper insulin; severe chronic constipation and slow bowel transit.
At ten days old, Max underwent life-changing surgery, receiving a corneal transplant in his right eye. The hope was it would help him gain some sight. At three months old he underwent a second corneal transplant, but unfortunately this wasn't successful. Max however now has partial sight.
After a three-year battle with consultants at our local hospital and Great Ormond Street about Max's gastro issue we were told his only option was to have an ileostomy. This was to rest his bowel, but the doctors warned us that it was likely that the ileostomy would end up being forever rather than short term. Proceeding was therefore a big decision to make, but we are glad we did for Max's sake. He is now almost pain free and his other medical conditions have also settled down. It has given us our son back!
Max has had 27 general anaesthetics in six years but has never let anything stop him. He has shown us all what determination truly is.
He wanted to try sports but due to his ileostomy and sight impairment has faced many rejections from clubs in the past. As a result Max has felt segregated and alone. At the age of six, he told me he would rather die than have his ileostomy because then he can be a normal boy like his sibling and friends. At the same time it also came to light he was being bullied.
Then one day Max went to watch his cousin play rugby and asked if he could try. We reached out to Basildon Rugby Club, who welcomed him with open arms. They recognise that regardless of his medical conditions, he is still a child who wants to get dirty, wants to play as a team, and wants his family to come along and watch him play. Max now beams every day because of what the club has given to him; they allow him to be himself.
Max came to me after his third week at rugby and said 'Mummy I've found my place. I can make a difference and I can be me, I don't want to die because I don't hate my ileostomy any more.'
In the past two weeks we found out that Max can undergo more surgery to remove his ileostomy and give him an ace (medical bowel washout) however it may not work and if that's the case he will have a stoma again.
Max's attitude towards the news was that at least it was worth trying. He may be only seven years old, but he is already thinking about how he can help other children going through the same or similar, by not being afraid to tell his story."
Rachel got in touch with Colostomy UK to see if Max could come along to our game against Medway Dragons as she felt he would benefit from meeting other people who are playing Sport with a stoma.
As well as spending time with our players and leading us out on to the pitch, he'll also be kicking the game off. We can't wait to meet Max and his family on April 20th.
For more information on our game against Medway Dragons visit https://www.colostomyuk.org/get-involved/team-colostomy-rugby-league/
Or email Giovanni.cinque@colostomyuk.org