23 August, 2019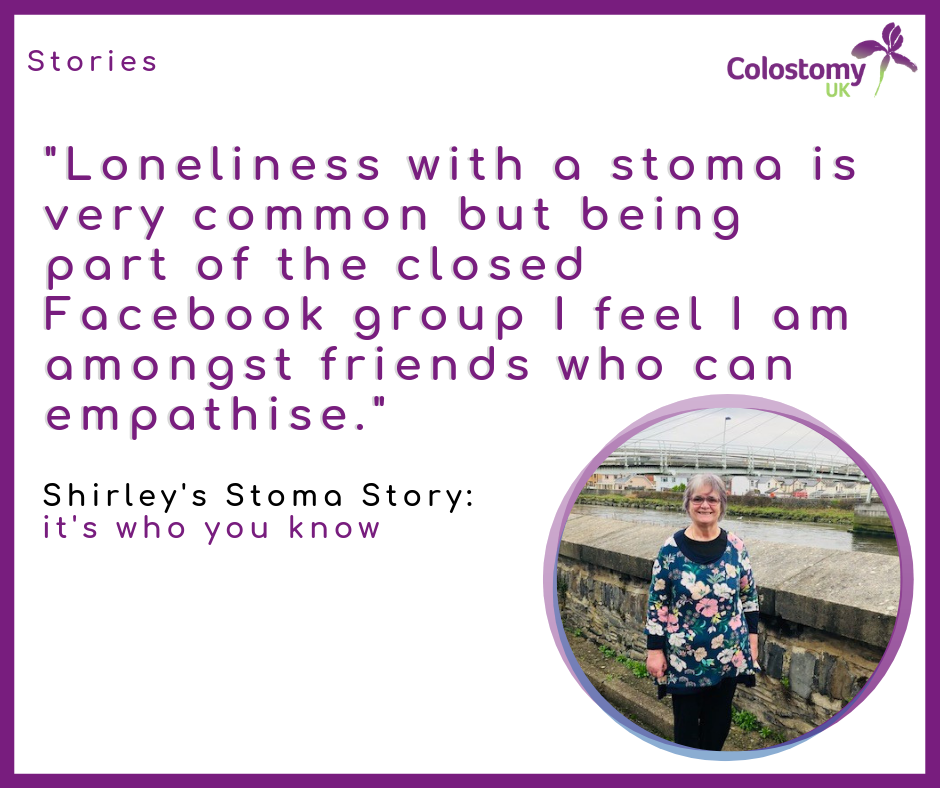 Shirley  is a retired staff nurse. During her forty-year service, she worked in every hospital ward and department, including over twenty years in theatre/recovery. During that time, she tended people pre, intra and post stoma surgery, but she says that her nursing knowledge was no help when she became an ostomate herself. It was the Colostomy UK closed Facebook Support Group that got her through a very troubled time. Here is her story:
"On the 18 October 2016 a permanent ileostomy was formed. My family, friends, surgeon, stoma nurses, ward nurses and all ancillary staff of the hospital were very supportive. My beloved daughter joined the Colostomy UK closed Facebook Support Group before I was well enough, she wanted to understand and assist in my recovery. The group welcomed her and facilitated her awareness of what my recovery would entail. I was eventually discharged after spending seven months in two different hospitals. With my daughter`s encouragement, I joined the closed group as soon as I could and started another phase of my extended recovery.
The closed group has been phenomenal for me. Any questions I`ve asked have always been answered with courtesy, empathy and kindness. One of the most far reaching questions I asked was regarding my deficiency in magnesium which had tormented me throughout because I could not tolerate magnesium orally or intravenously, I commented to the group and it was suggested I try magnesium oil spray. I checked with my GP and stoma nurses, they were not convinced about the results but they said to try it.  The results were impressive as my magnesium levels returned to normal and have remained so. Magnesium oil spray is now being suggested to other ostomates. I also commented about passing mucus, and also the long-term exhaustion as no one had told me about it and I was panic stricken, but the group reassured me it was normal.
Psychologically I feel whatever problems I have had or acquired someone else can help and I do not feel alone. Loneliness with a stoma is very common but being part of the closed Facebook group I feel I am amongst friends who can empathise. I have met up with other ostomates who have become firm friends through Colostomy UK. I do say I have cried and laughed with the group. Cried because some situations are sad, grave and humourless. Laughed because the situations although at first sound dreadful become amusing, farcical and ludicrous. Medically and psychologically, I would not have the positive outlook I`ve got if it was not for this formidable group.
As a patient all my nursing knowledge was consigned to oblivion, it was no help because I was as fearful as anybody else and felt I could not ask various questions for fear of looking foolish amongst my peers. The staff could not empathise with that feeling of apprehension having never been in that position, so I felt very vulnerable not wanting to sound unintelligent in front of my colleagues.
Without Colostomy UK's closed Facebook support group, I would not have the positive outlook I`ve got, the group has made me laugh and cry, I`ve gleaned so much information, I`ve never felt lonely, I`ve been in contact and met some wonderful people and made some lifelong friends, all because of Colostomy UK. I would like to thank my awesome family who have all had a part to play in my recovery all in their unique ways. My true friends who are all very special to me who have got me through so much. I am in debt to Colostomy UK and the administration of the Facebook group who provide a superb service. Thank you to all."
If you'd like to join Colostomy UK's closed facebook group then you can simply follow this link. Answer the questions and read the group guidelines and we will be happy to accept you as a member.