04 October, 2019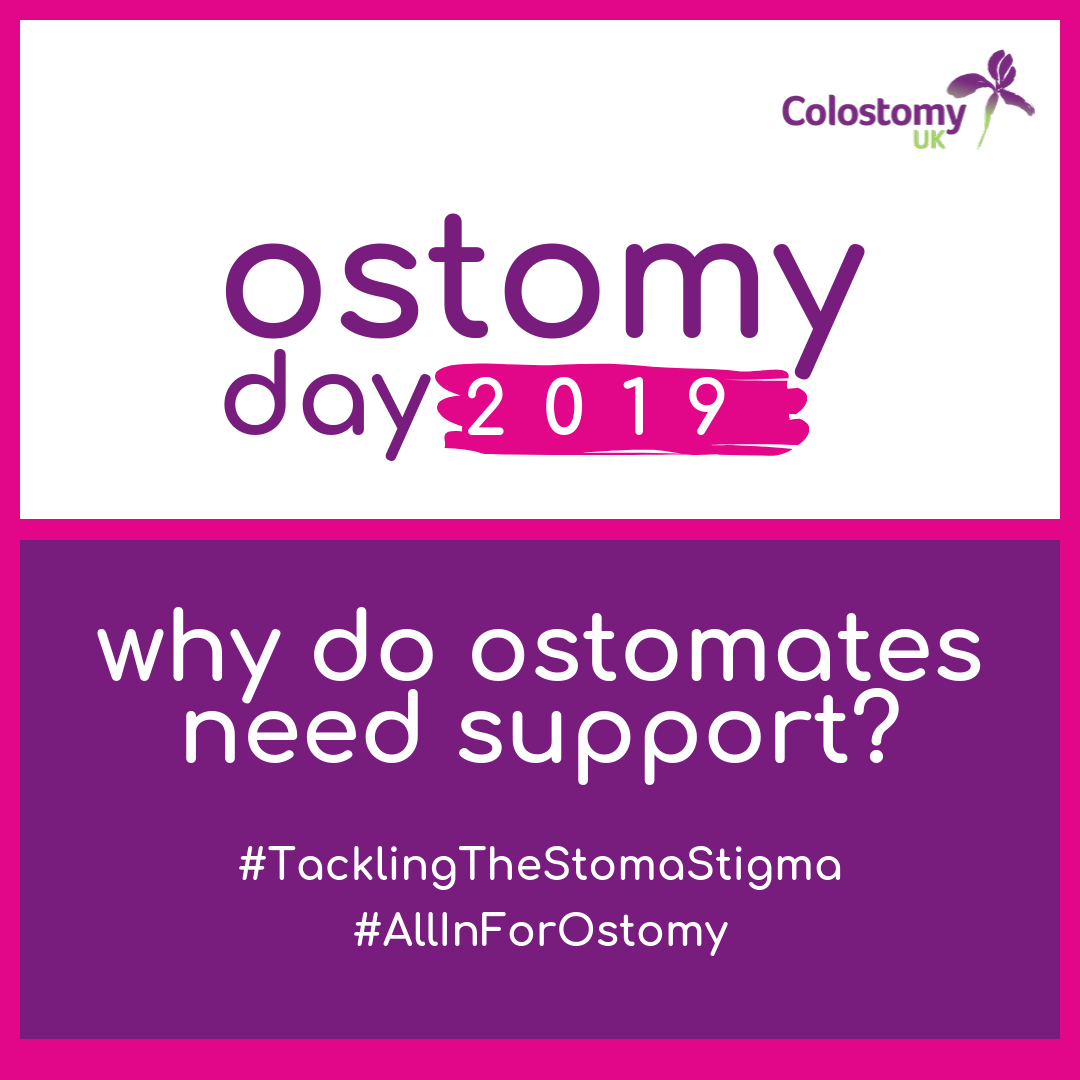 Saturday 5th of October is Ostomy awareness day across the world. 
Together let's spread awareness and help with #TacklingTheStomaStigma. Colostomy UK would like you to engage and share our posts today to reach a wider audience #AllInForOstomy.
In this post we talk about some of the challenges that people who have undergone stoma surgery face.
–
Isolation
For many people, the first time they've even heard of a stoma is when they are told they need the surgery or wake up after emergency surgery. Quite possibly they won't know anyone else who has been through this experience and as the general public has rarely heard of a stoma, it's very easy for them to feel isolated.
Some ostomates also isolate themselves as they are afraid to go out in public. They fear that their bag might leak and/or smell and that they won't be able to find a toilet when they need one. We have spoken to people whose fear is so intense they literally won't leave the house.
This is why it's vital to connect ostomates with each other so they can share stories and experiences. We help connect ostomates through our support group directory, closed Facebook group, 24/7 stoma helpline and of course by attending open days throughout the country.
Find out more about the support we offer.
Body Image
Results from our 2016 quality of life survey suggest that over 40% of ostomates feel that their confidence is 'somewhat or significantly worse' since stoma surgery, and 61% felt their body image was worse.
So why does body image matter? Body image and self-esteem directly influence each other and your feelings, thoughts, and behaviours. If you don't like your body (or a part of your body) it's hard to feel good about your whole self. It's no surprise then that 36% of responses form the survey also felt their mental wellbeing was worse since surgery and 1 in 5 felt they didn't have control of their lives.
You can read more on this subject here
No one size fits all
Although there is information available online and in booklets, due to the wide range of reasons why someone may have undergone stoma surgery and different types of stomas, this information can at times be quite generic and not suitable for all.
Stoma or no stoma we all like to get and receive support in different ways, the support and advice the ostomy community give each other phenomenal. Finding the right type of support for you can be tricky at the start when you might not be feeling yourself. We recommend you try and try again until you find the right forum, charity, social media platform or support group that works for you.
Colostomy UK offer a 24/7 helpline that is answered by volunteers. All of these volunteers have been living with a stoma for at least 18 months and are fully trained and DBS checked. They can offer experience based advice or, are just there to listen.
0800 328 4257