28 September, 2019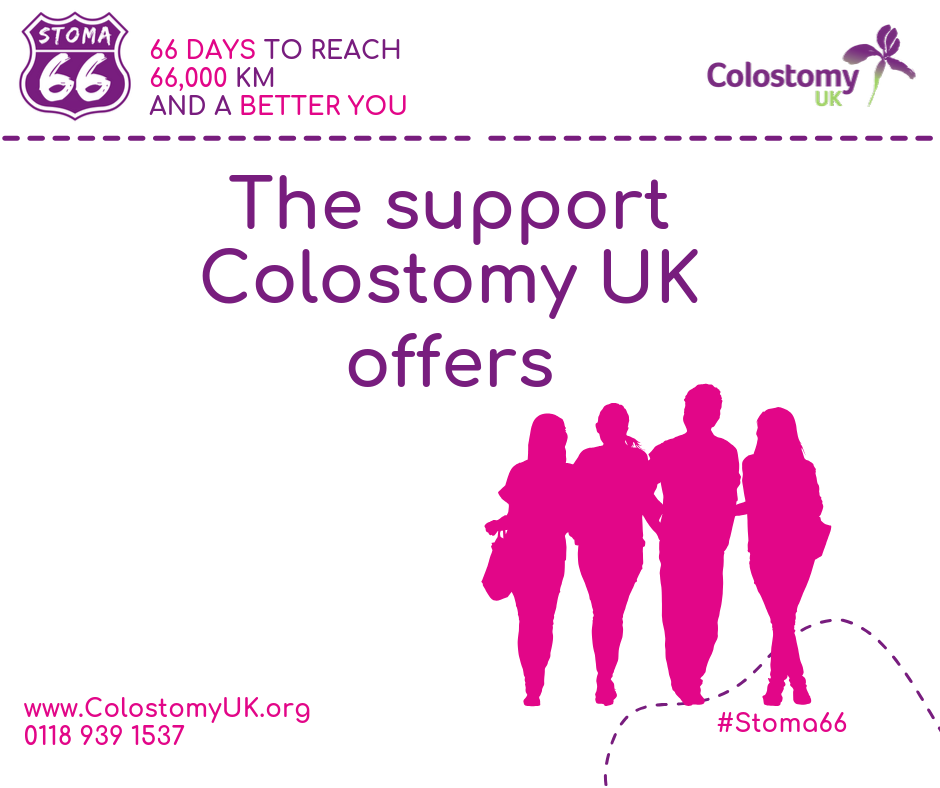 We are Colostomy UK.  We are a national charity that offers support and advice to people with stomas and their families, carers, and friends. We're here if anyone has questions, needs support or just wants to talk to someone who lives with a stoma.

Support is at the core of what we offer as a charity. We endeavour to make our support as accessible as possible and available in a variety of formats.
Stoma Helpline- 24 hours a day, 365 days a year – 0800 328 4257
Our stoma helpline is available every single day of the year, even Christmas Day. Out of normal office hours it is answered by volunteers who can give you first hand, practical advice.
Network of volunteers
Our UK network of volunteers help us provide support, deliver projects and change lives. All of our volunteers are DBS checked and fully trained. They do many amazing things such as answering the helpline, attending open days, visiting patients in hospital, running support groups and more!
Closed Facebook Group
Helping thousands of ostomates with peer to peer support online.
Our closed facebook group is the place to go to share stories and ask for first hand advice. Closely monitored by ourselves this group is growing rapidly.
https://www.facebook.com/groups/colostomyassociation2011/
Website
From hernias to healthy eating, we have a dynamic library covering every issue. We regularly update our library of information to make sure it is accurate and interesting. As well as having this information available through our website we can deliver all our guides and flyers to your door completely free of charge.
Caring For A Person With A Stoma – workshops
Our care workshops and supporting literature give professionals carers and family carers practical advice and guidance, on looking after someone with a stoma.
Tidings Magazine
Our quarterly magazine has been running for over 20 years. Thousands of people across the UK receive our support magazine Tidings, a vital resource full of real life stories , practical advice as well as input from healthcare professionals.  Sign up to receive your copy here.
Setting up Support Groups
Last but not least, Colostomy UK have been actively involved with the set up and creation of stoma support groups.
What we do and the support we offer is always growing and changing to meet the needs of ostomates. Our aim is that no matter the time of day people can access support.