23 August, 2020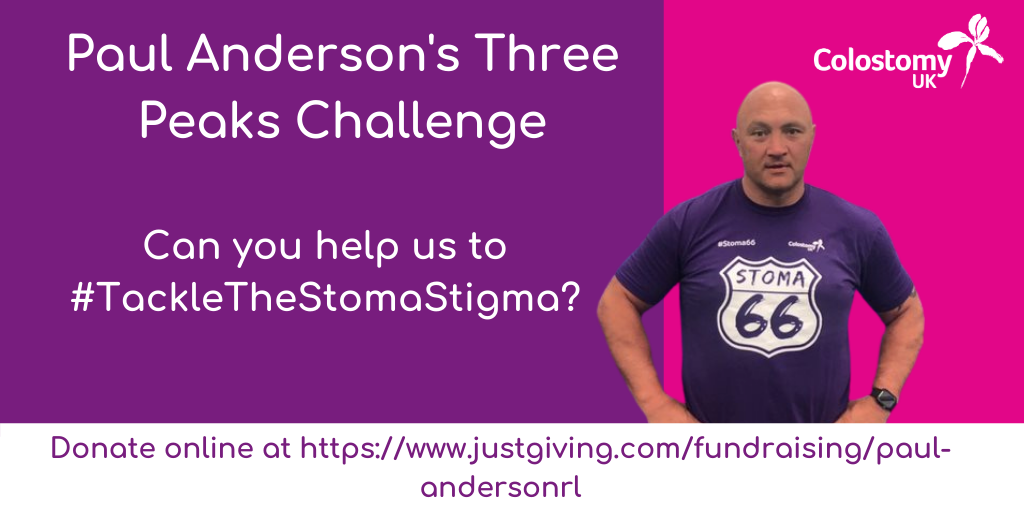 Rugby League fans will remember Paul Anderson as a bulldozing prop who faced head on the challenge from the best players in the world while starring for Bradford Bulls, St Helens, England, and Great Britain during a stellar career.
Early last year he revealed he had faced another significant challenge in his life when in 1995 while he was playing for Halifax he had surgery which saw him spend a year of his life with a temporary stoma. You can read the full story of his time with a stoma here
On September 17th Paul and his wife Lisa will be taking on another challenge when he climbs the Yorkshire Three Peaks to raise funds for Colostomy UK!
So why's he doing it?
"Other than supporting Colostomy UK, the other reason we are taking on this challenge is to be able to say we've done it, having been on furlough since March and having to look at ways to keep ourselves active this seemed a good idea" says Paul.
"I personally like most other people initially struggled to fill the time but like most people I found a pastime in cycling and general training Every couple of weeks plan a day out walking, one day we decided to "do" Pen-Y-Gent, on the way down Lisa said shall we keep going? To which I declined… From that came a plan to do all three!
I believe it will be a massive challenge for me personally and I'm looking forward to the pleasure of completing all three peaks".
You can support Paul and Colostomy UK by donating via his Just Giving page https://www.justgiving.com/fundraising/paul-andersonrl
You can also donate by text.
To donate £3, text PAULCUK to 70331
To donate £5, text PAULCUK to 70970
To donate £10, text PAULCUK to 70191
*Text donations will be processed and administered by the National Funding Scheme (Charity No: 1149800), operating as DONATE. Texts will be charged at your standard network rate. For Terms & Conditions, see www.easydonate.org