06 May, 2022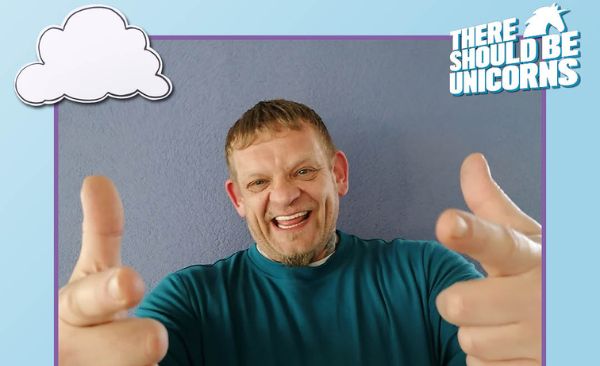 Monday 1st May 2019 is a date Steve Arnott remembers well, It's the day he had emergency stoma surgery. Flash forward two years and the founder of Hull's Beats Bus Crew, and protagonist of Sean McAllister's documentary 'A Northern Soul' is taking on a new challenge by making his theatre debut in a new play that raises awareness of life with a stoma.
Produced by Hull based company Middle Child, 'There Should be Unicorns' is a family Hip Hop musical which debuts on May 7th at Hull's Stage @ The Dock.
In a recent interview on the Middle Child Website Steve explained the background to There Should be Unicorns. 
For what many of us will feel like a lifetime ago – and for Steve likely several – in a pre-pandemic world Steve came up with the idea for a play that told the story of hip hop in Hull entitled 'Hip-Hop-O-Mine' and brought the idea to Middle Child.
"Me, Paul [Smith] and Mungo [Beaumont] met, and I just wanted to tell a story of the history of hip hop in Hull."
This idea would eventually come to be There Should Be Unicorns, a family hip-hop musical about 11-year-old Jasmine whose dad, played by Steve, founds the Beats Bus.
Jasmine experiences bullying at the hands of those who don't see the world with the same creativity and imagination that she and her dad do, so sets out to change their minds for the better.
"We've worked on it now for the last three years and it's changed course but I'm really, really happy with the final product that we've got because it tells the story of hip hop, and it tells a beautiful story about family and friends." 
Unicorns, as it is often affectionately abbreviated around the Middle Child offices, doesn't only adapt Steve's journey with the Beats Bus, but it also details Steve's own health issues that almost cost him his life in 2019.
"My bowel exploded, and I had to have 7-hour surgery to save my life," he recalled. "It was such a massive, massive shock and a trauma."
The toll this took on Steve's confidence and drive for performing saw him lose 18-months to a long recovery period.
"It's probably taken me up until January this year to be physically fit enough to be able to do the play."
In fact, it's only due to the knock-on effects of the COVID-19 pandemic, and the postponement of There Should Be Unicorns, that Steve is able to feature at all.
"When Paul said to me we'd like you to be in the play, I said no, you know, I just physically just can't do it."
The mental and physical strain was too severe for Steve, whose health conditions had left him needing to be fitted with a stoma bag that would alter his life permanently.
"I want it to raise awareness of the stoma, you know for people to see and it and say yeah, he's got a stoma and he's still acting and he's still running around on stage. That'd be a great thing for me."
After facing his difficulties head on, Steve has found his passion for work again.
"I didn't realise 'til I did Beats Bus but yeah, working to live and living to work are two different totally things. I'm in quite a good place at the moment and I'm just really looking forward to it."
Steve and his fellow Beats Bus tutors Kobby Taylor and David Okwesia have penned many of the lyrics that will be heard when the show premieres in Hull. 
"It's exciting but I'm nervous cause it's the first show in a week on Saturday so I'm like okay… it's getting very close," Steve laughs. "I'm sure once the first one's out the way and it all goes well, we'll all relax, and we'll be alright."
As well as taking away the core messages of kindness, family and community, Steve hopes most of all for people to have as much fun watching There Should Be Unicorns as he has had making it.
"The whole process with Middle Child has just been amazing. The people that work there are amazing and it's always fun."
If you're coming along to watch, don't forget to dress up as your own superhero!
"I can just envision everybody going mad and having fun and dancing at the end, and you know, just have loads of fun and dress up it's just gonna be amazing."
There Should be Unicorns is on at the Stage @ The Dock, Hull on May 7th and 8th, The Brighton Festival on May 14th and 15th, and the Freedom Festival, Hull on August 27th and 28th. More more info visit https://www.middlechildtheatre.co.uk/whats-on/