08 March, 2019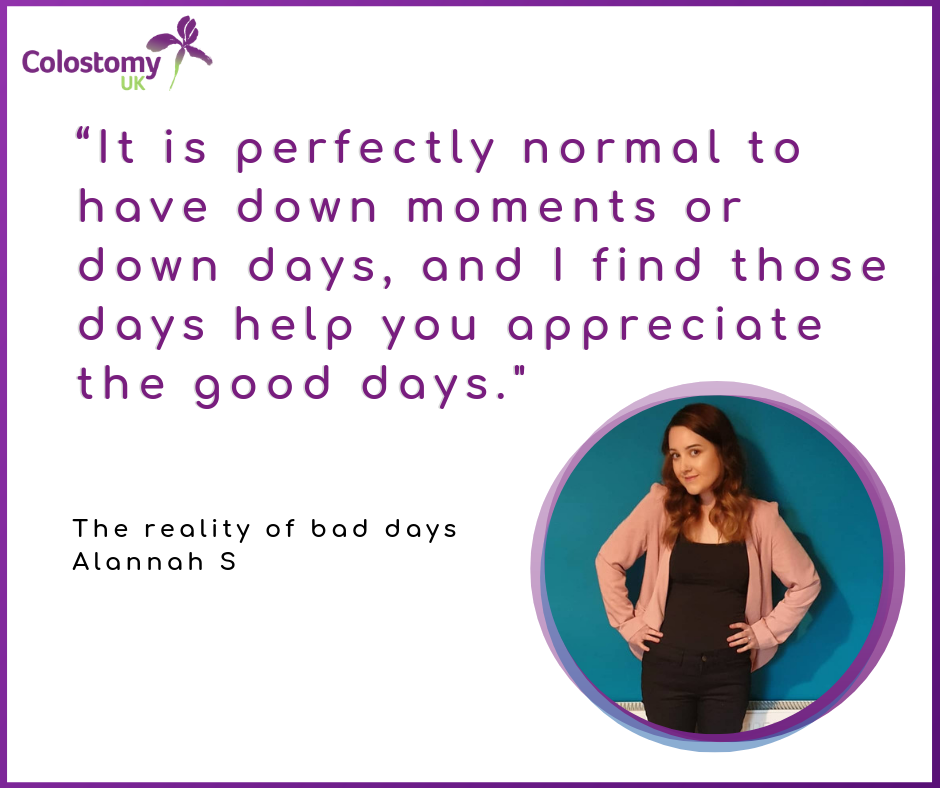 =At Colostomy UK we love bringing you stories of people with stomas getting their lives back on track and going on to achieve remarkable things. However, with more than 50-years' experience supporting ostomates we are also very well aware that life with is stoma is far from being all champagne and roses. Sometimes people really struggle. They can struggle in the immediate post-op period, when they can still be unwell or recovering from an illness that has taken its toll over many years. They can also struggle further down the line, perhaps when they have a bad experience or mishap, or something else that sets them back. With this mind, I was really pleased when Alannah, who is a member of our closed Facebook group, agreed to talk to me about 'bad days' and share some of the strategies she uses to cope with them…
Tell me a little bit about yourself…
I'm 24 years old and have suffered with Crohn's disease since roughly between 11 and 13 years of age. I was diagnosed at 17 with both Crohn's Disease and Ulcerative Colitis. At age 20 I had my entire large bowel removed as I had developed sepsis after all medications used to treat the disease had failed. A few months later the same thing happened with my rectal stump so I was given surgery and now have a barbie bum!
Since then, I have been diagnosed with a complex variety of health conditions and started my blog in 2015 just before my first surgery just as a place to vent my feelings and frustrations. Never did I think that now I'd be helping people gain confidence to share their journey's whether that is positive or negative.
What constitutes a bad day to you?
A bad day for me is pain in my joints, muscles, stomach and I then feeling sick or being sick which also usually requires a hospital trip. This then affects me mentally and I find it hard to concentrate even on the simplest tasks and I find my OCD suffers terribly because I am unable to keep up with housework. The littlest of things take up all my energy and I depend on my family and fiancé much more than usual. On these days I tend to take some time out for myself and concentrate on getting through the day or look for support online.
Do you have more bad days now than before?
Yes and no.
Before I was always in hospital which is two hours away from home and I was constantly on the toilet passing blood and vomiting. In 2018 I spent most of the year bed ridden from sinus infections, tonsillitis, wound and urine infections and had to go through a surgical termination. This was an incredibly hard time in my life, especially after being told I couldn't get pregnant and then finding that pregnancy was killing me.
Despite all of this on a mental front, I have hit a good period of mental health. I am really lucky because I am engaged to another ostomate who has a permanent ileostomy too and Crohns disease and he is very understanding. I am also on antidepressants and feel these are helping.
What do you do to counteract a bad day?
On the really bad days I will listen to my body and rest in bed with a hot water bottle and stick on a film from Netflix or Now TV and have snuggles with the dogs. I find that mentally it can be really hard on these days and sometimes it's not so easy to just "get on with it" when your body simply cannot cope with being active. I will also game on my laptop if I'm able to concentrate or video call with my friends who live down south.
What have you tried but didn't work?
I have tried various medications such as chemotherapy drugs, pain relief (opiods) which I can no longer have due to a twist in my small bowel and constipation. I also tried meditation, some anxiety apps on my phone and various antidepressants. The last thing I tried was counselling but that made everything worse for me mentally. This is not to put anyone else off these things, they just didn't work for me.
When you feel you need support where do you go?
I usually call my Dad and speak with him on the phone or ask him to come round. I also have my fiancé who supports me a lot and a fantastic GP so if I'm really not great I will get an appointment over the phone with him as soon as there is a slot and he helps me greatly.
In terms of online, I often find support on the Colostomy UK closed group, IBDSuperheros or GetYourBellyOut.
Is it really okay not to be okay, or is that just something you see on social media?
It is absolutely okay to not be okay. So many of us who suffer from illness be it mental or physical, are expected to be okay. The reality is that we can't be okay every single minute of every day! It is perfectly normal to have down moments or down days, and I find those days help you appreciate the good days.
What would you say to someone who is having a bad day right now?
It is only a bad day and not a bad life. Its okay to be down today for tomorrow could be that little bit lighter💜
I hope you've found this interview with Alannah useful. I think for me, several things stand out. Firstly, Alannah doesn't just rely on one coping mechanism. Instead she tackles bad days in lots of ways. Also, as she mentions, what works for one person might not for another. I think this is well worth keeping in mind. Secondly, Alannah is prepared to lean on others – her dad, her fiancé, her GP her dogs and fellow ostomates in the closed group. This is very sound advice. With this in mind, I will wrap things up by just reminding readers that you can lean on Colostomy UK. Our helpline (0800 328 4257) is open 24-hours a day. It's there to help you get through those bad days.