09 November, 2020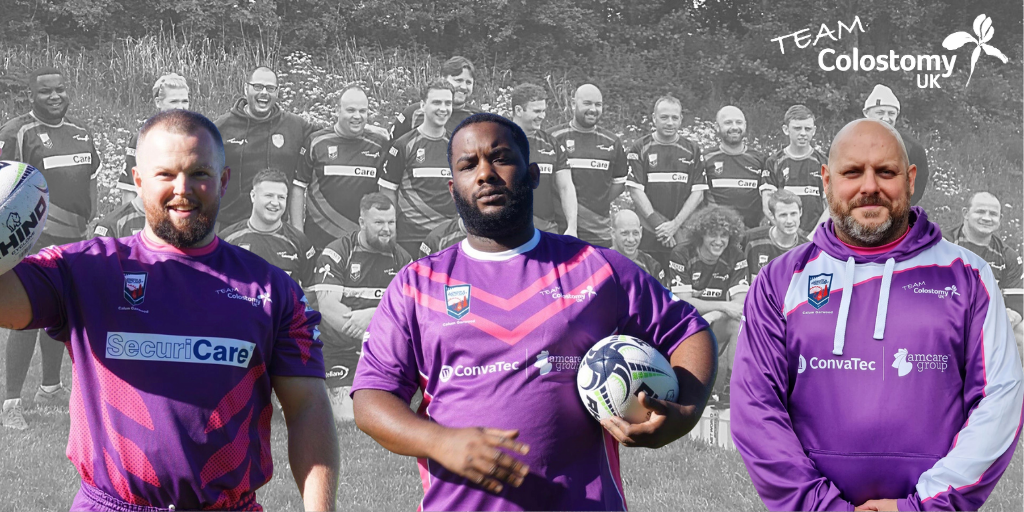 We're delighted to launch our 2021 Team Colostomy UK Rugby League playing and training kit!
The full range of playing shirts, hooded sweatshirts, and training shirts is in stock and available to buy now through our online shop
All proceeds from sales help us to get more people with a stoma active through our Active Ostomates project.
In honour of our former player Calum Garwood who sadly passed away last year, his name is included on the front of all our new range and we're really proud  & privileged that the design for the playing shirts was created by Calum's children.
We've got a great team of sponsors including Securicare Medical, ConvaTec, Amvare Group, Cheney Payroll Services, and Welland Medical.
Thanks to them we'll be 'Tackling The Stoma Stigma' in 2021 with a brand new look.
Maddy Mills from Securicare Medical (Principle shirt sponsors)
"Hello, my name's Maddy, I work for SecuriCare, Team Colostomy UK's Gold Sponsor and am also a player – well, I've braved the pitch a few times!
The first game I played was against the Chorley Panthers and after watching the first 10 minutes of the game, I was convinced that not even my special gold shorts (meaning nobody could tackle me) could save me from ending up in the mud. But ever since my first second on the pitch, you could not get me off if you tried.
I am immensely proud to work for SecuriCare, who have sponsored Team Colostomy UK since their first game, and to also support such a great cause. My grandad Bill had a colostomy and my mum cared for him while I was a teenager so every match that I play is for him too. #UpThePurps"
Caroline Hughes from ConvaTec / Amcare Group (Training and back of playing shirt sponsors)
"ConvaTec is proud to champion the lives of Ostomates around the world, so naturally we're delighted to support this amazing team and look forward to a fabulous 2021"
Martyn Cheney from Cheney Payroll Services (Playing shirt sleeve sponsors)
"We're delighted to be sponsoring Team Colostomy UK again. The sport of Rugby League should be very proud to have such a team of champions in its corner"
Claire Marsden from Welland Medical (Shorts sponsors)
"Welland Medical is proud to continue our sponsorship of Team Colostomy UK for 2021. As a British manufacturer of stoma care solutions, distributed through our sister company SecuriCare, we are excited to be part of Team Colostomy UK's journey as they continue to highlight that having a stoma is not a barrier to being active. We wish the team well for the season ahead!"
You can follow the team on Instagram and Twitter  for all the latest news. Just search for @TeamColostomyUK