28 April, 2020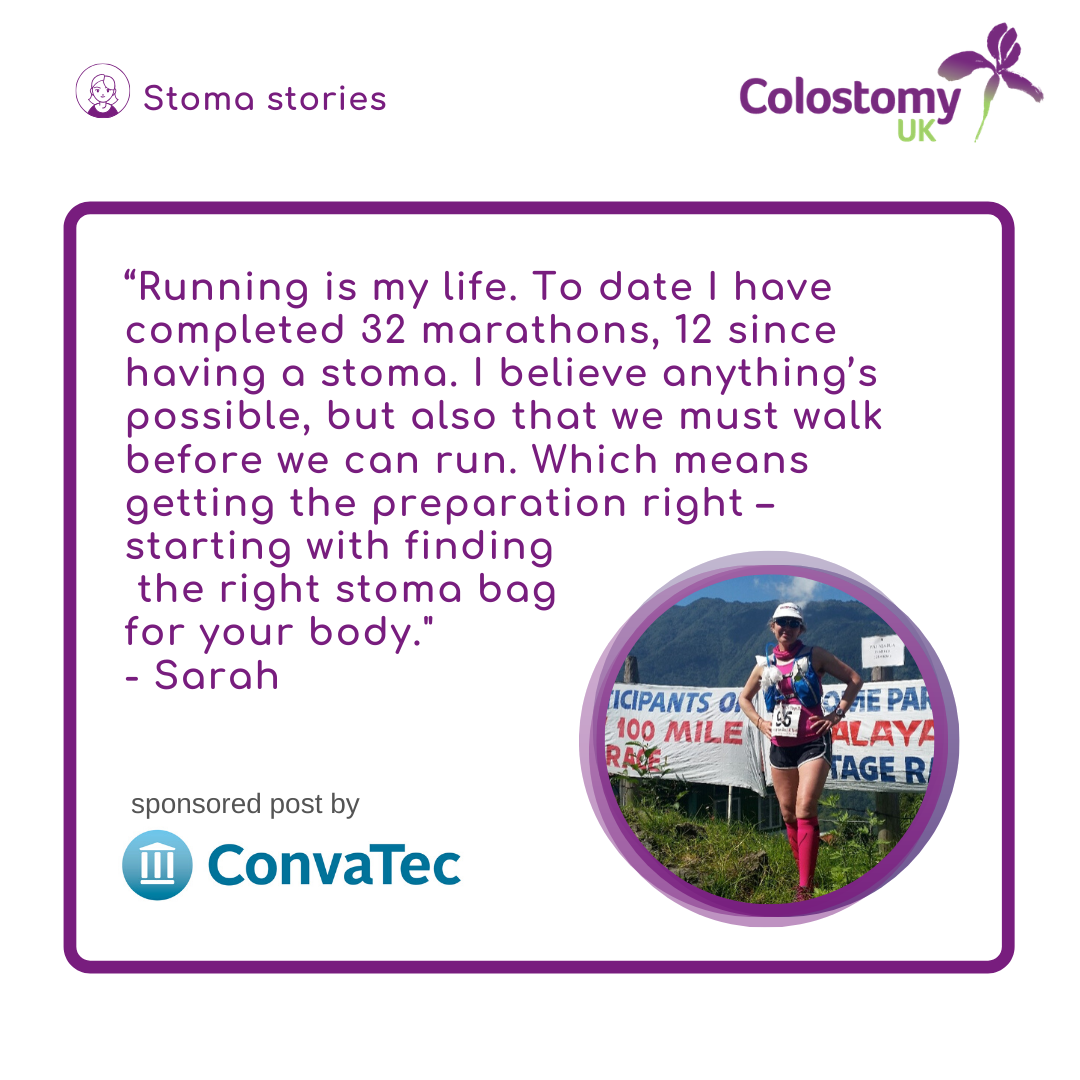 In this ConvaTec sponsored post Sarah talks about making the most of your stoma journey.
Running is my life. To date I have completed 32 marathons, 12 since having a stoma. I believe anything's possible, but also that we must walk before we can run. Which means getting the preparation right – starting with finding the right stoma bag for your body.
My most important piece of kit.
It's not my running shoes, it's my stoma bag. Finding a bag and baseplate that fit my body, especially as I move, gives me all the confidence I need. I use a ConvaTec Mouldable Technology pouch  and can certainly recommend it. But if you're not sure, remember you're not alone.
ConvaTec  have a specialist product team that you can call for free advice – they'll even send you free samples, so you can keep experimenting until you find the right one.
Take it from me, life's a marathon not a sprint. Here's my journey.
Six operations. Two years of complications. One stronger me.
I've always been competitive. Over 25 years as a coach and trainer competing at an international level in both rowing and triathlon does that for you. So when I developed life-threatening peritonitis in 2010, it was just another thing to beat.
Five more operations and two years later, I finally won.
As soon as I was well enough, I found myself yearning for adventure. On the internet I came across a climber called Rob Hill, a fellow ostomate who had scaled Everest. I was inspired.
Making my comeback: Jungfrau Marathon, Switzerland.
This was my big comeback run. I was only 9 months post-surgery and wasn't confident I would complete it. The course was through stunning mountainous scenery, taking in 1500 metres of climbing. I ran with my husband and we crossed the line hand in hand. It remains the best day of my life.
Making history: Himalayan 100 Mile Stage Race, India.
This race had been on my bucket list long before I became ill. Now with my confidence and fitness growing, I signed up. The course itself was mostly at an altitude of 3500 metres, creating tough running conditions. I didn't think it would be possible to complete such a challenge with an ileostomy, but against the odds, I did it and became the first ever ostomate to complete the race.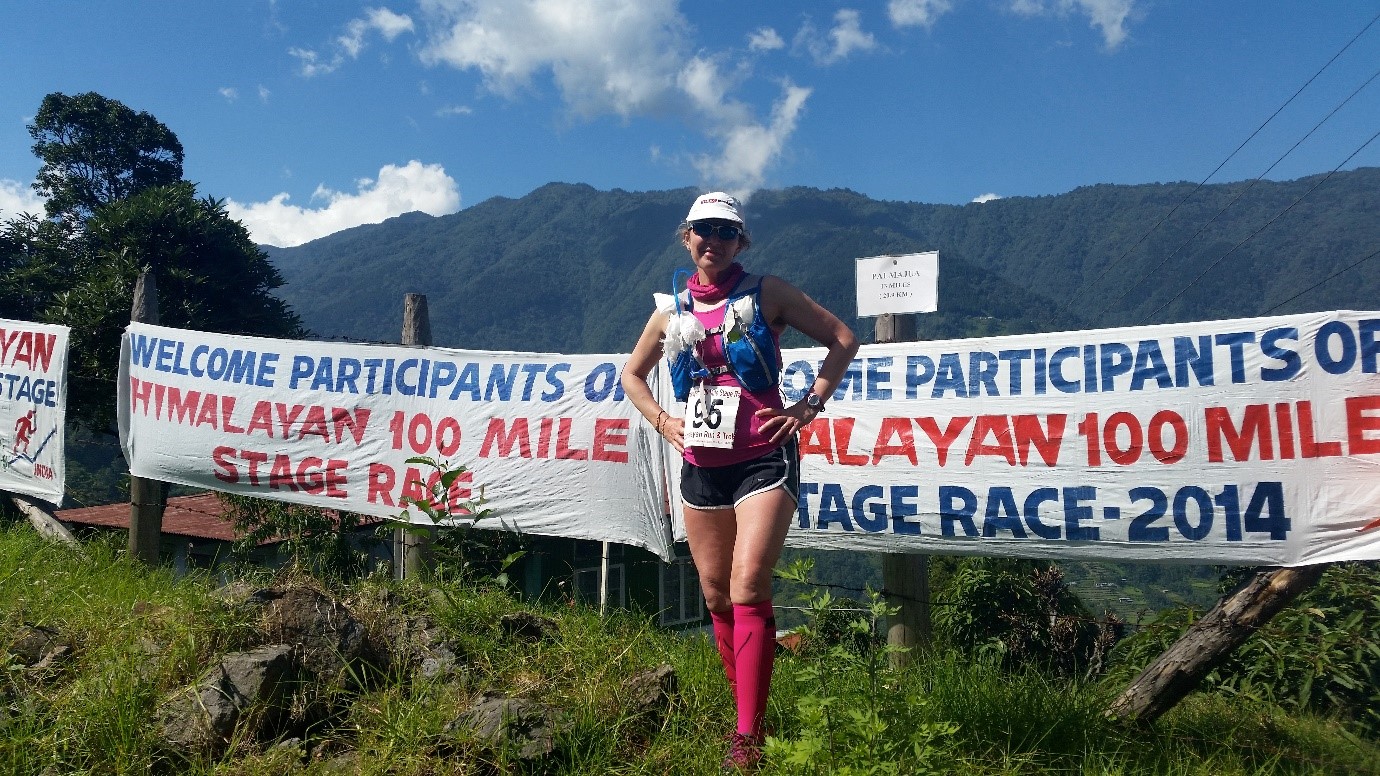 Making memories: Trekking in High Atlas Mountains, Morocco
This one wasn't a race, but a 20th anniversary adventure with my husband hiking Mount Toubkal, the highest mountain in North Africa. Although I experienced high altitudes in my Himalayan trip, this time, it caused problems with my stoma. My bag repeatedly inflated, until I was having to release air every few minutes, then I was hit with altitude sickness that caused vomiting and diarrhoea. Very romantic!
Making big strides: 32 marathons and counting.
As of March 2020, I have taken part in 32 marathons. Some of those were ultra-distance runs over 26.2 miles in distance. Others were stage events, like the one I recently took part in on the Isle of Wight, where I ran 78 miles in two days. That was actually really hard!
I also did the TransRockies in 2018 which was 120 miles across Colorado Rockies over 6 days camping each night. That was tough to say the least!
Make the most of your stoma journey.
Running long distances is tough, and having a stoma adds to the challenge, but for me, having overcome that extra difficulty just makes my achievements feel even sweeter.
So never let your stoma hold you back. Just remember, there's a whole bunch of people just like me, who've got your back.
Enjoy,
Sarah x