31 January, 2019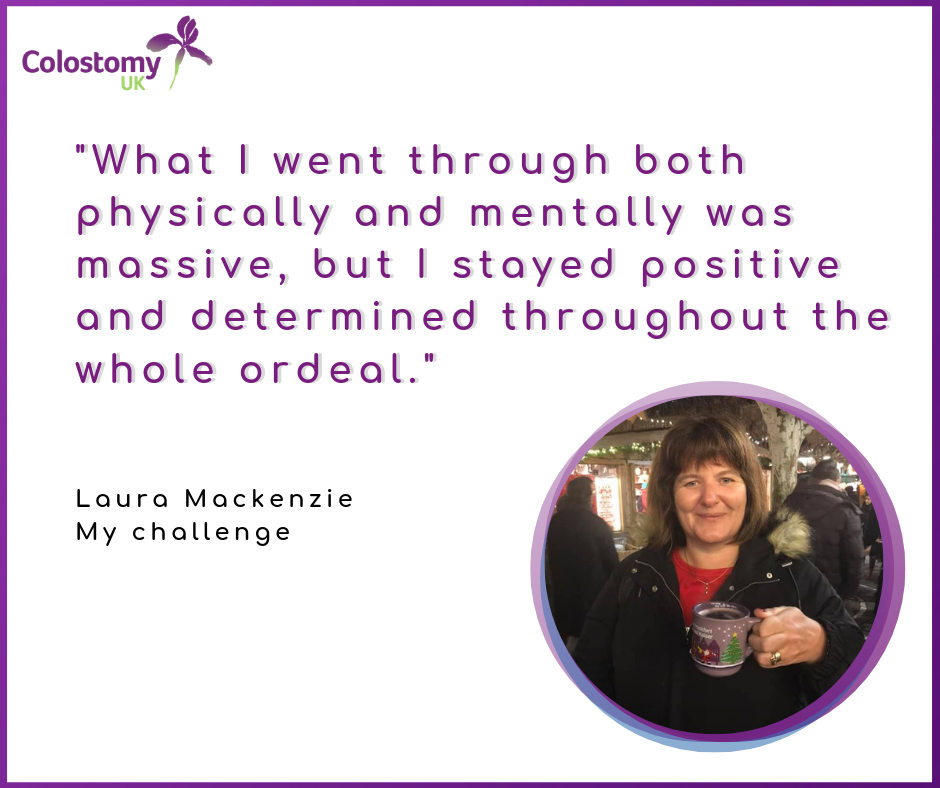 Author: Laura MacKenzie
My Name is Laura MacKenzie. I am 41, I live in Wemyss Bay, Scotland and I am what is known in the ostomate community as a double bagger. This means I have two stomas; in my case a urostomy and a colostomy. I am writing this from my sun lounger in the Algarve, it's our first foreign holiday since my operation. By the time you read it, Christmas will have come and gone and the Colostomy UK 50K challenge will be over. The latter has been an inspiration to me. It's helped my recovery, both physically and mentally. The past year has been a challenge in many ways…
My stomas were created during a 12-hour operation for a total pelvic exenteration in November 2017. This was required after a stage 4 cancer diagnosis in the September. My first symptoms appeared in August 2017, when I started to pass faeces in my urine. I later found out that this was due to fistula caused by my cancer.
From August through to the main operation, I had various scans and procedures, including: CT, MRI and PET scans, a sigmoidoscopy and a cystoscopy. Initially I was admitted to hospital for three days as a blood transfusion was required. Then I went to the main hospital in Glasgow for nine days to stabilise my kidneys as these were only functioning at 60%. I also had two nephrostomies fitted. These artificial openings were created in my back to allow urine to be drained from my kidneys, thus bypassing my bladder.
At my first consultation at Inverclyde Royal, I was told that: "best case scenario, some radiotherapy would be required and worst case I would be seeing the senior consultant at the Glasgow Royal". It turned out to be the latter. Here I learned that radiotherapy was too risky and chemotherapy was not effective for my type of cancer. In addition, I was told that if the cancer had spread, then  surgery wouldn't be an option either. Luckily the PET scans revealed that the cancer had not spread. Hence, the surgery that I went on to have literally saved my life.
With the support of my surgical team, friends, family and colleagues I made good progress after the operation. In particular, my husband – my rock and my best friend – was by my side every step of the way. I went home after 17 days in hospital. On 30th November, 29 days after the surgery, I got the all clear and so my husband and I went to our local hotel to celebrate. I went back to work part time at the end of January and was fulltime by mid-February. Since then I have continued to make a good recovery and continue to get stronger day-by-day.
What I went through both physically and mentally was massive, but I stayed positive and determined throughout the whole ordeal. Having two stomas is not without its challenges, but I make them work around my lifestyle and not the other way round. Holidays need more planning now but so far, apart from making sure I don't lift heavy items, there is nothing I can't do that I did before.
The support of organisations such as Colostomy UK has helped greatly as I adjusted to my new life. Back at the end of 2017, as I made my way home from hospital, I would have never believed that between April and October 2018 I would walk 1,431 km and raise £2018.75 in the process!
—
Medical Terms Explained
Total pelvic exenteration is an operation to treat cancer when the bladder, rectum and internal reproductive organs are removed.
A nephrostomy allows urine to be drained through a tube inserted through the skin on your back and into the kidney.
A sigmoidoscopy is a diagnostic and screening procedure in which a rigid or flexible tube with a camera on the end (a sigmoidoscope) is inserted into the anus to examine the rectum and lower colon (bowel).
A cystoscopy is a procedure to look inside the bladder using a thin camera called a cystoscope.