06 October, 2019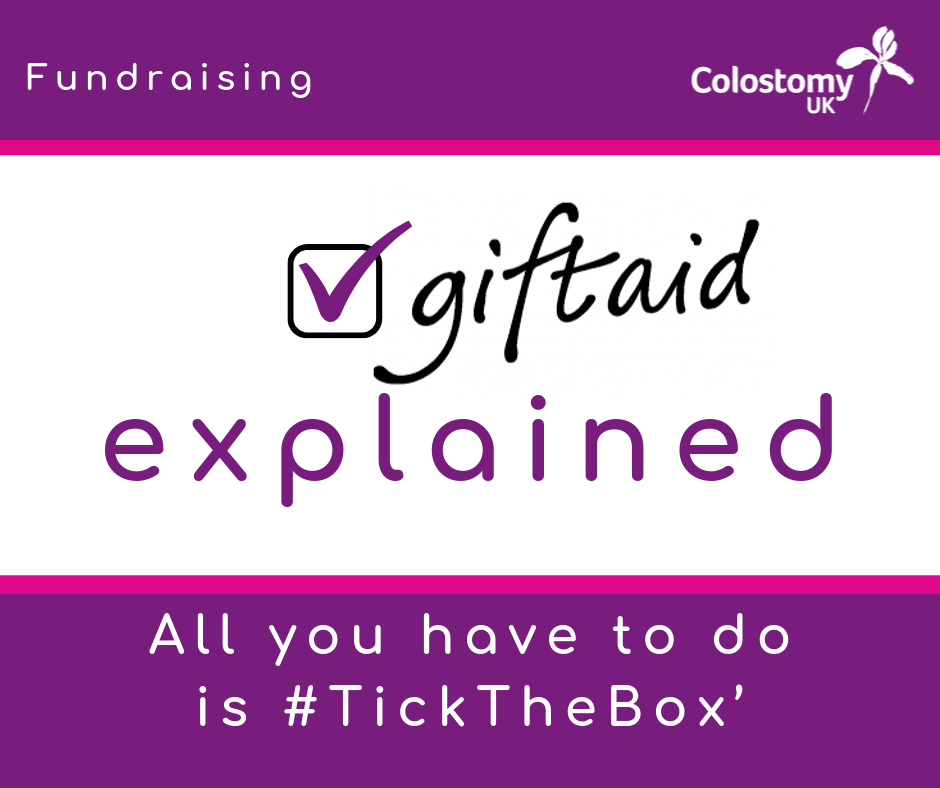 What is Gift Aid?
Gift Aid is a simple way to increase the value of your donation to Colostomy UK. If you pay tax in the UK, Colostomy UK can reclaim the basic rate tax (25%) on your gift. So, if you donate £20, it is worth £25 to us. Here's our guide to a simple and straightforward way of making your donation go even further…
Do I qualify for Gift Aid?
In order for Colostomy UK to reclaim the tax you have paid on your donations, you must have paid income or capital gains tax in the UK for each tax year (6 April to 5 April) at least equal to the tax that all the charities which you donate to will reclaim on your gifts for that tax year. You don't have to be in work to qualify. If you receive a state pension you are also eligible as that is taxed at source.  Other taxes such as VAT and Council Tax do not qualify.
How do I sign up to Gift Aid?
The process is simple – all you have to do is make a Gift Aid declaration when completing one of the donation forms. You can also sign up if you are donating online through our website; just tick the Gift Aid box on the donation form. If donating by telephone 01189391537 you just need to confirm that you want to make a Gift Aid donation and we will do the rest!
What does the Gift Aid declaration commit me to?
Nothing! It just ensures that if you choose to donate to Colostomy ukwe can claim an extra 25% back from the UK Government.
What is a Gift Aid declaration?
A Gift Aid declaration is a statement by an individual taxpayer that they would like a charity to receive the tax paid on their donation back from the UK Government.
How long does the declaration last for?
To simplify matters for both you and the Colostomy Association, the declaration wording normally covers present, future and past donations. We can back-claim payments made over the past four years and we will continue to claim until you tell us otherwise, so long as you are eligible.
What do I do if my tax status changes or I want to cancel my declaration?
To let us know if you stop paying tax or wish to cancel your declaration, please use the enquiry form on our website, write us a letter, send an email or call us on 0118 939 1537.
Will making a Gift Aid declaration really make that much difference?
If you donate £20 a year you may think that an extra £5 to us through Gift Aid isn't really that much of a deal. But what if an extra one thousand people who were eligible also didn't sign the Gift Aid declaration? That means we would be missing out on an extra £5,000 a year. That's enough to provide refresher training for all our helpline volunteers and ensure our Freephone helpline can keep operating 24 hours a day for another year.
That alone should get a tick!