15 May, 2021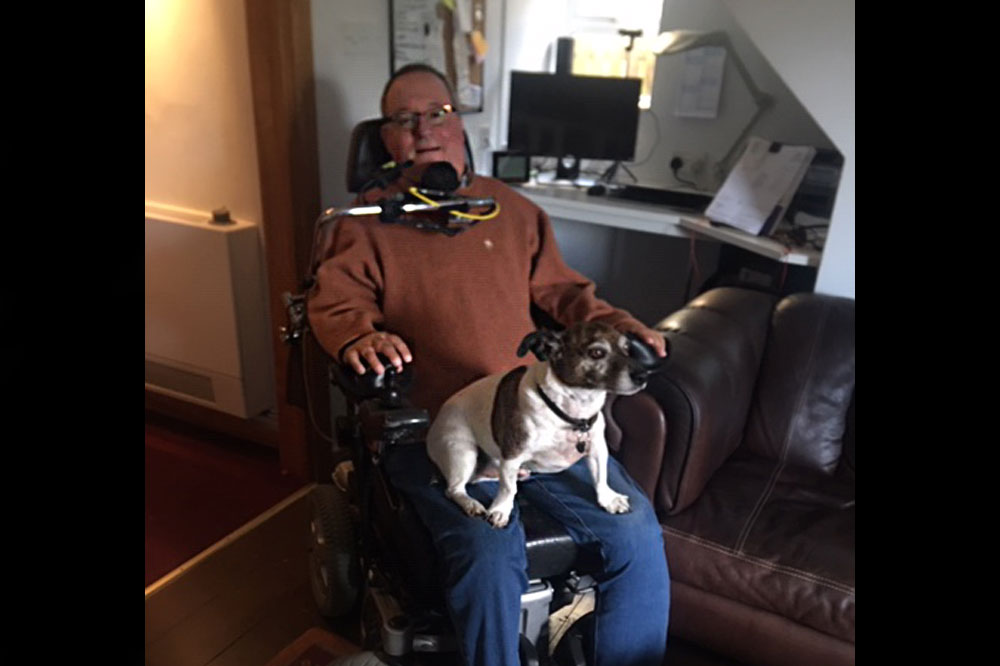 Saturday 15th May is Spinal Cord Injury (SCI) Awareness Day, and we're sharing Dave Thraves story. A spinal cord injury may interrupt communication between the nerves in the spinal cord that control bladder and bowel function and the brain, causing incontinence*. Stoma surgery isn't always offered (or immediately offered) to people with SCI's however, studies have consistently shown that stoma formation can improve quality of life**. Below, Dave Thraves shares his story and how – after years of pain and discomfort – having stoma surgery drastically changed his life. 
My name is David Thraves. Back in 1992, when I was 27 years old, a company director of a fire and flood restoration business, living in my own home, engaged and enjoying an active social life, my future, at a stroke, changed immeasurably. On the 26 August of that fateful year, whilst holidaying in Majorca, I was involved in a serious diving accident which left me paralysed from the neck down. Following a brief ten-day stay at an intensive care unit (ICU) in the capital, Palma an air ambulance was chartered (with the financial assistance of my holiday insurance) and I was flown back to the UK. Under the blue lights of a cautiously driven ambulance, I was taken to ICU at the now closed Salisbury General Infirmary and, after approximately two weeks there, was transferred to The Duke of Cornwall Spinal Treatment Centre at Odstock, Salisbury. I spent a further 12 months rehabilitating at the spinal unit, before moving onto a nursing home situated on the outskirts of Bath, the city where I had lived since the age of 17. For two years I was a resident at Shockwick House Nursing Home, a historic manor house built around 1750 by John Wood, the elder. During the years spent at the nursing home my house was sold, another house was sought and, following a relatively lengthy period of time, converted for my needs. My journey through the many medical institutions involved in my recovery, staffed by some of the most selfless and professional people I'd ever known, now ended. Living independently at home with my own personal assistant (PA)/carers courtesy of the then recently launched, Direct Payments scheme, I finally regained my independence and control of my life.
Because of the paralysis that accompanied my spinal injury, I was incapable of moving my body from the neck down. Consequently, I was unable to carry out any of my own bowel care. Whilst rehabilitating at the spinal unit in Salisbury, my bowel care routine was administered by a member of staff and triggered with the use of glycerine suppositories and a gloved lubricated finger. When it was deemed I had finished, the member of staff managing my bowel care checked my rectum was empty in order to prevent embarrassing accidents occurring later on. Having done so, they would move me into the shower. My bowel care took approximately an hour to complete and I was sat over the toilet in my shower chair for the duration of the procedure. By the time toileting and showering had finished, I had been sat in my shower chair for approximately one and a half hours. Initially, there were few problems, although the comfort level of the suppository bowel care I received was partly dependent upon the person carrying out the task. Constipation, diet, water intake, laxatives etc. also affected how comfortable my bowel routine was.
When I moved from the hospital to the nursing home, a limited number of staff were trained to carry out my bowel care. Despite the limited numbers and training given, this occasionally resulted in discomfort and bleeding. In hospital, I had developed a small pressure sore area in the gluteal fold – the crease line situated where the top of the upper thigh meets the buttock – and this pressure sore duly caused me a great deal of trouble over many years!! During the years that followed my accident other bowel issues emerged, including haemorrhoids and autonomic dysreflexia. The latter is a syndrome that affects people with a spinal injury at the T6 level or higher. Amongst other things, autonomic dysreflexia can be triggered by bowel issues, the symptoms being a sudden onset of excessively high blood pressure, perspiration, cold clammy skin, flushed face with red blotches on the skin and, if left untreated, a pounding headache and a potentially life-threatening prognosis. Thankfully, although I suffered many of the symptoms, I avoided the last! Whilst living in my own home, even with the most experienced and diligent of PA/carers, occasionally my bowels would open again while showering. I could grin and bear the discomfort, but something as undignified as your bowels opening in the shower eventually prompted me to seek an alternative form of bowel care.
Over the years, the pressure sore that I spoke of earlier, remained small due to the dedicated and professional supervision received from those involved in my care. However, during this period, I spent countless days, weeks, and months on bed-rest, desperately trying to avoid a more serious pressure sore developing. Despite alterations to my electric wheelchair, different pressure relieving cushions, an air mattress for my bed, and the huge experience and knowledge of the spinal unit, the mark persisted albeit in a managed way. Nobody seemed able to answer why the skin broke down. With all the problems that had amassed as a result of my bowel care, combined with the challenging times I had spent on bed-rest, a solution had to be found.
Following discussions at the spinal unit, a referral was made to Mr Graham Branagan, the colorectal consultant at Salisbury District Hospital. Having exhausted numerous methods of bowel care over the years, Mr Branagan told me that, in essence, my options were limited to either continuing with my current bowel care routine or having a colostomy. I had never given much thought to a colostomy as it was rarely, if ever, discussed during my hospitalisation back in the early nineties. I had tried all sorts of different potions and lotions to help with my haemorrhoids, to assist intestinal transit, and to counter the effects of autonomic dysreflexia. However, apart from managing the dysreflexia, remedies for the other issues were tried, but all to no avail. In reality, the choice left to me was to put up with the status quo or go for the colostomy. Well, my decision making was further aided by the fact that, following the pressure mapping of me sat in my shower chair, it was a revelation to discover that high readings were noted in the gluteal fold area of my body, the area that had given me so much trouble for so many years. Pressure mapping is simply a pad with sensors that you transfer onto in order to provide a snapshot, or live feed, of the pressures under the seated surface. So, in conclusion, after more than two decades managing the pressure mark and years of bowel care related problems, having weighed up the pros and cons of having a colostomy… it was a no-brainer really, and I gave the green light for the operation to go ahead.
On the 23 November 2015, the colostomy operation was carried out at Salisbury District Hospital by Mr Branagan and his highly professional team. Afterwards, it only took a short period of time to adjust to the new form of bowel care. The benefits were felt reasonably quickly. It took about seven days post-op for my blood pressure (BP) to settle. The spike in BP I experienced was almost certainly caused by the effects of autonomic dysreflexia and once the correct medication was put in place to calm it, the situation rapidly improved. Within a matter of weeks, everything settled, and because I no longer had to sit over the toilet, I was able to cut the time spent in my shower chair by 70%. Within six weeks of the operation, the once invincible pressure sore had all but disappeared! The loathsome bedrest that had formally blighted my mobility, has not been needed since and is now a distant memory. My dignity has been restored, because the unwelcome bowel movements that every so often played havoc during showering, are now at an end.
There have been other benefits from having a colostomy. The autonomic dysreflexia that troubled me during toileting for far too many years to mention has disappeared and, with it, all the associated symptoms. Another benefit for having opted for the colostomy, is that I no longer have to worry about how conscientious somebody new might be whilst carrying out my bowel care. Training somebody to change a colostomy bag is infinitely easier than training someone to use suppositories and digital stimulation. The humiliation of explaining to a new member of my care team, or for that matter an agency carer, the 'Russian Roulette' likelihood of a post-toilet accident, is now a thing of the past. Previously, when travelling abroad or staying away with friends and family, a good deal of consideration had to be given to the bathroom facilities. Amongst other things, the toilet had to accommodate my shower chair. We would we have to consider the time it was going to take to carry out my bowel care and also have to factor in a recovery time or, if that wasn't possible, revert back to the 'grin and bear it' approach. Such issues are now banished to the annals of time.
So, as you can imagine, for me the colostomy operation has been a revelation. Thing is, it didn't just affect me, it also affected my family, friends and PA/carers. Before the colostomy 'Bedroom Bistro', a coin of phrase adopted by those that came to visit me for dinner whilst I was on bed-rest, is now something we reflect on with amusement. Whereas it was common for me to decline an invite due to bed-rest, such restraints are no longer a consideration. Training a new PA/carer to change my colostomy bag, frees me from the awkwardness of explaining my suppository bowel care. Post-op travelling is a breeze compared to what it used to be and places that would have otherwise been inaccessible, are now a possibility. The morning pain and discomfort that once spoilt and blurred my daily living is greatly reduced. I still suffer with root pain, a form of pain associated with spinal injury, but at least I don't have to contend with them both.
Having lived with the colostomy for almost five years now, I can honestly say that the benefits vastly outweigh the negatives. Some people have asked me if the aesthetic side of having a colostomy bothers me. Well, anybody in an intimate and physical relationship would almost certainly have given this due consideration, but seeing as there are some very discreet colostomy bags available, and considering the health and well-being advantages that I can attribute to having had the colostomy, I'd say no.
Nowadays I rarely, if ever, think about the colostomy at all! As I explained earlier, it has given me back the ability to live my life free from the spectre of pain, discomfort, and bed-rest. It has also liberated me from the mental humiliation associated with my previous bowel care routine. It has made me more confident and able to reliably put my name to things. I used to give talks in schools, colleges, universities, hospitals and wherever else would have me, but the worsening situation that once affected my bowel care combined with the constant worry of letting people down and the challenging effects of pain, left me with no alternative but to often cancel or decline. I thoroughly enjoyed carrying out these presentations, and now that the colostomy has freed me to do such things, hopefully soon I'll be able to return to offering the presentations I felt so passionate about. Like many things in life that are new, it takes a little time to adjust to change. Minor issues are soon ironed out or managed. Many things in life come with consequences or compromises, but in the case of the colostomy, these are very much mitigated by the benefits. I wish I had opted for the operation decades ago, as for me, it has been life changing!
Dave's story was originally published in our award-winning support magazine, Tidings (edition 60): https://www.colostomyuk.org/support/tidings/
*https://www.nafc.org/
**https://bjssjournals.onlinelibrary.wiley.com/doi/full/10.1002/bjs5.50339