03 May, 2019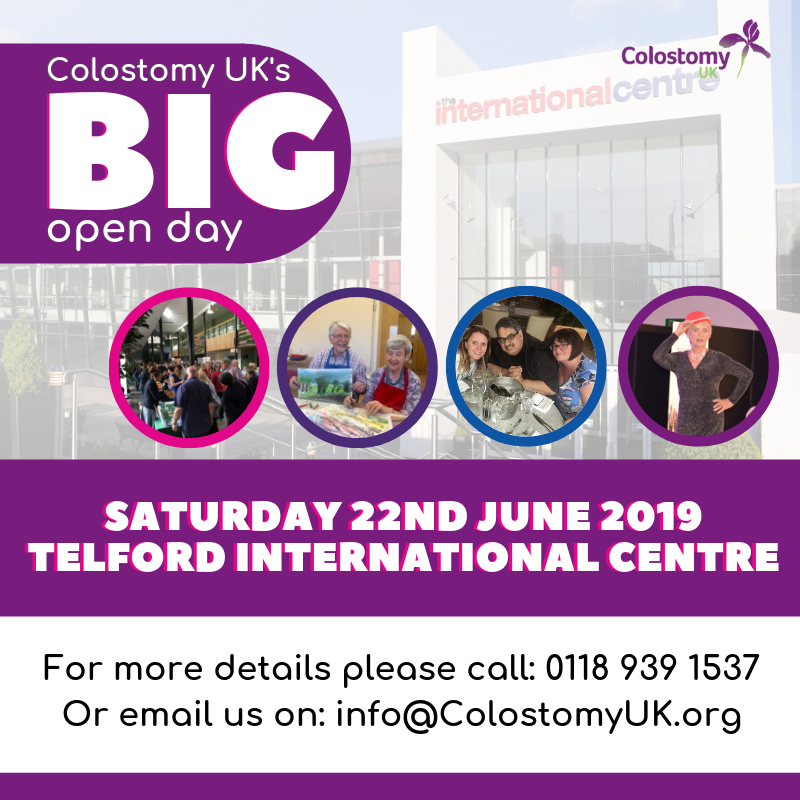 We hope you can join us for our BIG Open Day on Saturday 22nd June!
2019 plans to be our biggest Open Day yet and we have lots of things planned. There will be the opportunity to see a stoma care nurse (pre-booking required). There will be workshops in the morning and afternoon giving you the chance to try out chair yoga and a 'Creative Minds' art session. You can attend a talk on nutrition and ask our expert questions. UK Airport security and special assistance teams will also have a stand, so you can talk through any air travel queries you might have. In the evening we will be having an ostomate fashion show, which we know is always popular. Many of the stoma manufacturers will have stalls. You can also meet the Colostomy UK team and catch up on our latest news.
Telford International Centre, St Quentin Gate, Telford, Shropshire,TF3 4JH
For full directions call the venue on: 01952 281 500 or visit: www.theinternationalcentretelford.com
The venue is 2 minutes by taxi from the train station, but is also serviced by a direct bus which drops you outside. Free car park onsite.

DAY TICKETS – FREE
Tickets for our open day are completely free, but if you'd like a lunch at the venue the cost is £10. This needs to be reserved in advance. Alternatively the venue is just a short walk from the town centre.
FASHION SHOW + EVENING MEAL TICKETS – £30
Enjoy a three course meal and live entertainment from 6pm
Book your tickets by calling the office on: 0118 939 1537

A member of our team will book you into any sessions/appointments you'd like to attend. Please let us know if you have any special dietary or accessibility requirements.
—
RUNDOWN
09:30 – 10:30 day begins
10:30 – 11:30 welcome to the day
11:30 – 12:30 first workshop sessions
12:30 – 14:00 lunch
14:00 – 15:30 second workshop sessions
18:00 fashion Show
19:30 evening meal
For more details please call: 0118 939 1537
Or email us on: info@ColostomyUK.org