01 April, 2019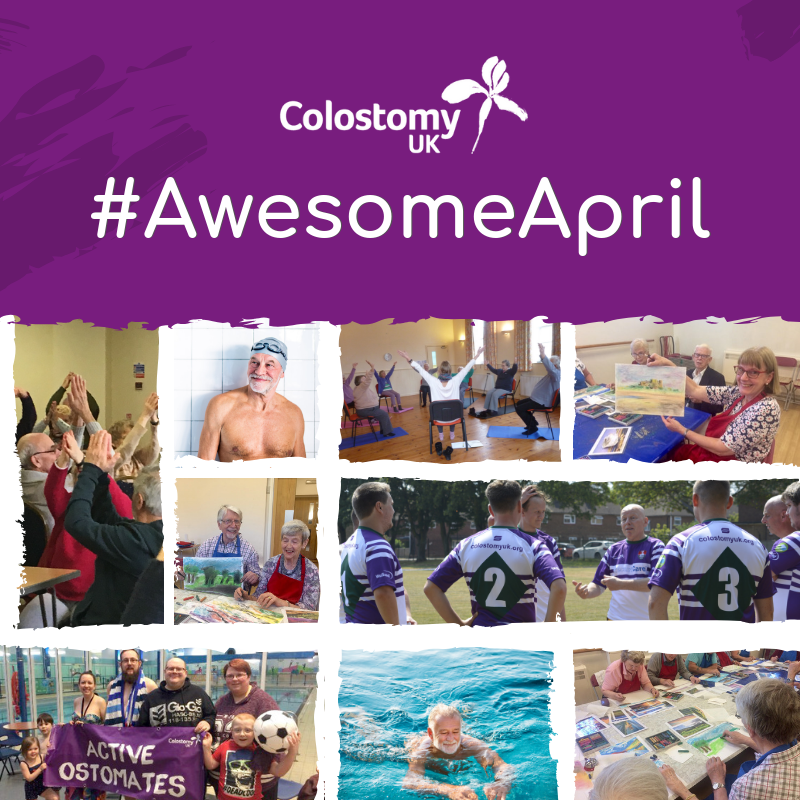 April is going to be one of our busiest months here at Colostomy UK! We are running our Active Ostomates sessions across a wide area of the country and also have our first Rugby League match of the year.
Active Ostomates is a project where we host a range of activities including archery, chair yoga, swimming and art through stoma support groups. The hope is that by allowing ostomates to try these in a supportive environment and with people they are comfortable with, they will build enough confidence to participate in similar activities in the wider community.
You don't need to be a member of a support group to take part so get in touch if any of the below interests you!
—
Sheppey  – Creative Minds art session – Thursday April 4th 
Thistle Hill Community Centre, Minster On Sea, Kent ME12 3FG
Contact Shelley:  sogs-uk@hotmail.com
—
W.A.M.S – Creative Minds art session – Monday April 8th  
Dedworth Green Baptist Church, Smiths Lane, Windsor, SL4 5PE
Contact Isabel: wamsstoma@gmail.com 
—
Liverpool – swimming session – Wednesday April 10th 
Sport Liverpool, University of LiverpoolBedford Street North L69 7ZN
Giovanni.cinque@colostomyuk.org
—
Unfortunately due to personal reasons the artist has had to postpone this event.
Newcastle Upon Tyne – Creative Minds art session – Friday April 12th 
Molineux Street Walk in Centre, Byker, Newcastle Upon Tyne NE6 1SG
Contact Peta: peta.birch1@gmail.com
—
Salisbury (Wessex Stoma support) – chair yoga session – Friday April 12TH 
Bob Blandford Scout Hall. Warminster Road. Wilton, Wilts. SP2 OAL
Contact Michael Wessex.stoma@yahoo.co.uk
—
Londonderry / Derry – swimming session – Monday April 15th 
Templemore Sports Complex, Buncrana Road, Londonderry BT8 7QL
Contact Chris chris.morrison90@hotmail.com
—
Team Colostomy UK V Medway Dragons Rugby League – Saturday April 20th
Medway Park Mill Road, Gillingham ME7 1HF
Giovanni.cinque@colostomyuk.org
—
Chester Hospital Open Day – chair yoga – Wednesday April 24th 
Ellesmere Port Masonic Hall, 141 Chester Rd, Ellesmere Port CH65 6SD
Contact Maria maria.brown4@nhs.net
—
Harrogate Stoma Support Group – chair yoga – Thursday April 25th
Harlow hill Methodist church hall, Otley Road, Harrogate, North Yorkshire, HG2 0AG
Contact Gillian: gillian.wilson14@nhs.net
—
Stevenage – Chair Yoga – Saturday April 27th
The Oval Community Centre, Vardon Road, Stevenage, Hertfordshire, SG1 5RD
Contact Judy: neilcolston@btinternet.com
—