20 October, 2017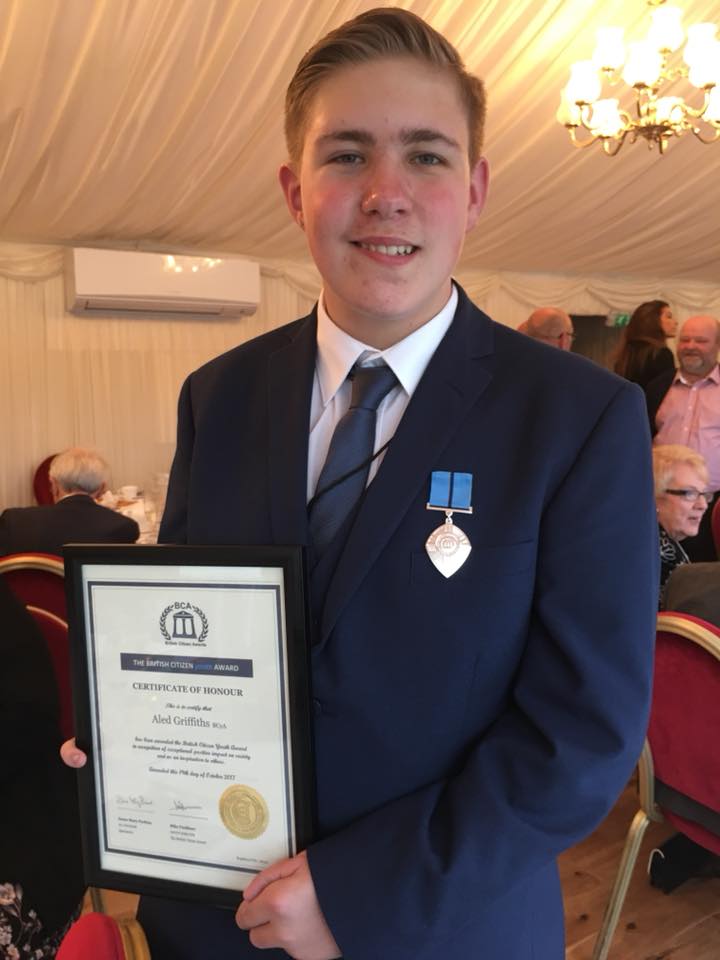 We are very proud to announce that Aled Griffiths, children's ambassador for our Junior Ostomy Support Helpline (JOSH), has been awarded a medal in this years British Citizen Youth Award (BCyA). The BCyA recognises extraordinary contributions to society, charities and good causes.
Aled Griffiths, 14, from Plymouth was one of the children honoured for their incredible efforts at a formal presentation held at the Palace of Westminster on Thursday 19th October.
Aled's motto is 'Be You and Believe in Yourself'. He was born with a medical condition called Vacterl Association, which has meant spending a lot of time in hospital having various operations. Despite the physical challenges, Aled sees this as an opportunity to talk to others about how he copes and how he wants to be seen as 'abled' rather than 'disabled'.
Aled says; 'I feel amazed and honoured that someone has taken the time to read about me and decide that I am worth it. When my mum and dad decided to tell me they pretended to be annoyed with me but instead they had this wonderful news'.
At the age of 10, he gave a presentation to 600 specialist nurses at the Association of Stoma Care Nurses Conference about himself and his condition in the hope that this will inspire others to achieve their goals and dreams. At 12 years old he travelled without his parents with a charity to India to help build a school.
In addition to his talks Aled also volunteers for Colostomy UK, helping at Open Days and events across the country.
Parents Gaile and Neale Griffiths say: 'We are so proud of Aled and what he has achieved. From such a young age he has been aware of how much he can help others, especially younger children and their families who are learning to cope with a stoma. As well as being the children's ambassador for The Junior Ostomy Support Helpline, (J.O.S.H) part of Colostomy UK , and the children's ambassador for Mitrofanoff Support he still finds time to do well at school and simply wants to show that having differences shouldn't stop you.'
Aled Griffiths received his BCyA medal from Ashley Banjo, creative director and lead dancer of Diversity, whose dance troupe won the third series of Britain's Got Talent.