21 August, 2018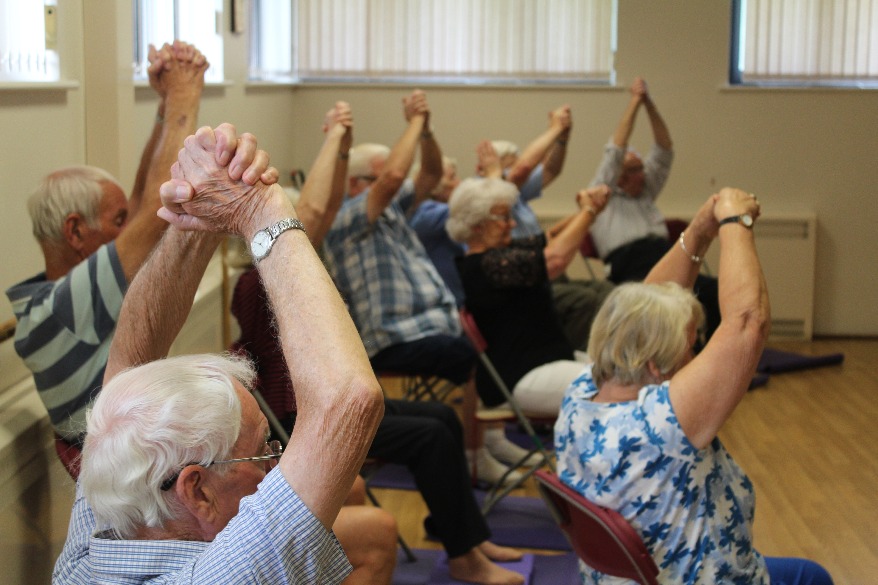 Nicki Beare from the Hampshire Ostomy support group in Andover talks about a recent Colostomy UK Free 'Active Ostomates' chair yoga session that her group took part in.
'When Giovanni from Colostomy UK came to our group earlier this year we took him up on his offer of taking part in their 'Active Ostomates' project.
The first activity we chose as a group was chair yoga. I was sceptical at first, wondering whether our group members would really enjoy something slower paced.
The group is quite lively when we meet so sitting and doing chair yoga may have been too quiet for them.
However, Giovanni organised for the lovely Judy to come and when she arrived we quickly set up the room as she needed it to be. Once settled, we listened to her story of how she got into Yoga and what she had endured in her life to lead her to working with people with certain conditions.
When we got started I quickly realised that I could not have been more wrong about the enjoyment factor that the members got out of this experience.
It was beneficial to them in ways I couldn't have imagined. She took us through a few moves and explained the purpose of each move,  and how it would help us, especially if we did them on a regular basis.
One member, Shannon said '' I was surprised I really enjoyed it. Judy was brilliant and is clearly passionate about it. I took on board her advice about movements and relaxation. Since that Thursday I have practiced the moves every evening. I have found I feel a lot less stressed and have been sleeping better.
The moves she gave us touched on the stresses of everyday life. Even our oldest member 86 years young Jean loves it. 
Whilst other members chatted after a short break, the rest of the group wanted to carry on and got more out of it from Judy.
So thank you Colostomy UK, We will definitely be inviting Judy back for more.
I'm organising it for my Winchester group also and we look forward to the next activity we chose, could be archery!!'
If you're involved in a support group and would like to take part in our free Active Ostomates project please email Giovanni.cinque@colostomyuk.org or call 0118 939 1537