13 May, 2021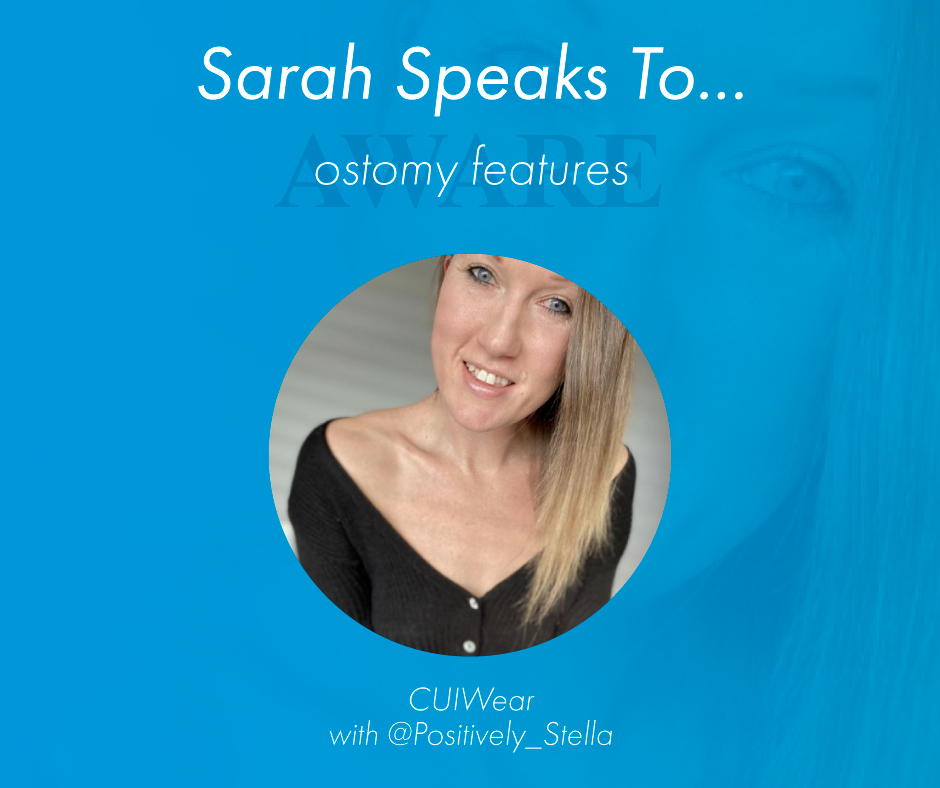 This is a sponsored feature from CUI Wear.
CUI Wear have an exciting new Ostomy Feature working in collaboration with Sarah Smith, an avid social media influencer who has found positivity out of her own experience of living with Ulcerative Colitis and an Ileostomy and campaigns to raise awareness; featuring in Women's Health, Sky News with Colostomy UK, and most recently on BBC East Midlands.
"Raising awareness for Ulcerative Colitis and Stomas has been something I have felt passionate about since my emergency surgery in 2019. I had Ulcerative Colitis for 13 years and lived in fear of other people's thoughts, but since my surgery, my whole life changed for the better, and by raising awareness I wanted to make other people feel comfortable in their own skin too."
Sarah's Story
"My name is Sarah and I am 31 years old".
Sarah was diagnosed with Ulcerative Colitis, which is a form of inflammatory bowel disease when she was just 16 years old. Sarah grew up living with the disease from this young age and found it really difficult. After 13 years of medications, Sarah was admitted to hospital in April 2019, to have emergency surgery to have her colon removed, as all medications had now failed. Sarah's body had either got used to them, rejected them or grown antibodies against them."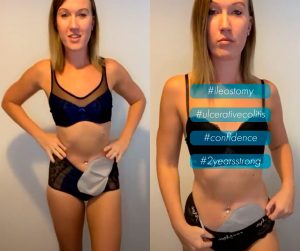 "I had surgery to have an Ileostomy formed in April 2019, this is where the end of your small bowel pokes out through your stomach and a bag is attached to collect your waste. The thought of having a Stoma had always seemed like the worst option for me. I always felt like a stoma would reduce my quality of life and the way it would make me feel."
"However, since my surgery it has given me a new lease of life. I can actually say that having the bag has empowered me and made me feel more body confident than I have ever felt. I am pain free for the first time in a long while, I no longer take daily medications, I now have control over my life and the quality of life I have is amazing."
"I am proud to be an Ostomate and my aim is to raise as much awareness as possible via social media."
CUI Wear asked their Twitter followers to be a part of their new website launch, Oliver Rowley was one of many who answered as an advocate of CUI Ostomy garments.
Ollie's Story
Ollie is 37 years old and had to have surgery due to diverticulitis. This caused a fistula between his bowel and bladder which had a few unfortunate consequences. Ollie explains that he has always been an active person so was committed to getting back to an active lifestyle, post-surgery.  He tells us how he was initially surprised at how much having surgery took its toll on his body and just how long it took him to get back up and about just doing normal day to day activities.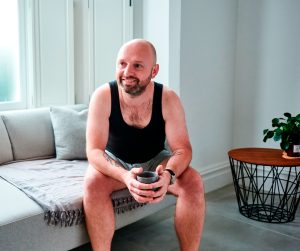 "My name is Ollie, I'm 37 years old, married with 2 kids and I've had a colostomy for 2 years.
"I spent a lot of time researching how people had returned to activity post-surgery and it seemed clear that there were two key elements to success:
Patience, little steps and gradual improvement, don't expect yourself to be at the level you were prior to surgery straight away.
Good support wear, key to making sure you're looking after your body and are able to do the things you love without risking further injury or complications."
"I feel that having the right support wear also added a level of confidence and comfort when I initially started out as it can be weird exercising with a bag hanging off you to start! You also want to be sure you're minimising the risk of leaks or accidents as that was definitely one of my main concerns to begin with."
"I now use various support wear throughout my daily routines. I use support briefs and a vest for my daily routine to give me the comfort and security I need during my day and to allow me to carry on wearing my usual trousers and shirts at work. When running I also use the support vests to keep everything tucked away nicely and give my stomach muscles the support they need. Then when I play football or rugby I use the vest as a base layer and then give myself the extra support and protection of a support belt as well."
"I'm very conscious that having a colostomy shouldn't negatively impact my day to day life, having the correct support wear allows me to carry on doing everything and anything I want to with the confidence that I had pre surgery. I play football regularly with friends, I run quite a bit – I ran my first half marathon when my stoma was one-year-old and I've also started to play rugby league with Team Colostomy UK. Having a colostomy shouldn't be a barrier to sport or an active lifestyle, you just might need a few more things in your kit bag each week."
"Physical activity has been key to both my physical and mental recovery so I'm really grateful there's the tools out there to make it easy to look after myself and to get back out there!"
CUI Wear develop and manufacture an innovative range of Ostomy underwear, swimwear and Hernia Support garments. We also have a team of dedicated Support Specialists who can offer free advice and fitting consultations
We have recently released the new and improved anti-roll hernia support belt, where 95% of wear trials praised the enhanced performance and comfort of the belt.
To view our full product range and services please visit our Website – www.cuiwear.com