02 January, 2019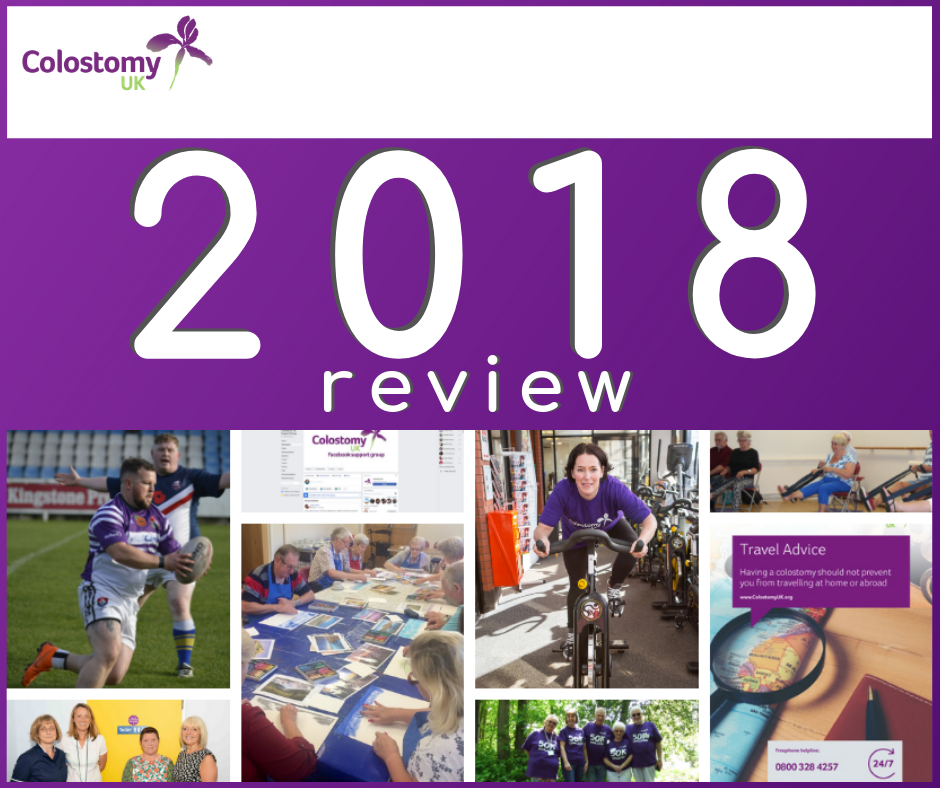 2018 was an exciting and busy year at Colostomy UK. We thought we'd give you a round-up of what we've been doing. Let's hope that 2019 is just as good!
First some statistics, in 2018 we:
Circulated approx. 88,000 copies of Tidings, with an estimated readership of 60,000 per edition.
Sent out approx. 30,000 Colostomy UK leaflets and booklets to stoma care nurses, G.P. surgeries, support groups and care agencies.
Responded to almost 6,000 telephone calls and e-mail enquiries.
Membership to our closed Facebook group increased by 25%, reaching almost 6,500 people by October.
Hopefully you're already slightly impressed, but if you still need some persuading then read on for a selection of the year's highlights…
Work with healthcare professionals, carers, local government and business leaders
Attended the Association of Stoma Care Nurses' annual conference in Birmingham where we gave three papers about Colostomy UK's campaigns, projects and how we can work with healthcare professionals for the benefit of patients and people with stomas.
Attended the Securicare Nurses' annual conference in Derby
Joined the South West Stoma Care Nurse forum.
Visited 30 stoma care departments in the UK from Newcastle, Gateshead and Durham in the north right down to Cornwall in the south.
Working in partnership with Wexham Park Hospital and Worthing Hospital to set up new support groups.
Introduced a new dementia module to the care workshops that we deliver.
Delivered 18 workshops to a combination of Local Authority Reablement staff, specialist day care staff, dementia support workers, care agencies and staff from nursing homes.
Became members of, and contributed to meetings, at the transport forums and accessibility panels of the Civil Aviation Authority and a number of UK Airports.
Worked with other charities at the UK Toilet Consortium.
Continued to be a voice at the Patients, Industry and Professionals forum.
Support groups and open days
Attended support group meetings across the country.
Gave talks and presentations to 24 support groups about Colostomy UK, the support we offer and our campaigns and projects.
Members of the team and volunteers represented Colostomy UK at over 100 open days.
Campaigns, Projects and Advocacy
Stoma Friendly Society  and fighting the 'Poo' Taboo'
Celebrated World Ostomy Day
Started discussions with the National Trust and the Royal Collection about their toilet facilities and signage.
Attended and provided feedback on the Heathrow Airport Engage and Assistance events and the Manchester Central Training and Education Day.
Began discussions with Sarah Newton M.P. Minister of State for Disability People, Health and Work about public toilet provision (access, facilities and signage) and the need for government to support awareness campaigning.
Active ostomates
Delivered 33 chair yoga sessions to 12 support groups.
Piloted 'Ostomate-only' closed swimming sessions in Sheppey (Kent), Newcastle and Gateshead. See our article 'Chlorine, the breakfast of champions' in Tidings Summer 2018 edition for more.
Ran the 50K Challenge, which saw 356 participants achieve over 69,000 km.
Launched Team Colostomy UK Rugby League, with the team playing their opening fixture in July against Medway Dragons. Further fixtures have since been played against South London Silverbacks and PDRL United with further games scheduled for 2019
Launched our Creative Minds project with New Art in September 2018.
Phew… that was only a selection of all the good work we have been doing and with the ongoing support of donors,volunteers and businesses we hope to do even more in 2019!