12 July, 2019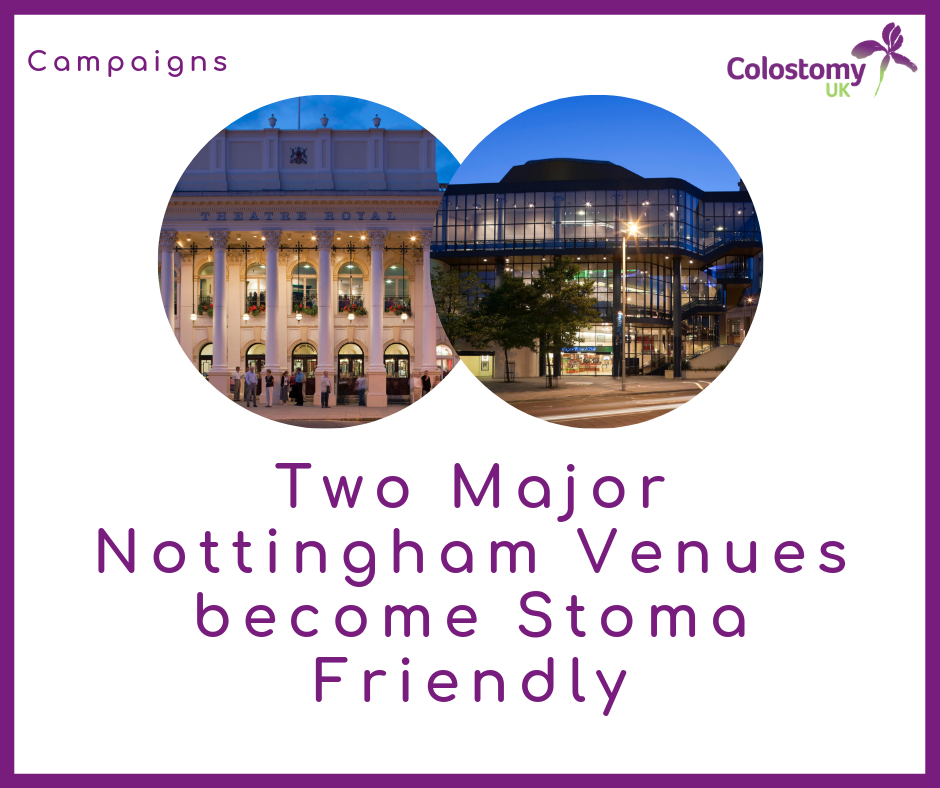 The Theatre Royal & Royal Concert Hall Nottingham accessible toilets are now 'stoma friendly' thanks to customer feedback.

The accessible customer toilets at two of Nottingham's biggest entertainment venues have been adapted to accommodate people with stoma, following a customer providing the venue's front of house team with information from Colostomy UK.
The venue's Front of House and Access Development Manager, Emily Malen, said: "We recently received some feedback from a customer, pointing out that our existing accessible toilets could be made 'stoma friendly' following some simple guidance from Colostomy UK.  I am pleased to say that five of our accessible customer toilets are now 'stoma friendly' with the addition of some extra shelf space, door hooks, mirrors and disposal bins within the toilet cubicles.  Also, because the condition is 'hidden', our accessible toilets now all carry external signage to highlight the fact that not all disabilities are visible.
To us, being 'accessible' means ensuring all our visitors have a smooth and hassle free experience, and are able to participate equally, with dignity and respect.  That means listening when our customers make suggestions on where we can improve.  We are delighted to know that relatively small changes like these can make a huge difference to someone's experience when they visit us."
The Theatre Royal & Royal Concert Hall provide many additional services to support customers with a variety of needs, including mobility, dementia, sight and hearing loss, and autism.  The venue provides regular sign language interpreted performances, alongside captioned and audio described performances, a guide dog-sitting service, relaxed performances, information in alternative formats and a free access requirement register.  The venue provides regular staff training sessions to ensure that the venue continues to provide the highest standards of quality and care for all its customers.
Find out more about assisted performances and access support offered at the Theatre Royal & Royal Concert Hall Nottingham here
Theatre Royal & Royal Concert Hall Nottingham
With over 200,000 visitors every year, the Theatre Royal Nottingham is one of the UK's most successful touring venues, leading the way for arts and entertainment in the East Midlands region.  The diverse programme of events offers the very best touring drama, opera, ballet and contemporary dance alongside blockbuster West End musicals, comedy and pantomime.   Also offering a wide range of workshops and projects involving the local community (from opera to creative writing), free foyer performances, backstage tours, conference and meeting facilities, plus our bustling café bar and restaurant – there really is something here for everyone. Visit www.trch.co.uk to find out more.
Colostomy UK have been campaigning to increase the numbers of Stoma friendly accessible toilets in the United Kingdom since 2016.
For more information, to get involved, or to see our updated guidelines to what makes a toilet stoma friendly visit https://www.colostomyuk.org/get-involved/campaigns/toilets/