17 April, 2020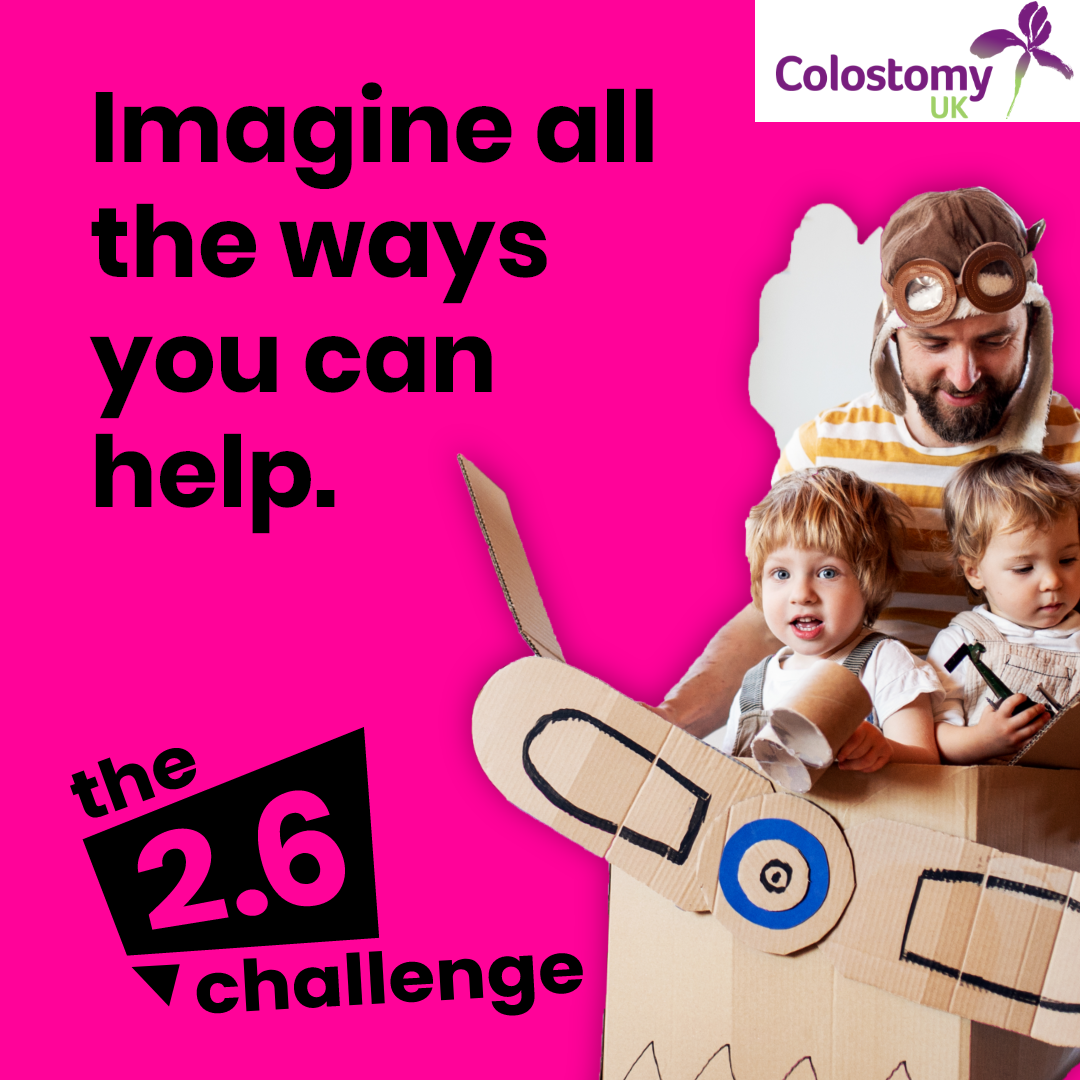 Support us and join The 2.6 Challenge from Sunday 26 April
What is the 2.6 challenge?

Colostomy UK, like so many charities across the UK, has been hugely affected by the cancellation of thousands of fundraising events, so we're delighted that the organisers of the biggest mass participation sports events have come together to create a new campaign to raise vital funds to save the UK
The campaign, The 2.6 Challenge, will launch on Sunday 26 April. This date should have marked the running of the 40th London Marathon, the world's biggest one day, annual fundraising event.
We'd love your support in the 2.6 challenge so please join our team and fundraise for Colostomy UK; you'll be helping us raise vital funds so we can carry on supporting ostomates.
How can I get involved?
All you need to do is dream up an activity based around the numbers 2.6 or 26 and start or complete it on Sunday 26th April.
You will also need to create a 2.6 Challenge fundraising page and then start collecting sponsorship or donations. If you prefer, just donate to Colostomy UK via Just Giving or Virgin Money Giving (Remember to search Colostomy UK (Just Giving) or Colostomy Association (Virgin money) to make sure your donation comes to us).
Ideas for the challenge 
Your challenge can be as simple as trying to juggle for 2.6 minutes or riding your bike or walking for 2.6 miles. Or you can get crazy and creative and bake 26 different types of cake, see how many trampoline jumps you can do in 2.6 minutes or join in with friends and each walk/ride or run part of the marathon distance (being aware of social distancing rules.) You can also get some great ideas for family challenges from the Virgin Money Giving downloadable activity pack
How will the funds I raise help Colostomy UK? 
Here at Colostomy UK we are working harder than ever to support and empower you . We are proud that we are continuing to combat loneliness and offer support and advice at this time through all our support services: 24-hour freephone stoma helpline, volunteers, Private Facebook support group, our website, Tidings support magazine and digital advice literature. We are also doing our best to ensure that this support continues uninterrupted by looking at new initiatives and utilising technology to stay connected with you. We will shortly be introducing a number of 'Active Ostomates' 'virtual' initiatives to keep you mentally and physically stimulated while staying safe in your homes as we too understand the importance of motivating each other.
The funds you raise will help us keep doing the above and much more in the future.
The 2.6 Challenge is open to everybody – the only requirement is that the activity must follow the Government guidelines on exercise and social distancing.
Good luck, we can't wait to see what you get up to and thank you in advance for your support.
Libby Herbert,
General Manager, Colostomy UK 
The 2.6 Challenge is open to everybody – the only requirement is that the activity must follow the Government guidelines on exercise and social distancing.
For more information on The 2.6 Challenge, visit twopointsixchallenge.co.uk
For more information on the support available from Colostomy UK visit our website at www.colostomyuk.org
Our stoma helpline (0800 328 4257) is open 24 hours a day 7 days a week for practical and emotional, experience-based advice, from volunteers living with a stoma.
Everyone participating in The 2.6 Challenge is urged to follow government guidelines. Current government advice is that you should only go out once a day for exercise, either alone or with members of your household. You are urged to stay local and always keep more than two metres away from other people at all times.