08 February, 2021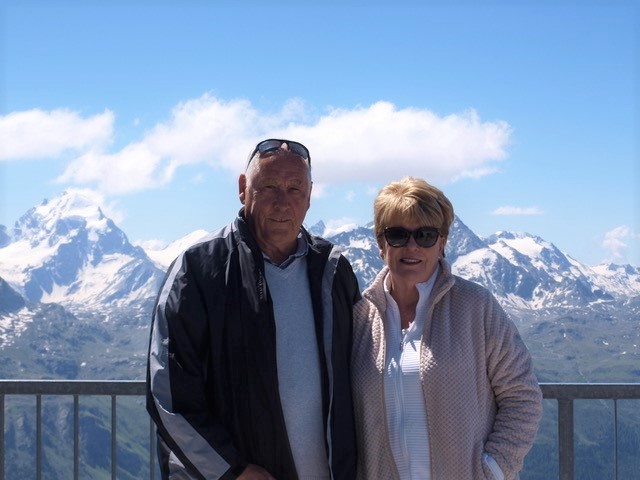 Following Bowel Cancer, Trevor Alexander has a colostomy formed. Here, Trevor talks about his experience of irrigation.
I spoke to my stoma nurse to find that few people in the area irrigated, but she explained the process and agreed to order me a kit and let me try. When it arrived from Coloplast she gave me a lesson on how to put it together and supervised me using it. When she was happy I was competent, I was sent away to try on my own. My initial solo effort was a little like going back to the beginning again. Firstly, the reservoir had to be filled with water at the right temperature, sounds easy in theory but in practice proved to be anything but! The reservoir outlet also has to be positioned at least shoulder height and, as my bathroom hook wasn't, the first thing I had to do was to get a new hook. Unfortunately I didn't account for the weight of the reservoir (which starts with up to a litre and a half of water in it). So my advice is don't use a self-sticking hook. I made this mistake and when the hook fell off the wall just as I inserted the cone into my stoma there were some choice words as the bathroom flooded! I'm philosophical about this now. Like all new things a sense of humour is required when learning a new skill. Once a new hook was screwed into the wall I found the whole process a revelation. I eventually found the best reservoir support was the suction support from my car Sat Nav. This can also be taken to hotels and attached to bathroom tiles; no hotel I've visited ever has a hook at the right height.
I have had several other interesting experiences apart from the kit falling off the wall. The worst one was self-inflicted when I went to Tenerife for two weeks and forgot to take the plastic sleeves that act as a chute for the waste to fall into the toilet. Amazing what can be engineered with a pedal bin liner. You can see why a sense of humour is necessary!
The irrigation system has revolutionised my situation. Now, to a large part, I am back in control of my life again. Once I had got used to the process (which is very easy) it meant I could use it at a time to suit me and be confident for the next 24 hours at least. There are less obvious advantages too. Large bags can be discarded and I now use mini bags which are much more comfortable and easily take care of any small discharge there may happen occasionally during the day. This is quite rare and is usually self-inflicted by eating something silly or drinking too much red wine! I will not go into the process of irrigating in any detail as this is much better explained by a professional, but rest assured it is quite painless!
The first six months of irrigating were successful, but there were a couple of drawbacks. I found that the reservoir was quite a clumsy piece of equipment and sometimes the water flow was slow or erratic. The flow could be controlled by a trigger mechanism with a visual plastic spinner, but sometimes, even when fully open, I had trouble with the flow into my stoma.
The final piece of the jigsaw fell into place when I read a short readers letter in Tidings which recommended an irrigation pump. The one in the letter was made by B.Braun so I visited their website, had a look and sent for the information brochure. To buy the pump is quite expensive (approx. £500) but I discovered that it was available on prescription with my doctor's approval. This didn't prove to be as straightforward as I had hoped, because my GP practice had never been approached for one before. My telling them how good I thought it would be didn't cut much ice and initially I was politely told 'no'. However, I am nothing if not persistent and contacted the local rep for Braun who was incredibly helpful and set up a meeting with both my doctor and my stoma nurse. This helped them to appreciate the benefits of the pump and eventually resulted in one being provided on prescription.
The pump proved to be the answer to both the problems I had encountered and also considerably cut down the time required. I don't wish to be seen as a salesman for B Braun Iry Pump but it is a superb piece of equipment and the service has been magnificent. The pump decided to stop charging when I was touring Italy last year and after a phone call a new pump was dispatched and was at my next hotel the following day.
So that's my story! I'm sure you will recognise some of the issues will be familiar to others. It's now three years since my operation and I can honestly say that since I have moved onto irrigation with the pump I have never looked back. If you have never tried irrigation I would recommend you give it some serious thought and give it a try, maybe with a kit first. It's a discipline which I have found easy. It takes me about 30 mins from start to finish and has become an add on in the morning before my shower.
I'm now looking forward to the ten years that Mr Slater, my consultant, promised me!
If you have a colostomy and you'd like more information about irrigating, our 'Irrigation and You' DVD is available via our online shop (£1.99). It has been produced to raise awareness about colostomy irrigation as a method of bowel management.
You can also check out our free downloadable guide on irrigation.