16 September, 2019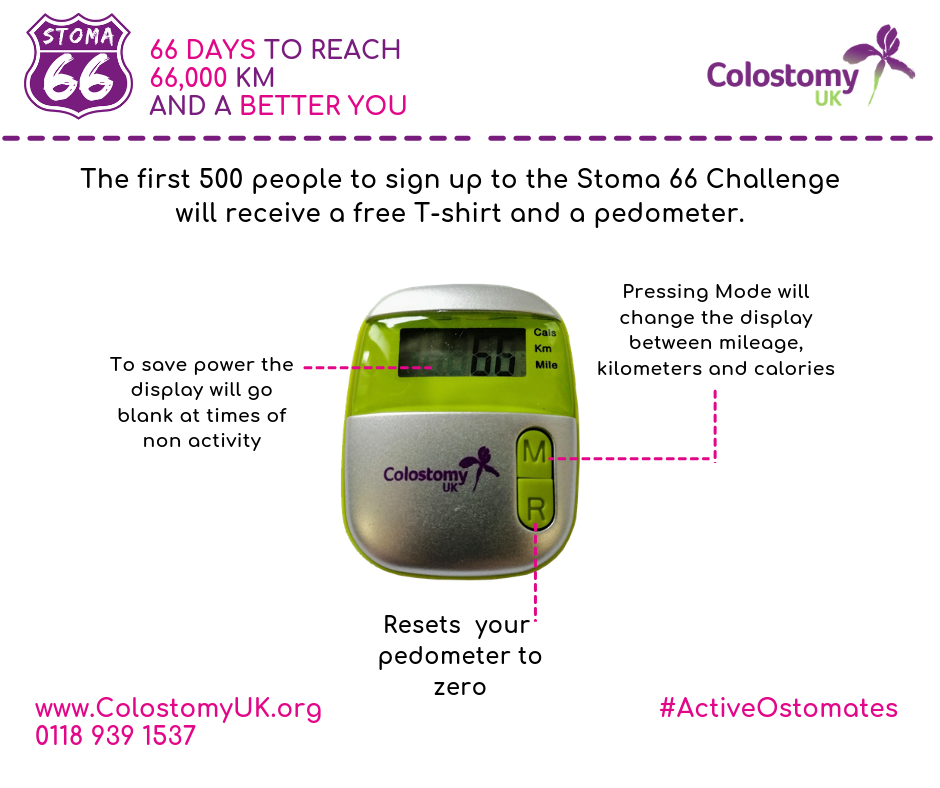 We've had an amazing response to the challenge with over 500 people signing up!  Sadly though that means we have no more stock of our t-shirts and pedometers. Your challenge pack will however still include your progress chart and Stoma 66 booklet for you to achieve a #BetterYou and get active!
Everyone who has already signed up will receive their pack shortly and here is a short guide to using your pedometer…
Pedometers count your steps by recording the number of times they feel a "shake" or "bump" that occur throughout the day. Usually, these happen with each step you take. For a pedometer to be able to count your steps, it has to be attached to your clothes or body. Most people clip their pedometer to their belt or trouser pocket or the waistband of their trousers.
As the pedometer shakes you'll see that the number increases on the screen. At times of inactivity the screen will stop displaying this number so as to preserve battery. Give the pedometer a shake and a number should pop back up.
The primary number you'll see on the screen is the amount of steps you'll have taken. The 'M' button stands for Mode. Pressing this button will change the display between Mileage, Kilometers and Calories and then back around to steps.
The 'R' button below this is the Reset. If you press this it will wipe away your total and you will restart at 0. If you accidently drop your pedometer it may also reset.
We recommend that you keep a daily record of your distance in your diary or on the progress chart we'll send through to everyone who takes up the Stoma 66 Challenge.
Don't forget to tell update your distance to our grand total. There's a number of ways you can do this: You can either enter your mileage on our website, send us an email or fill in the progress chart we'll provide and simply mail it through to us.