23 November, 2018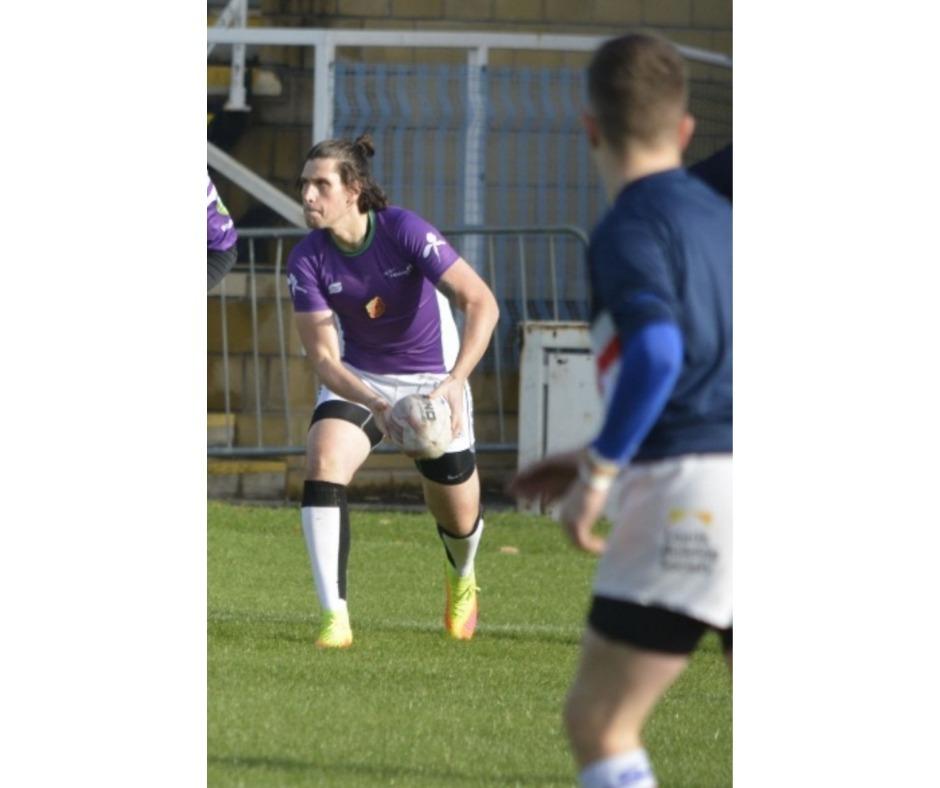 Tom Kaye tells us about the journey that led to his Team Colostomy UK debut against PDRL United.
"I come from a Rugby League family. Before I was born my dad played for Hunslet and Halifax. My brother Ben currently plays for Halifax, having previously been with Leeds, Featherstone and London. My oldest brother has played a good level too.
As a child I enjoyed playing lots of sports, including golf and football, but not surprisingly rugby was my thing too. I've always loved the game because it's an honest sport. There is no hiding place on the field; everyone has to band together to be strong as a unit.
I began playing Union with Ben at Morley, my local club. We then moved on to play for Churwell Chiefs RLFC. We had some great players at Churwell, including Leon Walker who later sadly passed away while playing the sport he loved, Aaron Murphy who now plays Super League and others who have gone on to represent Championship clubs.
I was diagnosed with Colitis when I was eight years old. The tablets I was given had no effect so I had to have surgery. It was tough and caused my family a lot of upset and worry. The operation was massive and left me with a stoma. It was difficult dealing with it at a young age.  I never accepted it and it made me depressed. Anxiety stopped me from living the same life as most of my friends. I spent a lot of time worrying about all the negative things that can happen when things go wrong with your stoma.
My stoma was reversed when I was fourteen, but rather than making things better, my quality of life deteriorated further. Some years later I was diagnosed with chronic liver disease and an aspect of Crohn's. This led me to having a permanent Ileostomy in March 2017. The risks of the operation were hard for me and my family to deal with. Just like other ostomates there are times when I find life with a stoma really difficult.  It puts you in some dark places. No matter how strong you are as a person, depression and anxiety come hand-in-hand with living with it. As anyone with a stoma will tell you the smallest things can have a massive effect on your wellbeing and day-to-day life. The impact on me was so great that in the early days I even fell out of love with rugby league.
Thankfully, my family were looking out for me. Back in 2017 when I was just out of hospital my Mum wheel-chaired me to watch my brother play for Halifax against London at the Shay. They won 26-16 and, post-match, I was taken into the changing rooms to take part in the celebrations. It marked something of a turning point, even though I saw some things in that changing room (from Scott Murrell especially) that I couldn't escape because I was in a wheelchair. The visions still haunt me now! But the support I received from my brother and all the Halifax lads really made me love the game again.
It was after that I began following Team Colostomy UK on Twitter and was very excited to learn they had formed a rugby league team. When I saw they were coming up to Yorkshire I jumped at the chance to get involved, not just to get playing again but to represent a charity that wants to make a real difference and change the lives of people struggling with life with a stoma.
Saturday 10th November is a day I will never forget. It was the day Team Colostomy UK played PDRL United at Featherstone Rovers in a Touch rugby league challenge. It was my first game  in over 12 years. It felt great despite the fact I got the smallest kit in the bag!!
Everyone was brilliant and seeing Libby, our first female player, fearlessly jumping in front of a man twice her size is a moment I will never forget. It was a great day. I had all my family there supporting me and I got to play some decent Rugby.  Having my brother Ben involved on the sidelines was amazing. Scott Murrell also took time out to speak to me before the game.  In fact, between you and me, I think he's a little scared that I might take his place at Halifax! But, more than anything else, I proved you can achieve anything if you want it enough. Scoring would have been nice, but I just never got that lucky pass on the day.
To me, that Saturday highlights what fantastic work Colostomy UK does. It's not just the rugby either,  it's all the other things they do, such as the support groups, exercise classes, tackling mental health etc. It makes a real difference and I am proof of that. I will never forget the day and look forward to pulling on the Team Colostomy UK shirt again"
©Copyright Colostomy UK 2019. No part of this article may be produced without the prior permission of colostomy UK