11 June, 2019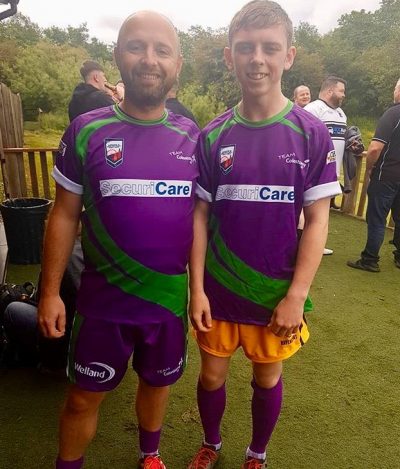 In the first of a series of blogs Oliver Rowley talks about what he has planned in 2019 with Team Colostomy UK.
When I first found out I'd be having colostomy surgery one of the first things that came to mind was would I be able to exercise? 18 months before i'd just got in to running and had lost 3 (much needed) stone – I didn't want all of that hard work to go to waste and to slip back into bad habits and put the weight back on.
I'd also discovered that running was as good for my mental health as it was my physical well-being. It's a great stress reliever and allows you time to think without life's interruptions. Having only just discovered all of this, was it going to be taken away from me because of having to have a stoma?
The simple answer is – no.
Now don't get me wrong, I wasn't doing laps of the hospital hours after coming out of surgery. I had open surgery and was under for over 5 hours. Colostomy surgery is no walk in the park and you have to let your body recover in its own way. I was in hospital for ten days following surgery and it took a good few days before I could even get out of bed and sit on the chair next to my bed. But if you listen to the nurses and follow their advice along with listening to your body you can get back to full health and having a stoma is no barrier to an active life.
I started to get back in to running in February, only small distances and at a much slower pace than I was used to, but I was back outside again and getting back in the groove. I was very conscious of the stories I had heard and read about hernias so I spoke to my Stoma nurses and got fitted for a support belt and I also bought myself some compression vests to give myself some extra confidence that everything was being held in and secure. After the initial happiness of getting back outside my natural competitiveness kicked in and I started to get frustrated with my pace compared to my pre surgery times – silly really considering the surgery I had been through but I'm not a very patient patient!
I decided I would sign up for a 5km race in March to give myself a goal and a focus. I completed the race in a pretty good time, but for me the best thing was I could feel my fitness coming back and I was seeing improvements in both my times and how I felt following runs.
Around the same time I'd seen Team Colostomy UK on the Colostomy UK Facebook support page, they were looking for people to join in with a rugby league game in April to help raise awareness for people with stomas continuing to be active and I thought it seemed right up my street – despite never having played rugby league before. I got in touch and agreed to play and in April played my first ever game of rugby league (with or without a stoma) for Team Colostomy UK against Medway dragons. For me this was the first time i'd been around a group of people who had all been affected in some way by stomas (either directly themselves or through family members) and it was great to feel a part of something so positive and inclusive whilst also having a great day out and enjoying some exercise.
Since then I've fully fell back in to an active lifestyle. I'm incredibly lucky that my employer promotes fitness – we have a gym on site, I play 7 a side football every Thursday, we have a lunchtime running club and the opportunities to get involved with activities are always there.
To make sure I stick to an active lifestyle I've committed to one key activity a month for the rest of the year. This way when I'm having a bad day and I don't want to lace up my trainers or put on my football shirt there's always something in the back of my mind giving me a reason to get back out there and when I do I never regret it – never underestimate the benefits of exercise and the endorphins that are released. It also makes me feel better about myself when I have a celebratory pint or bar of chocolate 🙂
On the first weekend of June I played my second game for Team Colostomy UK and this time my son Charlie joined me (he's a much better rugby player than me!) and in September I'm running the Great Glasgow run with another Team Colostomy UK member.
My 2019 looks like this:
March – Leeds 5km
April – Rugby league for Team Colostomy UK v Medway Dragons
May – Rotherham 10km
June – Rugby league for Team Colostomy UK v Chorley Panthers
July – I'm on holiday in France – getting the bag out on the beach 🙂
August – Rugby league for Team Colostomy UK v TBC
September – Glasgow 10km
October – Manchester Half Marathon (my first with or without a stoma)
November – Rugby league for Team Colostomy UK v Aldershot & Fleet
My stoma itself has had no bearing on what I've been able to do – I just need to make sure i'm a little more prepared than I would have been before. I always take a set of supplies with me wherever I go and I always make sure I've got my support wear but when I'm on the pitch or out for a run I don't even realise I've got the bag. My Stoma (Steve) is like my silent personal trainer – I forget he's there but when I do remember he spurs me on to prove I can do whatever I want to do – it just takes determination and the will to get out there. Having a Stoma has also opened doors for me to meet some truly brilliant people and get involved in some sports and events I probably wouldn't have looked at pre surgery. Sometimes you have to take the positives out of unexpected situations and push on.
Team Colostomy UK have been great and it's been good for me to be able to meet like-minded people who have gone through similar issues. I'll always be happy to share my experiences with others and to help #TacklingTheStomaStigma
If anyone ever fancies a run or wants to try a bit of rugby league give me a shout and I'll be happy to help out. Even if it's just a chat or some advice about getting in to exercise. You can find me on Twitter @oliverrowley or get in touch with the guys at Team Colostomy UK and they'll be able to pass any messages on.
I have been thinking that maybe a team event would be a great way for a few (or lots!) of ostomates to get together, raise some funds and show that having a Stoma is no barrier to leading a full life. Maybe something along the lines of the 3 peaks challenge or something similar? Anyone interested give me a shout!
To find out more about Team Colostomy UK and how you can get Active through our #ActiveOstomates project call 0118 939 1537 or email giovanni.cinque@colostomyuk.org