17 April, 2019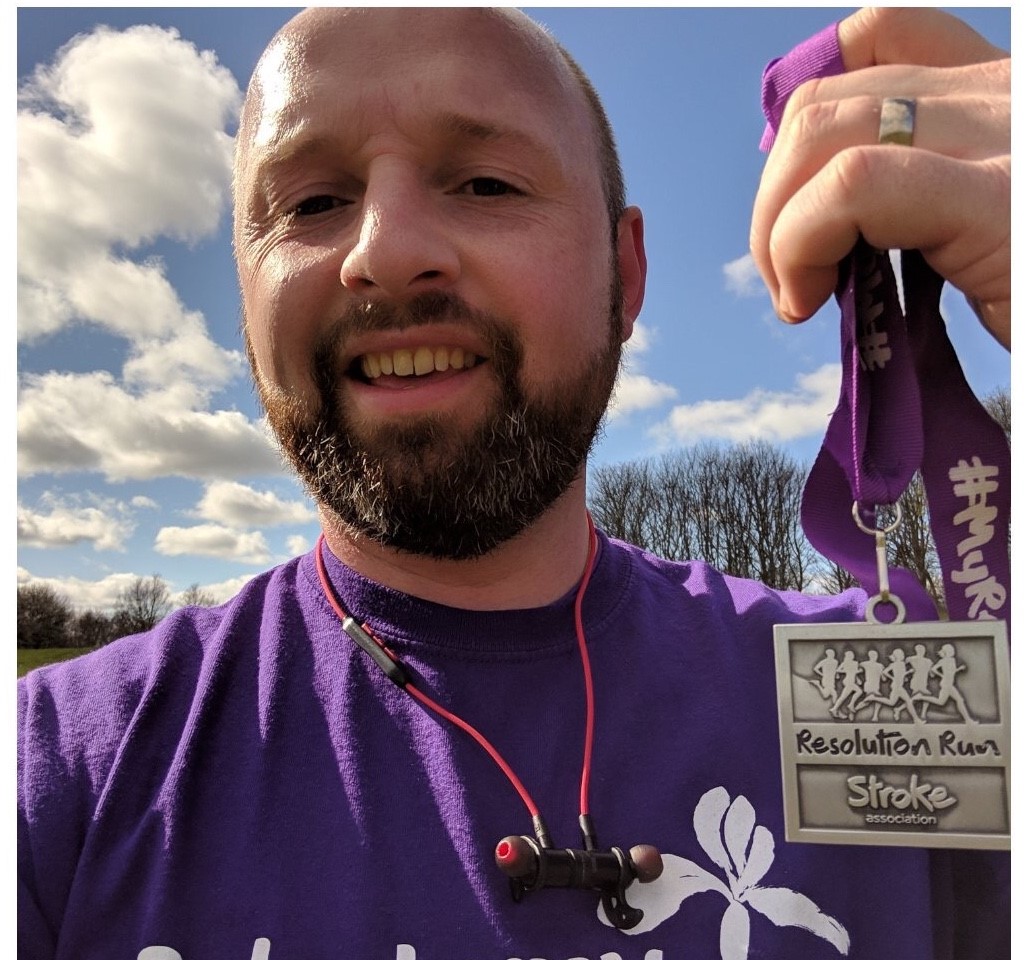 My name is Ollie, I'm 36 years old and in December 2018 I had a Hartmann's procedure colostomy. This means I now have a stoma. For those of you reading this who don't know, stoma surgery is used to treat many illnesses including cancer and Crohn's disease. It involves diverting the bowel and/or bladder through an opening that the surgeon makes in your abdomen (called a stoma) so that bodily waste can be collected in a bag.
In March I ran my first 5K race since my surgery. All going well my plans are to then run a 10K race, followed by a half marathon by the end of the year. The March race was  a bit of a landmark as it took place exactly one year on from the start of my health issues which led to me needing a stoma. It was my stoma (who I call Steve) who put an end to them.
Let me tell about what happened… back in March 2018 I ran my first 15K race at Leeds Temple Newsam. This was part of my training ahead of running my first half marathon. I finished the race happy with how I had performed. I had a great time, felt really good and was itching to sign up for another one. But then two days later, while I was at work, I went to the toilet and to my horror instead of the usual wee, I found I was urinating what looked like 100% blood. As I'm sure you can appreciate, it was a very scary experience. I left work immediately and managed to see my GP the same day. Having been healthy all my life and never experienced any medical conditions (other than the usual coughs and colds) I was shocked and worried by what had happened.
My GP carried out the usual tests for prostate issues (ouch) but didn't find anything to concern him so referred me to a urologist. After having a camera procedure into my bladder (ouch again..) the urologist discovered that a fistula (connection of tissue) had formed between my bladder and part of my colon. Hence I was referred to the colorectal team to investigate the issue from a colon point of view. This involved ultrasounds, CT scans and the obligatory colonoscopy (yep ouch again…). These all confirmed that I had diverticular disease and due to my colon being swollen it had attached itself to my bladder. The fistula that had formed as a result, had a small tunnel between my colon and bladder. My consultant explained that the safest way to fix it would be to remove the effected part of the colon and form a stoma to give my bladder and remaining colon a chance to recover. All being well, the procedure will be reversed at some time in the future.
The surgery was carried out successfully in December 2018 and Steve (my stoma!) was formed. With the help of my family with the help of my family (wife Vikki, son Charlie and daughter Macey, oh and dog Baz!) I am recovering really well. I have managed to return to work full time and I am determined to return to a full and active life. I am back running, I have started to play seven-a-side football again with my work colleagues and I am now signed up to play Rugby League with Team Colostomy UK, making my debut on April 20th against Medway Dragons!
I am really thankful and aware that running brought my issues to the fore and meant I could get the medical attention I needed before the situation became worse or turned in to an emergency that could have been life threatening. A key lesson has to be that if you notice any odd symptoms – go see your GP as soon as possible, don't be shy it could save your life!
I'm a great believer in good physical health being a key to good mental health which has got to be a good thing for recovery! Team Colostomy UK do great work in promoting the fact that because you have a stoma doesn't mean you have to stop doing the things you love. You might have to make some adjustments to the way you do things (and not forget to take spare medical supplies with you) but you can still get back out there and enjoy life to the full.
When I returned to Leeds to run my 5k  I wore my Team Colostomy UK T-shirt with pride.