17 July, 2019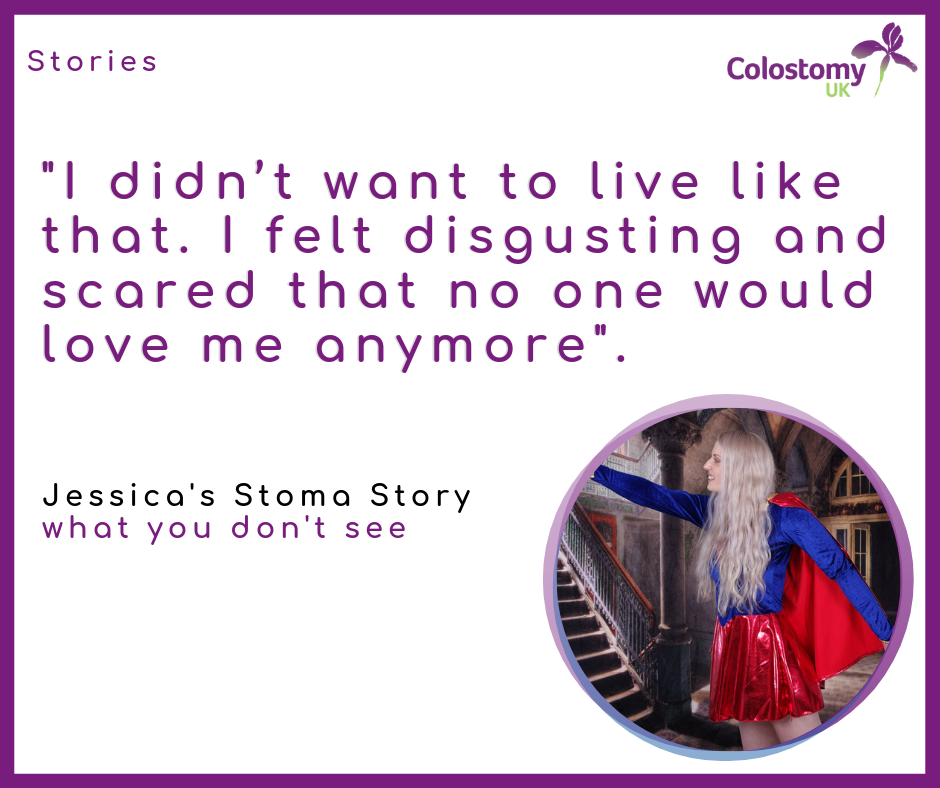 Pictures by Stuart Randle – stuartrandle@outlook.com
A picture is worth a thousand words…so take a look at the two above, and jot down the first five that spring to mind. When I did this, I came up with: young, healthy, sexy, bold and beautiful. Although neither reveal anything about the subject's life, it seems pretty clear this woman is doing well and is confident about herself. I mean, posing in that lacy number and dressing as 'Supergirl' speaks volumes doesn't it!
If your thoughts were anything like mine, then I imagine that you would be surprised to learn that in the past 18 months she has undergone four separate bouts of surgery, has been wheelchair bound, verbally abused, harboured fears that she will never be able to have children, has been paralysed with pain and felt alone, isolated and judged. Not bad for someone just 26–years old.
Jessica first began to realise that something was wrong in the Spring of 2017, when she started to leak mucous when bending over. In the months that followed, this rather humiliating problem got steadily worse, forcing her to stay at home, rather than risk an accident. Abdominal cramps were next to make an appearance, along with blood. As Spring turned to Summer, Jessica's symptoms worsened, reaching the point where she would sit on the toilet crying with the pain and frightened by the amount of blood she was passing. In July, by which time she was going to toilet in excess of 30 times a day, Jessica was admitted to hospital following a visit to A&E.
Then came the diagnosis: IBD. The tests had revealed that the whole of Jessica's colon and rectum were severely inflamed and covered in ulcers.
Unfortunately, Jessica didn't respond to drug treatment and so, three days later, she was told that stoma surgery was necessary. Not only that, the surgeon wanted to operate as soon as possible. This was a dark time for Jessica. Having always been healthy, she had gone into hospital expecting the problem to be diagnosed and sorted. Instead, she found herself in uncharted waters. As she said to me: "To be told that you are at death's door is scary no matter how old you are and to hear these words at the age of 25 came as a shock…none of my loved ones really understood how unwell I was, not even myself".
Jessica found the immediate post–op period upsetting. On seeing her stoma she was mortified: "It was swollen and looked like a foreskin hanging from my belly. I cried as soon as she [stoma care nurse] left because I didn't want to live like that. I felt disgusting and scared that no one would love me anymore".
New ostomates rarely manage to wrestle back control of their lives without some hiccups along the way. Along with the physical recovery, there are accidents and stoma management issues to cope with (sore skin, leaks etc). Mental wellbeing can also take a knock. As she said to me recently, she wishes that she could have lived her 25th year differently. Although she now feels more positive about the future, in her own words the experience of 2017/18  and the seemingly never–ending complications left her an 'emotional mess for a long time'.
The toll was extensive.
Constant pain and fatigue contributed to Jessica's feelings of isolation by placing severe limitations on what she could do. A much looked forward trip to the Birmingham Good Food Show ended up with Jessica needing a wheelchair. Ongoing problems with blockages led Jessica to develop irrational feelings that she was letting people down. This was never more so than on her wedding day, when she had to leave her guests long before the celebrations got underway.
Jessica's body confidence, already dented by the stoma surgery, took a further blow when her initial drugs regime led to weight problems, along with the development of 'moon face'. And, to cap it all, Jessica has been challenged and verbally abused using accessible toilets – an issue that sadly ostomates all too often have to face. She has also encountered the IBD 'know–it–alls', who have given her unwanted advice about how, with a few dietary changes and a bit more resolve, she would be 'ok' again, ignorant of the fact that her condition is incurable.
Although Jessica is still suffering from her illness and continues to worry about the effect the last couple of years has had on her fertility, she now feels the corner has been turned. During the course of her many hospital visits and stays she has made many close friends who, importantly, understand. Indeed one has Crohn's disease and a colostomy. She also draws much comfort from Colostomy UK's closed Facebook group. Time has also allowed her to reflect on her experience and recognise the importance of telling her story. Jessica's hope is that in doing so she can raise awareness and make the path for other young ostomates just a little less tangled than her own.