22 September, 2020
I really enjoy golf as you can make it as competitive or relaxed as you like. Its non-contact for those with a stoma who are not comfortable playing any form of contact sport but need the challenge  of being competitive and playing against others. I also find it really helps with my mental health and people will understand once they've played.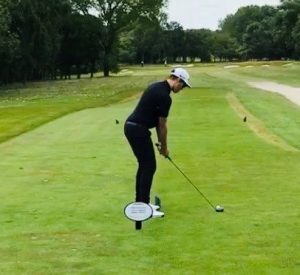 Golf is a non-contact sport, however it does involve a lot of twisting and turning of the torso and abdomen. Therefore, it's necessary to do some specific things to decrease any risks.
One of the most important things is to wear a form of hernia support. I wear  high waisted boxers and that's normally enough, but I will wear a support vest if I feel I need more support.
There is also the matter of staying hydrated and eating before and during playing, as a round of golf can involve a considerable amount of walking.
I drink a litre of water and have a bowl of porridge before starting to give me plenty of energy to go out on the course, but I like to keep banana's and form of gelatine such as 'Turkish delight' with me.
I normally drink Lucozade or water as normally while I'm the course. Another good piece of advice if it's really warm is to keep some energy gel in your bag.
If anyone on reading this already with a stoma fancies challenging me or wants to play together feel free to contact me through Colostomy UK.