27 September, 2022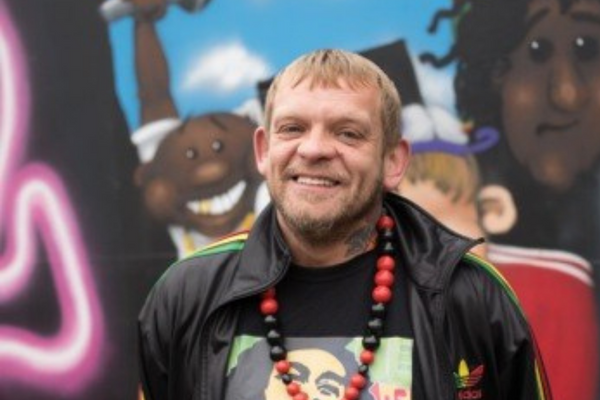 Steve Arnott's stoma story follows a journey from  being disgusted  and embarrassed with himself, to starring in a play where he openly talks about his surgery, and committing to an upcoming appearance on the Rugby League pitch for Team Colostomy UK.
Our theme for this years Stoma Aware day is 'Being Stoma Aware Matters'. We believe that the more society understands how ignorance, prejudice, and discrimination can impact people, over time as attitudes change, more people will be more accepting of the idea of stoma surgery early on, and not have to face many of the internal battles that Steve and so many others have been through. 
———————————————————
No-one was more surprised than Steve Arnott to receive so much attention from the documentary made about his life. He was working in a factory in his hometown, Hull, at the time and struggling to make ends meet whilst trying to figure a way to get his one big dream off the ground.
A Northern Soul was directed by filmmaker Sean McAllister, who was keen to document working peoples' lives in Hull, in part to counteract all the negative TV coverage about the working class, full of the Benefits Britain kind of spiel. Arnott proved the perfect protagonist to highlight another side to the demographics' struggles.
The two men met at a screening of McAllister's film, A Syrian Love Story in 2017, when, afterwards, Arnott handed McAllister a piece of paper, declaring: "This is my City of Culture dream." He'd also jotted down his phone number and the following day he received a text from the filmmaker. That's how it all began.
Fast forward to the Sheffield Documentary Festival in 2018, when A Northern Soul had its world premiere. "Until I watched it, I didn't think about the issues the film raised or that the film would ask so many questions about the life that most working-class people see as 'the norm' and just get on with," says Arnott.
His dream was to establish his Beats Bus, a mobile recording studio delivering hip-hop and confidence building workshops to school-aged children. "When we started out it was to give free access to young people who are disadvantaged and have no access to the music industry," he explains. Of course, it would need to be funded.
The opportunity presented itself when Hull was awarded the title of City of Culture 2017. Arnott put together what he believed to be a perfect pitch for funding to furnish his ambitions, "I was convinced that the Beats Bus ticked every box and fitted every criterion perfectly."
It came to nought. Nevertheless, and though it left a sour taste in his mouth, he pressed on, with the news from a friend about a documentary maker looking to film 'characters' in his locale, who were plugging away on a skimpy income and had a story to tell.
The connection he made with Sean McAllister had far reaching consequences that he could never have imagined.
The content of the film went on to be discussed in the House of Commons and screened in Parliament. Funding poured in and Arnott gave up his factory job to focus on Beats Bus, a steep step up as he was then thrust into the world of management, learning every aspect of the job from scratch. "I had to financially support a team to follow the dream; taking on the sustainability of the Beats Bus weighed heavily on me," he explains.
Not properly recognising the pressure he was under as CEO of his Beats Bus enterprise, a diagnosis of diverticulitis back in 2012 which Arnott had managed well with diet over the years, suddenly erupted into a nightmare scenario following a night out with friends in a restaurant in May 2019.
He got through a night of severe pain before his partner, Yaz, took him into a walk-in centre the following morning where he was then whisked off to hospital in short shrift. Sepsis was the diagnosis and his life hung in the balance.
Mostly he remembers the pain, lying in a hospital bed, and not too much about any surgical fixes that were detailed by medics.
It was all a blur and when he came round from surgery, he expressed to Yaz, and family members at his bedside, how he felt he had been 'saved'; a profound experience with visions of demons, as Arnott describes, resulting in haunting memories which has ignited spiritual reflection and a new 'belief'.
Though surgery saved his life, living with the resulting stoma was a stretch too far on his mental health. "I was angry and couldn't process what had happened. I lashed out at those I loved the most. It wasn't the real me!"
"I felt disgusted with myself at first, and embarrassed. I didn't like taking my top off. I didn't want to be around anyone. I felt lonely; I didn't think anyone else could understand what I was going through."
"At consultants' appointments I'd break down and cry. I couldn't control my emotions. It was a big rollercoaster."
Arnott, 47, has now turned a corner where he feels he can talk about his experiences openly. He has found his feet through public speaking. Although nerve racking in the first instance the plaudits he received encouraged him to explore further opportunities and he's found it's a great platform to talk about Beats Bus. To date he has delivered eight speeches.
An acting role earlier this year in June which he prepared for with gym sessions to build up his physical strength and resilience, positively impacted on his overall confidence too.
"As I began to accept my new situation, one of my aims was to raise awareness about stomas. This led to a role in a theatre piece: There Should Be Unicorns, a production by Middle Child, a Hull based company creating gig theatre.
"The play was based on my own story, and I realised that my trauma around my stoma surgery had to be in the drama, as it had, and still is having such a big impact on my life. I was worried about how the revelation of having a stoma would be perceived especially as it was a family show, but the response was amazing and very positive. I tweeted the play and tweeted the description and tagged Colostomy UK."
Giovanni, the charity's Fundraising and Campaigns Manager responded, and because of their conversations he is now looking forward to playing rugby league with Team Colostomy UK this October, another huge step in accepting his stoma .
"I'd had trials for Super League club Hull FC in July 1992, then seven days later I was hit in the back by a car on the wrong side of the road. I was bed bound for around six months and lost all my muscle then put on loads of weight topping the scales around 22 stone at my heaviest from 14 stone prior to the accident. I have not played a match since so having a run out for Team Colostomy UK is a dream. It would be great to make a comeback. I never thought I would have the chance to play again!"
With gratitude for this turn around in his life, Steve is now immersing himself in our campaign to create a more Stoma Aware UK. Find out more at https://www.colostomyuk.org/campaigns/