05 July, 2023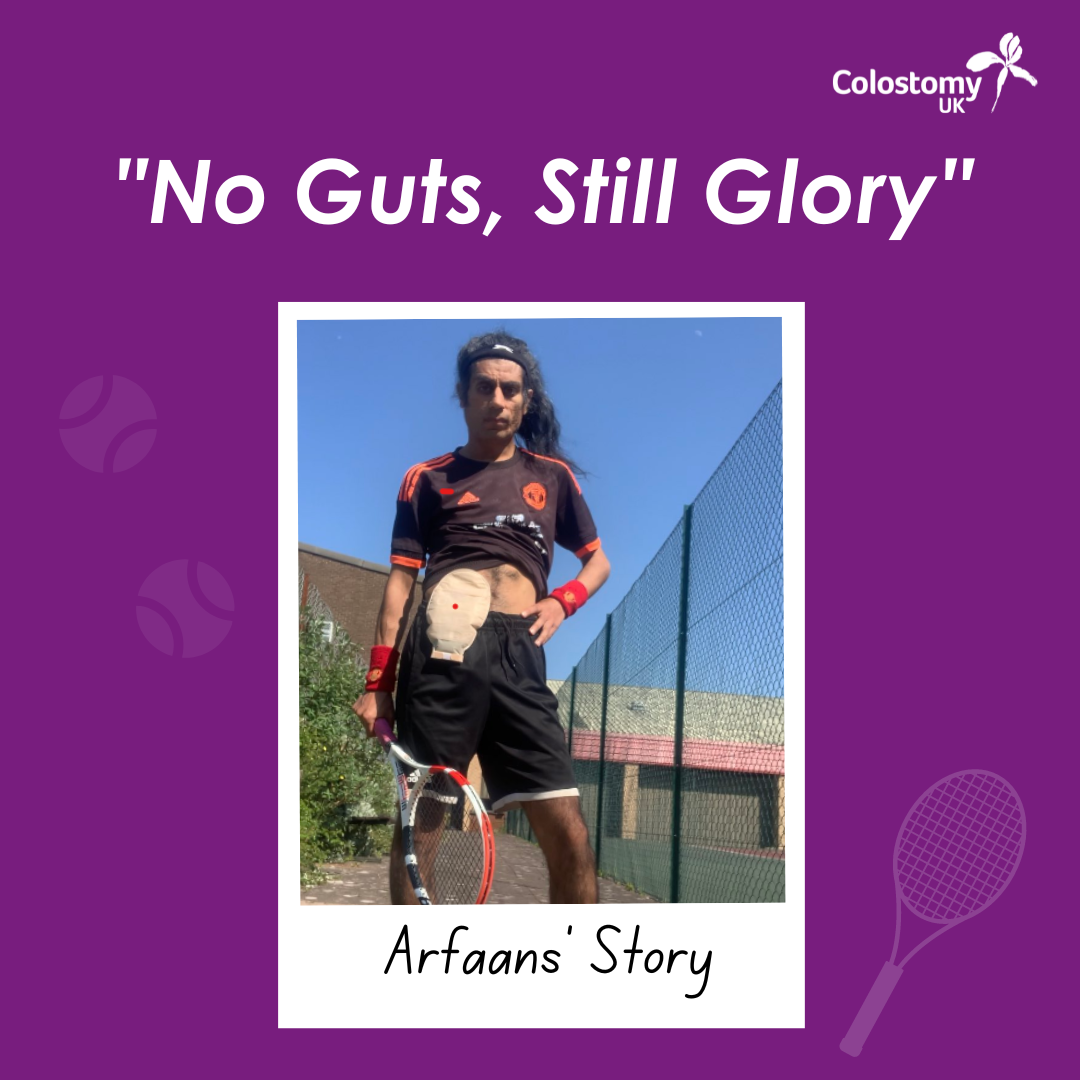 In September 2001 a year into my motor vehicle apprenticeship course where I was working in a garage 4 days and 1 day at college. I started experiencing nasty tummy aches and feeling really unwell, I was admitted into hospital where I was suspected to have appendicitis. During my hospital stay I underwent several tests including blood tests but they proved to be inconclusive so I was discharged within 3 days. Unfortunately I was in and out of hospital for the remaining year due to the same symptoms.
Thankfully for majority of 2002 I wasn't feeling any pain or discomfort. However around February 2003 it all happened again, the pain, the discomfort including constipation and feeling very weak. Immediately admitted into hospital again and this time it was decided my appendix get removed right away. After the operation I was discharged after 2-3 days and left to recover for the next 2-3 months with very little pain if any.
After seeing my specialist in the outpatients in April I was told that my appendix wasn't inflamed which obviously had me really worried. Fortunately for the next 5-6 months as I wasn't in any pain, I began to enjoy life again playing football and continuing with my apprenticeship thinking it was all finally over. Little did I know the battle had just begun?
In October, once again I was experiencing the exact same symptoms of severe tummy pains, loss of appetite, weight loss, constipation and feeling very weak. After seeing my specialist in the outpatients department, he was very convinced I had TB(Tuberculosis) of the small bowel, so I was started on TB treatment right away, for the next 2-3 months I wasn't showing any signs of improvement having lost a load of weight, no appetite and of course the nasty tummy pains, I could barely walk straight and was blacking out. I was put on a high dose of steroids for the next couple of months which helped a fair bit.
By the start of 2004 it was suspected I had Crohns Disease which I never heard of, I was just told it was a chronic illness which results in inflammation of the bowels and I would be on medication long term. I continued to be treated for TB and by the time it was March, things literally went from bad to worse, I was in absolute agony, I couldn't walk straight and was blacking out, by this time I literally feared for my life.
We're now in April and it's my 20th birthday and I lay at home in complete agony wondering if I would even see 21. It was starting to become very likely that I have Crohns disease and would need surgery and maybe need an Ostomy which I had obviously never heard of. After having a colonoscopy and a small bowel meal test I was more or less diagnosed with Crohns Disease and would require bowel surgery.
Surgery:
In early June I finally saw my colorectal surgeon and was just simply told that he would need to remove a very small portion of the small bowel (ileum) and form a temporary ileostomy for about 3-4 months, or I would simply lose my life, he was surprised that I hadn't already. 2-3 days later admitted into hospital finally, I just couldn't believe what was about to happen.
I was given about 2-3 pints of blood via a drip to help build me up for surgery; I was visited by my stoma nurse who explained everything there is to what to expect and how to live with a stoma. Finally I went in for surgery and woke up in obviously plenty of pain, was given plenty of morphine and an epidural, I was totally incapacitated for next couple of days. As soon as I was shown my stoma bag by my stoma nurse I literally burst into tears and fell into the arms of my nurse who consoled me. My life then had literally just changed, obviously all sorts of thoughts ran through my head such as; would I be able to live a normal life? Etc, I was told I would I but I just wasn't at all convinced.
During my hospital stay I was gradually getting stronger but unfortunately many leaks occurred which left me feeling very anxious and depressed, my nurses did everything they could to calm me down. In the end it was just a case of finding the right appliance for me which my stoma nurse finally did in hospital.
Discharge: After 2 weeks of hell in hospital I was finally discharged and recovering at home. District nurses came to visit me to help me change my bag. I started to feel more confident changing it myself after 3-4 weeks and was physically getting stronger.
Living with an Ostomy:  3 months after my lifesaving surgery ï was finally given the all clear to resume physical activity such as playing football which I just dreamt of doing again after everything I went through. By this time I was changing my bag with real confidence and feeling really well. I just couldn't believe I was able to do these things again with an ostomy. As the months went by I was just getting stronger and stronger and enjoying life again.
No reversal surgery: At the end of 2004 I was feeling physically good and was kind of expecting to have a reversal, but unfortunately I was told my large bowel was inflamed and would need to keep the ostomy for the next 1-2 years. This left me absolutely devastated but thankfully I was physically fine due to my ostomy. As time went by I decided I wanted to keep the bag permanent as I was feeling very fit and always playing football.
Tennis: In the summer of 2005 I decided to take up tennis as I felt I could play this sport more often than football, so I joined my local tennis club as they also have indoor tennis courts. I pretty much started out as a beginner and had to have a fair few lessons to improve; as the years have gone by I have improved winning many matches and mini leagues at the club. I have been playing for the club and also been team captain for the last 10 years, helping us win many matches and trophies on the way. There have been many ups and downs on court. In saying that these downs I've experienced on court are absolutely nothing compared to what I've been through before.
I play about over 40 matches a season for the club and constantly play in our mini leagues. Having this ostomy has not only literally saved my life; it has also given me the opportunity to pursue new things such as tennis which has become a big part of my life. Hopefully I can continue to represent my local tennis team and hopefully win in many years to come.
Life on the tennis court: After taking up tennis in 2005 at my local tennis club, I pretty much started out as a beginner and had many lessons to improve my game. For the next 2 years I mostly just played socially, finally in the summer of 2007 I finally broke into our teams and was made team captain. I have been team captain for the past 10 seasons and I'm still at it, I've been playing in 3-4 different leagues for our club and helped us win several league titles and promotions. I average playing over 40 matches a season; I also constantly play in our mini leagues and have set a personal record of going unbeaten for nearly 6 years in our singles. I only just recently lost to a stronger opponent but very proud of my personal record of going unbeaten for nearly 6 years. I have always participated in our club championships getting into many semi finals but unfortunately always losing out to the eventual winner.
I have been many ups and downs but these downs are absolutely nothing compared to what I have been through before. I hope to continue to go this direction for many years to come. I am still firing on all cylinders despite 2 major bowel surgeries, having an ostomy has had no affect on anything I want to do. It has not only saved my life but given me a much better quality of life compared to the 1 I was living before my 1st surgery; my motto is no guts still glory.
Panproctocolectomy: 10 years after my life saving surgery I was to do a colonoscopy in February 2014, 2 months later in April I was told my large bowel was severely inflamed and will need removing in the not so distant future. This obviously left me absolutely devastated, here I go again I thought. Thankfully I wasn't in any pain or anything as my ileostomy was carrying me, I was to undergo further tests in the summer as they couldn't get the colonoscopy scope further up the rectum as it was that badly inflamed.
I managed to play for my club for the next 6-7 months and arguably had my best season for us; however I was an absolute emotional wreck off the court. I clearly wasn't myself and was starting to fall out with some of my friends, it's fair to say although I was feeling fine physically, I didn't deal with things mentally. After seeing my surgeon in August I was told that I would be having the entire colon rectum and anus removed, I was also told that my ass would be sewn shut; this also meant my chances of having kids were to be limited which left me absolutely devastated. Finally in December 2014 I had my surgery done via keyhole and was discharged within a week I was told my large bowel became pre cancerous.
Recovery: It's fair to say recovery wasn't as straight forward as expected, I was in incredible amount of discomfort due to my ass being sewn shut, and I was always getting a fair bit of discharge from there which always left me feeling anxious and depressed. I also had to deal with over granulation below my stoma which had to be treated with a silver nitrate stick. All this left me in absolute disarray, as all this was completely new to me. Finally after 2 months things started to look up and I was finally given the all clear to play tennis again. Since my bowel surgery I am firing on all cylinders again and helping my team win matches too, long may this continue.
Flash forward to 2018: I'm playing better tennis than ever. My club Wharfedale won promotion and were Parks League winners. I managed to reach 50 appearances for the club, winning 100 rubbers. I also managed to win the club singles League title, and the McMillan Tournament Trophy
Flash forward to 2023: In 2019, I led my Bradford Parks league team to promoting to the top division and my team to runners up in the 2nd division of the friendly league and also won the singles league title again. Then unfortunately, the pandemic rocked us all and put the majority of our lives to a standstill which, in my case, meant no more competitive tennis matches in 2020, but i used that time to improve my game. Then 2021 came along with so many changes to our club in personnel. In this time, I was appointed captain of all our first teams in our club.
Unfortunately I got covid in that summer and was very poorly. Thankfully, I overcame it and managed to get on with my tennis. Between 2022 and now, I have been playing the best tennis I can, winning singles league titles and consistently winning matches in the top divisions for my club. However I was in hospital at the start of 2023 due to a part intestinal blockage and just about avoided surgery. I've since returned to normal and look to raise awareness after my tennis matches on social media by getting my stoma bag out, I hope that it helps others.