27 April, 2020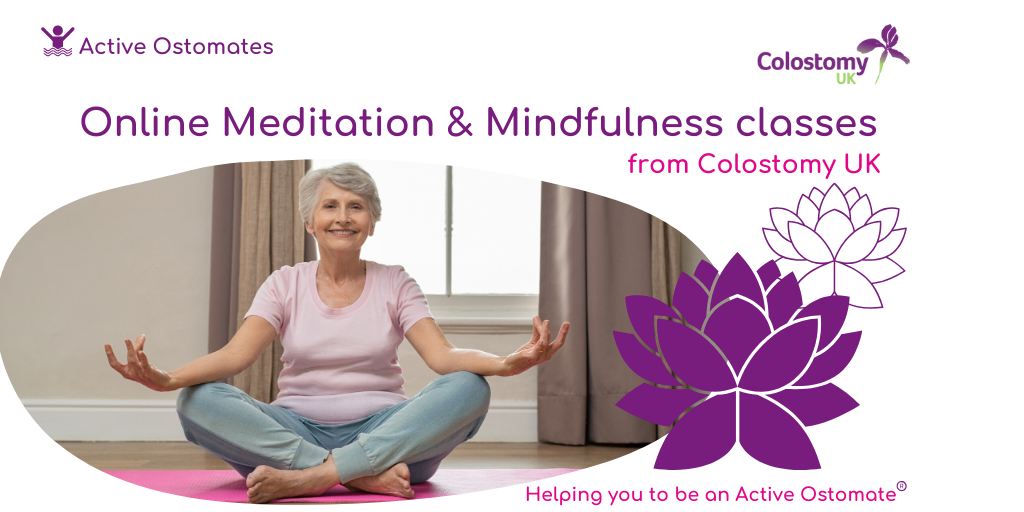 Helping you be an Active Ostomate
It's vital for our health, especially during lockdown to stay physically and mentally active. Although we've had to cancel the Active Ostomates sessions we had planned over the coming months, we've come up with some new creative ways to keep mentally and physically active, and look after your emotional wellbeing while staying safe at home.
We are proud to launch our 'Active Ostomates: at Home', a range of online classes as part of our Active Ostomates programme. We'd love you to join us!
We're starting on 7th May with weekly online meditation and mindfulness classes. These 30 minute classes are suitable for complete beginners as well as regular meditators. Classes are fully guided, by an experienced teacher and aim to support you to find calm and ease in your life, no matter what is going on. Breathing techniques, body relaxation and mindfulness will be taught in these classes. These techniques can then be used outside of the classes.
Classes are accessible, no prior meditation experience is required and there will be no physical activity in the classes. You can sit on a comfortable chair, on a cushion on the ground, or lie down on a bed to join in the class. Please ensure you have any blankets you may need nearby to be warm and cushions for extra comfort.
To find out more and register visit https://www.colostomyuk.org/active-ostomates/onlinemeditation/
In the coming weeks we'll also be launching further classes as part of our 'Active Ostomates – At home' programme . These include online chair yoga and creative art classes so keep an eye out for announcements.
We hope you are all managing to stay safe and well at home, please reach out to us if we can help. Our 24-hour freephone stoma helpline, email and website are the best ways to get in touch with us. You can also find support and information via our Private Facebook support group, Tidings support magazine, digital advice literature and Live Chat on our website.