16 March, 2022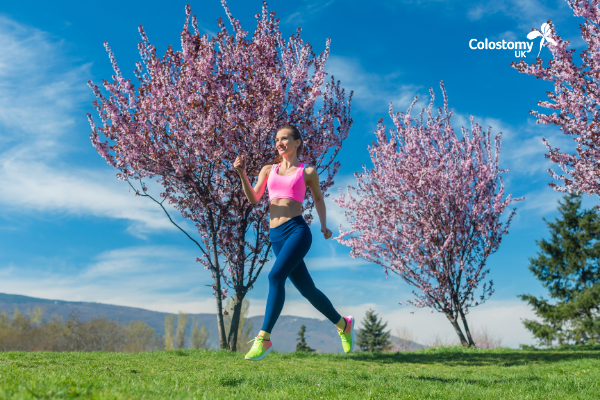 It is early spring. The days are lengthening. The skies are brightening. And the weather? Well, that's still a mixed bag. This article is all about how you can get active, get outside and into nature. Living an active lifestyle is crucial for maintaining sound body and mind. The World Health Organisation defines good health as 'a state of complete physical, mental and social wellbeing'. Let's look at those three aspects as they relate to getting more active.
Physical Wellbeing
Even a small amount of physical activity is better than doing none at all. Being physically active can help to:
– improve your physical health
– maintain a healthy weight
– manage stress
Physical activity has also been shown to reduce the risk of chronic illnesses, such as heart disease, type two diabetes, and some cancers. It is not just good for individuals either. By becoming more active, you can also play a part in protecting the environment. Walking or cycling instead of driving short journeys will reduce your carbon footprint and benefit us all for future generations to come.
So how to begin?
If you are completely new to exercise you might want to bear in mind the ancient saying that goes;
'The journey of a thousand miles starts with a single step.'
Start small. This is especially important when setting out on your own. Taking on too much too early will dampen your spirits. Therefore, try breaking down your exercise into short sessions which you can build up from.
You could do a ten-minute walk to begin with. Walk around the block on the first day. Two blocks on the second day, and so on. Alternatively, why not try a ten-minute stretch or light workout for the first day? You could do it from the comfort of your own bedroom or living room, wherever you have the space.
Make exercise a part of your day every day and eventually it will be a strong influence for your lifestyle. The sooner you can make it a habit rather than a chore, the better. Plan a time to do some physical activity that fits in with the rest of your day.
You could even keep an exercise diary to help monitor your progress and success. If you miss a day, don't worry – just make sure you start again the next day. Research has shown that if we leave a physical and visible reminder of our success in a regularly viewed place, we are more likely to continue with it. This could be marks on a calendar, or a tick sheet on your fridge.

Mental Wellbeing
A study from the University of Exeter has suggested that people who relocate to areas with more green space receive a significant boost in mood. They found that 'individuals who move to greener areas have significant and long-lasting improvements in mental health.' What this tells us is that open space and greenery are positive contributing factors to wellbeing.
Not everyone can afford a move out of the city or suburban locations they live in, and you may have no desire to completely escape to the country anyway. However, there is an argument for visiting the countryside on a regular basis to improve your mental wellbeing.
If it is possible, plan exercise to involve greenery, open space, or even the countryside in some way. Taking in fresh air as you run/walk/cycle or even swim will stimulate your mind further as you move your body.
In terms of getting more active generally, forming your exercise into a habit will work wonders for your mental health. Ensure you get plenty of variety in your activities to keep your motivation high and your mind stimulated. Make a list of the different physical practices you enjoy doing such as dancing, yoga or Pilates. Pick a different activity to focus on each week. By varying your activities, you are less likely to get bored and lose interest.

Social Wellbeing
We live in the post-modern world. A world where technology is supposed to enhance our social lives and increase the ways in which we connect with each other. It has certainly increased the options for getting in touch with people. Sadly, the jury is still out on whether this has actually improved the quality of communication. Needless to say, staying physically active is best supported by social contact, sporting groups or even the encouragement of friends and family.
The last two years of the pandemic and the associated lockdowns have caused disruption to many clubs and social activities that encourage us to be social and physically active. This year can represent a new dawn for us all in the sense of getting back to doing what we enjoy most or taking up new initiatives.
One way of sticking to a new initiative (especially a physically active endeavour) is by having a buddy. Tell your friends and family if you are getting more active. See if anyone you know is interested in joining a club with you or even sharing your new exercise regime with you.
A fantastic cause for motivation is doing a sponsored event. We are always amazed and encouraged by the fundraising activities which friends and supporters of Colostomy UK get involved with. There have been sponsored swims, walks, runs, climbs, hikes and rows.
When you are at the stage where you could take on a fundraising challenge make sure to think of us! It doesn't have to be on a massive scale, every donation helps. If you would like to learn more about fundraising for us why not drop our Fundraising and Campaigns Manager Giovanni Cinque an email on giovanni.cinque@colostomyuk.org.
Conclusion
Colostomy UK supports our volunteers, friends and supporters to get active in each of the three dimensions mentioned above. In terms of overall wellbeing, be sure to check out our #ActiveOstomates campaign and if you do decide to fundraise for us, you may find further useful info on our Fundraising and Donations Page.