12 June, 2019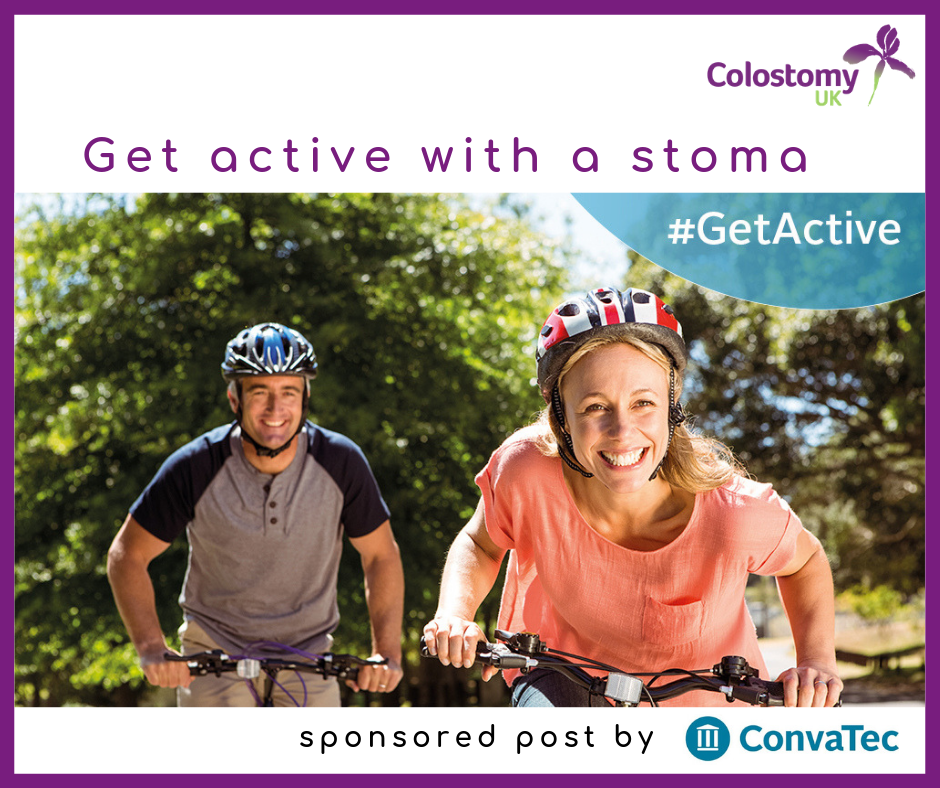 sponsored post by Convatec
Whether you've recently had stoma surgery, or you've had your stoma for years, leading a healthy and active lifestyle is one of the best things you could do for your physical and mental wellbeing. It's all about finding the right level of activity to suit you and your life.
You shouldn't let your stoma hold you back. You might have been very active before surgery and looking to get back to the sport you love most, or maybe you just want to walk the kids to school again or carry the shopping to the front door. Whatever you do, you should try to find an activity you enjoy – make it a fun thing to do and something to look forward to doing regularly.
With your healthcare professional's guidance, you can return to most sports and activities you enjoyed before your surgery. ConvaTec has some great advice on learning how to get and stay active with a stoma. Keep reading to find out their top tips!
 TIP #1 – Find an activity you enjoy
Finding an exercise or activity you enjoy doing is the key to leading a healthy and active lifestyle with your stoma.
For Chris Livett, a huge sense of achievement in terms of his recovery was getting back to swimming again, something that he loved to do before his diagnosis.
"It was probably about six to eight months after surgery that I got back into the pool and it was one of the most freeing experiences for me," Chris said.
 "I have always loved swimming, especially in the sea! What's amazing about it, particularly if you have a stoma, is that you don't feel the weight of the bags and you don't even notice they are there – it's a very freeing experience."
 As well as swimming, Chris also enjoys playing rugby. He evens says that he feels like he can "…tackle a little bit harder…" now after his surgery!
 Chris' advice for getting back to activity and competitive sports after stoma surgery is to not push yourself too hard. Chris said: "I don't want to push myself too hard and you shouldn't feel like you have to. I'm just happy to be back playing again.
 "I would tell someone wanting to get active after surgery set small and achievable goals and to not expect too much of yourself straight away. That's the way I did it. My first goal was to be able to get up and down the stairs, then I started walking just small journeys going a little bit further each time. The sheer severity of my surgery left my body in tatters but I can't stress enough the importance of building your core strength."
TIP #2 – Find the right product to suit your lifestyle
When you're active, having a stoma solution you can trust and rely on is so important. If you have a stoma, you may worry that the bag may fall off, chafe or that the it may be noisy. But if you have the right bag and baseplate, these concerns should no longer be anything to worry about. Finding the stoma solution to suit you and your lifestyle is the first step to gaining the confidence to take the steps towards getting active today.
If you're looking for a custom solution that moulds to your specific stoma size, ConvaTec Mouldable Technology™

"No leakage or discomfort, it is a very remarkable product. An excellent addition to ConvaTec's exceptional products," Lynn, Greater Manchester
TIP #3 – The little things make a big difference
Try and introduce exercise into everything you do. Even if it's taking the stairs when you can or parking further away from the shops, they really can make a big difference over time.
The NHS recommend a minimum of 150 minutes of exercise per week to stay healthy. There's lots of things you can do to achieve this, whether it be running, hiking, walking, or even mowing the lawn, everything helps.
Have a read of the Top 10 tips for getting and staying active here 

Still not sure how to get started?
Do you want to start getting active but still don't feel fully comfortable? If so, you can call one ConvaTec's Nurse Advisors on UK: 0800 085 2516/ROI: 1800 818 988 for a free Appliance Usage Review to help you gain the confidence to live life on your terms.
Sign up for the ConvaTec me+™ Programme  for a range of free professional advice and support materials including:
✔️ A 'Guide to Healthy and Active Living After Stoma Surgery'.
✔️ Access to the me+™ Recovery activity and movement programme.
✔️ Join the me+™ Community and hear inspiring stories from others living with a stoma
✔️ A whole host of lifestyle advice and support delivered on-line and in booklets you can keep to hand.
---
This post was paid for by Convatec, other stoma bag services and appliances are available. Colostomy UK are impartial and do not recommend one brand over another, always consult your stoma care nurse. We are not responsible for the accuracy/services of third parties.