08 September, 2022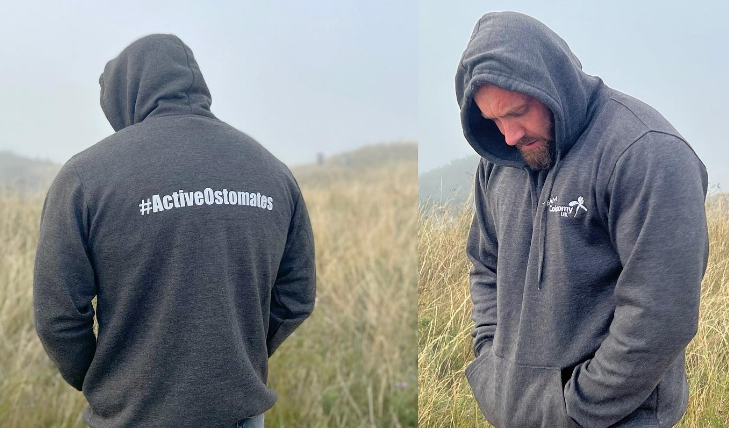 Dan Callaghan is one of tens of thousands of people who have been gearing up for Newcastle's sporting event of the year, The Great North Run which takes place on Sunday 11 September.
Though you wouldn't think it to look at Dan, who is the picture of fitness, the half marathon represents a very real challenge for him. One he has taken up to support Colostomy UK.
"Anyone who knows me, is well aware that I am NOT built to run. This is and will be my toughest challenge so far, and to finish the run in under two hours is my target.
"I am top heavy," he explains "I suffer from an operation I had on my left knee years ago. Also, my left foot was crushed in a work accident when I was 17 years old. I was wearing capped boots at the time and the boot was embedded in my foot and had to be surgically removed."
Looking back Dan reveals his teens and early twenties were not the happiest of times, marred with ill health which left him with a frail physic and a lack of confidence.
After struggling for months with debilitating symptoms, he was eventually diagnosed with colitis and was prescribed medication. Then  Dan describes getting caught out in extreme winter weather one evening in November 2004, during a taxi strike and having to walk home in the snow and bitter cold. Over the days that followed his health deteriorated rapidly, and he was admitted to hospital.
"For days and days, I got progressively worse. My mental stability was gone I was just a bag of bones lying on a bed waiting to die," he says.
Finally, as his condition became critical, in January 2005, he was wheeled into theatre for emergency stoma surgery. The operation was not a panacea though.
"I did not have the best of experiences for a few years managing my stoma. I still had a badly infected colon and was not well at all. My colitis was still unmanageable, and the medications made me violently sick," he recalls, "I was still in a lot of pain, significant enough to prevent a normal life."
So, two years after his initial surgery, aged 24, Dan elected to have the stoma made permanent. He has now had an ileostomy for 17 years.
He kept the fact quiet for a long time. It was a private thing. Gradually Dan's confidence grew, and he was able to share his situation with other people.
During the lockdown Dan, who is an area sales manager in the health and secure sector, created his own home gym and qualified as a personal trainer. He now uses his Instagram account to actively to encourage fitness within the stoma community. He recently devised training plans for three people and diet plan for another – all ostomates!
And just like last year he will be taking part in Colostomy UK's Stoma Aware day campaign s on 1 October 2022. His enthusiasm for the campaign is evident on his Instagram feed where photos of family, friends and colleagues are peppered throughout last October holding up placards with #StomaAware.
Dan, now 40, is also looking forward to taking up with Team Colostomy UK soon to try out for a game. Meanwhile we wish him all the best for his Great North run challenge.
If you would like to support Dan Callaghan you can do that here: www.justgiving.com/fundraising/Danny-Callaghan7
To view his Instagram account: https://www.instagram.com/dc_vs_uc/
For information about our Stoma Aware campaign visit: www.colostomyuk.org/campaigns