19 December, 2017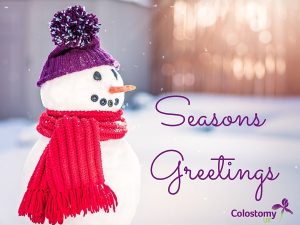 Travel
At Christmas, many of us travel in the UK and abroad. Travelling is nothing to worry about – you just need to plan ahead and be prepared. Take plenty of supplies and always make sure that you carry an emergency travel kit in case you need to change your bag away from home. Our Travel Advice booklet is full of useful information to help you on your travels.
Supplies
Make sure you have placed an order for supplies to cover you over the Christmas period. Contact your delivery company ASAP if you are running low.
Food and Drink
All ostomates are different and if you've had your stoma for a while you will probably know what foods you can and can't eat.
Over the festive season we all tend to over indulge and ostomates, just like everyone else, need to keep an eye on this.
It's worth being careful with the following items as they may effect your output:
Mince pies
Nuts
Christmas pudding
Dates
Christmas cake
Tangerines and fruit salad
Stuffing
Red Wine
Sprouts
Fizzy drinks
Parsnips
Grapes
Further information on food can be found in our in our  Healthy Eating booklet
Worries or concerns
Our helpline is open 24/7 over the Christmas period. If you have any concerns or worries, please do not hesitate to call us. There will always be a friendly person to listen and offer support. 0800 328 4257
We hope you have an enjoyable Christmas break and we look forward to continuing to support you in 2018.