24 May, 2019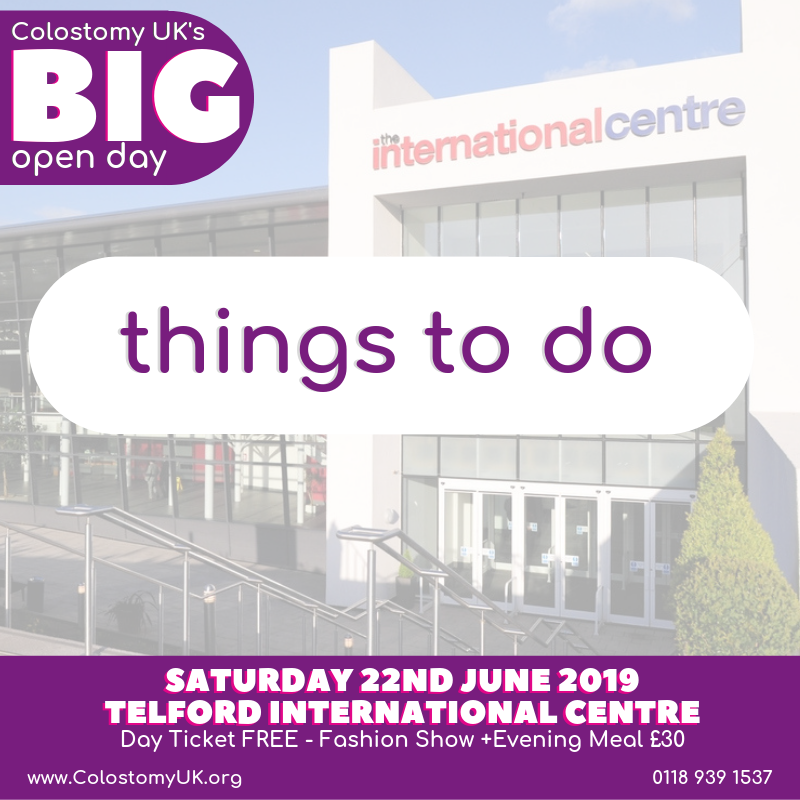 Our BIG Open Day takes place on Saturday 22nd June at Telford International Centre. We have lots of fun and informative things for you to get involved in!
Nutrition Q&A with Sophie Medlin
What you can eat with a stoma is a source of major confusion for many ostomates. The truth is that different foods affect people differently. If you have questions around healthy diet and how foods might affect you  be sure to come to our Q&A with dietician Sophie Medlin.
Exhibitors
We've got a great mix of companies exhibiting including: iMediciare, Trio Healthcare, Pelican Healthcare, Respond, Convatec, Coloplast, Salts Healthcare, Fittleworth, Clinimed, Securicare, Welland, Dansac,Hollister, Supportx,CUI Wear, Moore Blatch Solicitors as well as local stoma support group, Bums On Tums.
Active Ostomates Chair Yoga
Our Chair Yoga sessions are gentle excercise, suitable for all ages and all abilities. Stoma support groups across the country have been enjoying these sessions, so this is your perfect opportunity to give it a go.
Creative Minds Art Session

A great opportunity to explore your art and creativity in a fun and relaxed session. Come along and create your very own masterpiece! In partnership with our friends at Creative Minds, we'll be holding two free art activity sessions at our BIG open day on June 22.
Travel through Airports
The security team from Manchester Airport and Customer Assistance providers Omniserv will be in attendance to answer all your airport questions and queries.
Campaigns
The Colostomy UK team will be talking about all of our campaigns and projects including making more toilets 'stoma friendly' as well as updates on our Active Ostomates and Caring for someone with a stoma projects, work we are doing in UK airports, and much much more. This is a fantastic opportunity to meet the team face to face and give us your feedback and ideas or just say hi.
Nurse Appointment

We'll have a team of stoma Care Nurses in attendance. They'll be available all day for 30 minute 1 to 1 appointments. Ask any questions and get professional advice, in a private setting and where you have concerns thast need to be followed up, the stoma care nurse will work with your local health professional.

FASHION SHOW + EVENING MEAL TICKETS – £30
Our evening session kicks off at around 6pm with our Ostomate Fashion Show. This is one of our most popular features at our Open Day where our volunteer models strut their stuff on the catwalk. The theme this year is the four seasons and the show is sponsored by Convatec.
After this you'll be able to enjoy a three course meal and drinks. Please let us know if you have any special dietary or accessibility requirements.
TO BOOK TICKETS CALL 0118 939 1537