24 October, 2018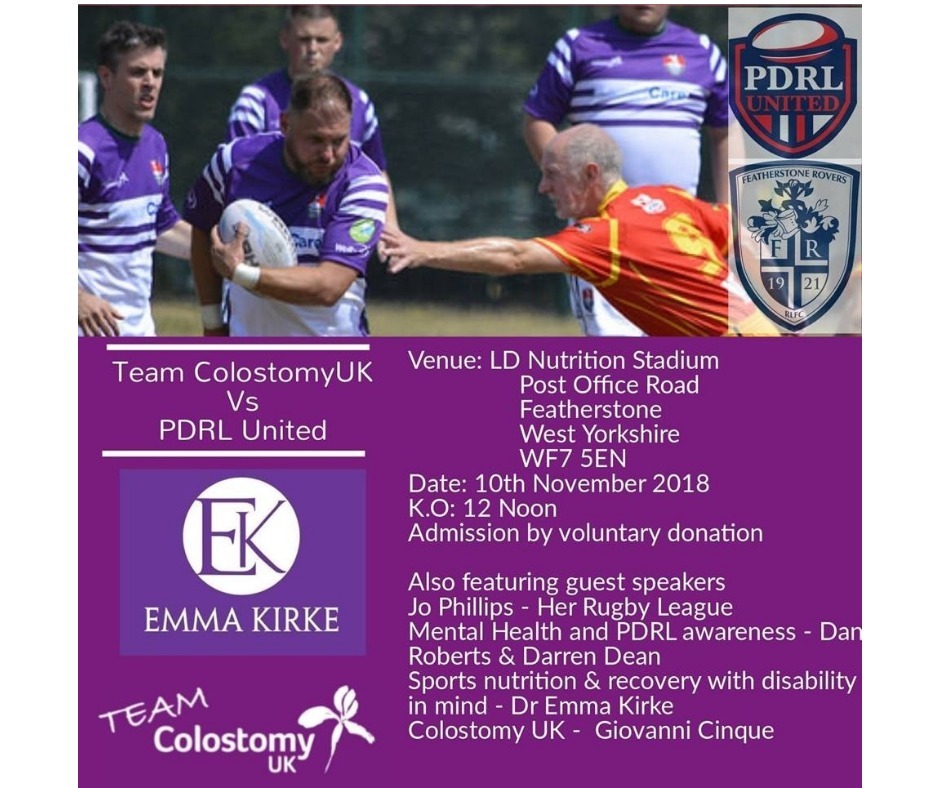 On Saturday 10th November our Team Colostomy UK Rugby League team will be travelling to West Yorkshire to take on a PDRL (Physical Disability Rugby League) select side known as PDRL United in a Touch Rugby League fixture.
The game will take place at the LD Nutrition Stadium, Post Office Road, Featherstone WF7 5EN with a Midday kick off, and will be followed by a raffle and social event featuring talks from Dan Roberts and Darren Dean on PDRL and Mental Health awareness, Jo Phillips from Her Rugby League, Emma Kirke on Sports nutrition and recovery with disability in mind, and Giovanni Cinque from Colostomy UK.
A number of organisations have supported this challenge and we're really grateful to all of them for their support:
Featherstone Rovers Foundation Head of Community Development commented on the game:
"We are very pleased that this event is being held at the LD Nutrition Stadium.
"As a foundation, we are always looking to increase our work within disabled sport and have an improved capacity to do so through our newest member of the team, Jim Dyson.
"Jim is the head coach of Leeds Rhinos and Scotland's Wheelchair Rugby League teams and we hope that this event can help us gain interest to do more work within disabled sport.
"It is set to be a historic occasion and therefore it is only fitting that it takes place at a ground with so much history."
Mike Robe photography who are one of the games' sponsors added:
" I started playing rugby myself when I was 16. Always wanted to keep involved with the amazing sport therefore decided to become a photographer after I stopped playing. To capture great events such as today.
Photos from today event will be posted on my Facebook and Instagram pages!"
AKR Photography
"Being a sponsor is not just about getting my name out there but a way to show my support for both causes. Also I'm looking to train with the PDRL lot to improve my fitness, a winter run-around!!"
Emma Kirke
"Having had cancer myself I was honoured to be asked to be involved with the TeamColostomyUK event in the first place, but I am humbled at how our pdrl players have banded together at such short notice and with such enthusiasm and pride."
"They have performed something most thought impossible in the time scale we had. Whatever happens on the 10th November, they should be as proud of themselves as I am proud to work with, step on the pitch with and call my friends."
"I know pdrl united will be thinking about Simon brown who generously sponsored the exclusive playing kit and all the other veterans that either play pdrl or will benefit from the funds raised. We will be observing a minutes silence prior to KO."
Entrance will be by voluntary donation to charity. Please come along and support us if you can!
For more information email giovanni.cinque@colostomyuk.org or call 0118 939 1537
For directions to the LD Nutrition Stadium visit https://www.featherstonerovers.co.uk/contact-us/