06 August, 2018

After the successful debut of our Team Colostomy UK Rugby League team on July 21st we're excited to announce two further fixtures.
On September  15th we travel to Beckenham to face the  South London Silverbacks Masters, then on November 10th our destination is West Yorkshire as we go up against PDRL United in Featherstone
South London Silverbacks were formed in 2014 and have spent the last four years spreading the gospel of Masters Rugby League far and wide including tours to France and hosting the Australian Masters side.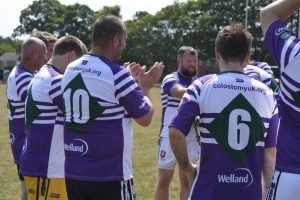 Team Colostomy UK Rugby League is part of the Colostomy UK 'Active Ostomates' project and aims to raise awareness of the Charity and of Living with a stoma, & also highlight that people with a stoma can do anything including playing the toughest of team sports.
Team Colostomy UK V South London Silverbacks at Club Langley, 2 Hawksbrook Lane, Beckenham BR3 3SR on  15 September 2018. Kick off time To be confirmed.
Team Colostomy UK V PDRL United at LDN Nutrition Stadium Featherstone November 2018. Kick off 12pm