02 October, 2019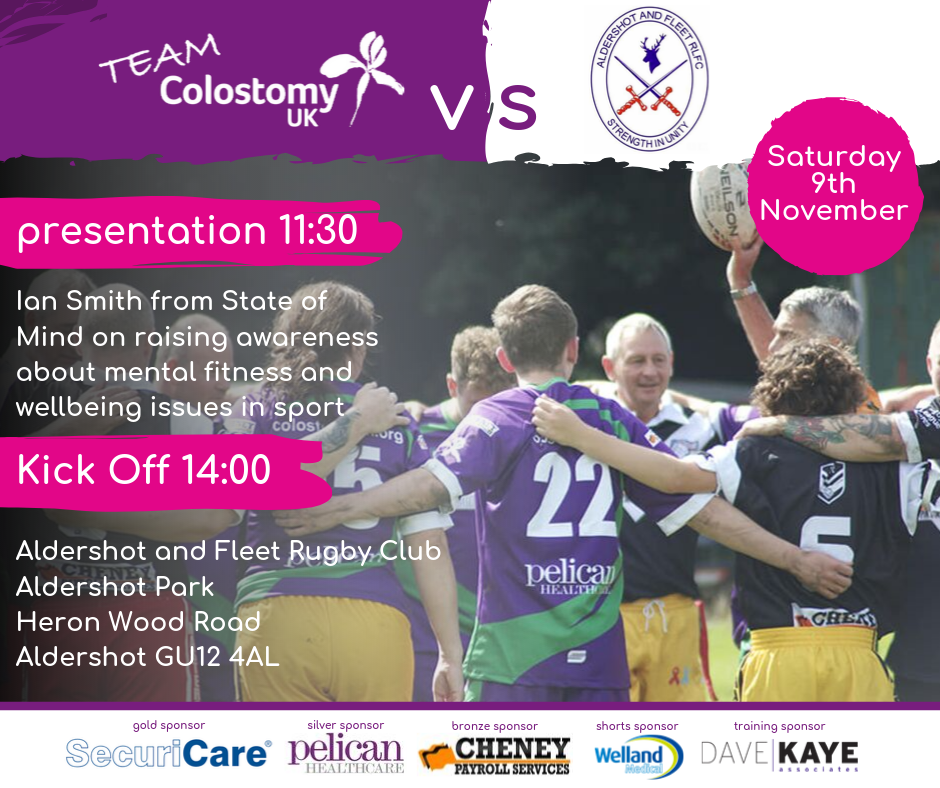 We're delighted to be able to announce that our last Team Colostomy UK Rugby League game of 2019 will take place on November 9th.
We'll be #TacklingTheStomaStigma against Aldershot & Fleet Masters as we travel to Hampshire to celebrate the end of our second season.
As well as the usual action on the pitch they'll be a bar and refreshments available & the chance to pick up some great merchandise.
Fingers crossed we may also have a special guest appearance!
If you've thought about having a run out for us why not make this the day you do! Just email Giovanni.cinque@colostomyuk.org for more details.
Masters Rugby League is suitable for all regardless of your age or fitness levels.
We're also delighted that the charity 'State of Mind' will be joining us on the day.
The State of Mind programme was established in 2011 with the aim of improving the mental health, well-being and working life of rugby league players and communities.
Their team of mental health and sport professionals deliver comprehensive education sessions throughout the UK in Super League, Championship and amateur clubs as well as colleges and community groups, aimed at raising awareness of mental health issues within sport.
Ex-Super League referee Ian Smith will be delivering the session for us.
The key objectives of the session are to:
Describe the symptoms of anxiety and depressed moods
Discuss issues of suicide prevention
List the signs of potential alcohol and drug misuse
Share information to improve mental fitness and wellbeing
Consider setting of goals and measures for overcoming adversity
Emphasise the importance of being part of a team supporting each other and how this translates from playing sport to the particular group
Encourage looking out for and responding to mates who might be experiencing problems.
Team Colostomy UK V Aldershot and Fleet Masters kicks off at 14:00 on Saturday November 9th.
The venue is Aldershot Park, Guildford Road, Aldershot, Hampshire, GU12 4BP. Admission is free. Please come along and bring your friends and family too!
The State of Mind session starts at 11.30at the same venue. Everyone is welcome but please let us know in advance if you would also like to attend.
For further info on the game and the State of Mind talk please email giovanni.cinque@colostomyuk.org or call 0118 939 1537