11 October, 2019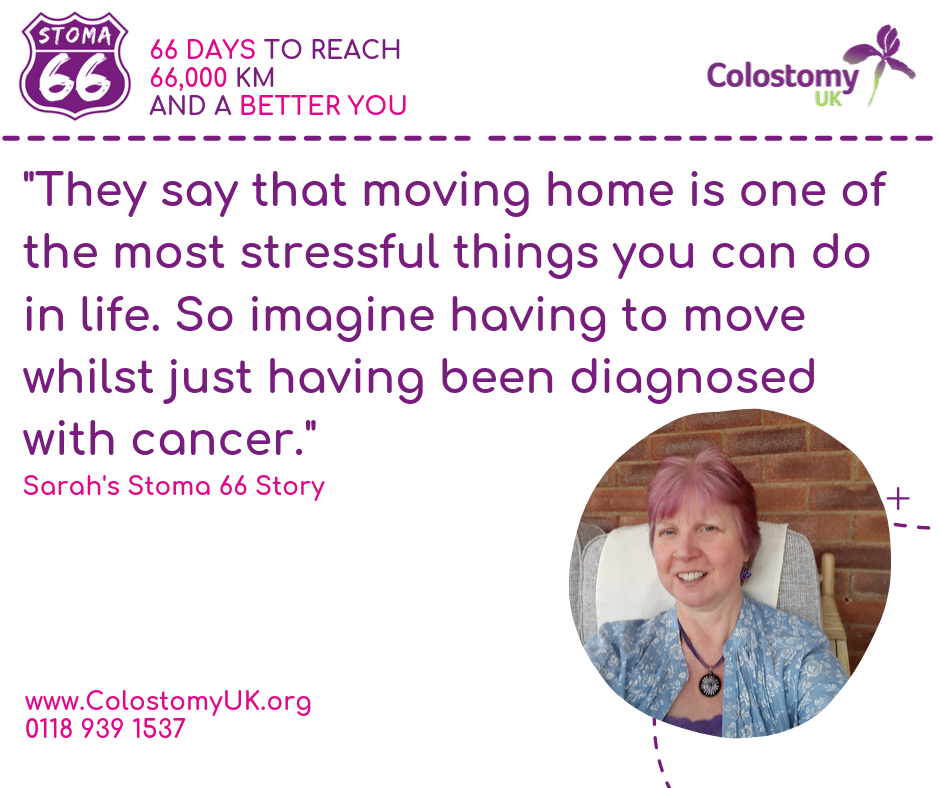 With over 625 people signed up to Stoma 66, we have had a great mix of people joining in from across the ostomy community. Here is Sarah's story of why she underwent stoma surgery and why she wanted to be involved in the challenge.
"They say that moving home is one of the most stressful things you can do in life. So imagine having to move whilst just having been diagnosed with cancer. That was the challenge that met me at the end of 2018.
I was moving from the North East of England back to Suffolk, where I grew up and family still live. I had also recently been diagnosed with bowel cancer. You can only imagine what a hectic time this was. I was busy downsizing, packing boxes, searching for somewhere new to live…I really didn't have time for a health scare!
Most frustratingly, due to the move,  I had to start the whole process of hospital appointments again and practically from scratch. Imagine my shock when one consultant I might not even have cancer !As such new scans were arranged whilst all the while I was experiencing severe bouts of sickness where I could keep nothing down.
The scans came back and within hours I was having emergency surgery to remove a tumour which had started in the large bowel and was now wrapping itself round my small bowel.
I woke some hours later in Critical Care, with various tubes and drains sticking out of me and a newly formed most peculiar little pink thing to the right of my belly button as I looked down – an ileostomy.
My operation was December 6th and I was discharged at around 7pm on Christmas Eve, after a quiet christmas recovering from home I started chemo 7th February, on my 51st birthday!
A few months down the line, just before Easter, I finally moved into my new home with my youngest son who was home from university. At this point I was about halfway through my chemo and just had enough energy to unpack and make myself comfortable in the new house before I started to get pains again. Back to hospital to have my gall bladder removed and my chemo was put on hold.
I recovered quickly but then found the second half of chemo exhausting, I got more and more sleepy each cycle and even now it is finished I'm left with tingly, achy feet and fingers from the peripheral neuropathy.
I feel Stoma 66 has come at just the right time for me as I start building up my strength again. Before I moved, I regularly walked with a group of friends on Monday morning and an occasional Saturday. I've never been super fit but we did manage a good walk and were actually beginning to push ourselves further. I visited the girls the other week, they planned a shorter, flattish walk especially for me. It was only 3 miles and I was exhausted afterwards!
My Stoma 66 journey will finish just after the year anniversary of my life saving operation, what perfect timing to get some sponsorship and raise some money for Colostomy UK.
The closed facebook page in particular has been a great place of support and encouragement. Just knowing you are not alone is invaluable.
So my goal really is to be fitter, be more active and just enjoy life to the full without letting my stoma stop me!"
–
Want to know more about Stoma 66 or sign up? Find out how here https://www.colostomyuk.org/stoma66/
Did you know our sport & fitness after stoma surgery booklet is full of hints & tips to get you active after surgery. From team sports to exercises you can try in your own home. Download your copy here: https://www.colostomyuk.org/wp-content/uploads/2018/06/Active-Ostomates-Sport-and-fitness-after-stoma-surgery.pdf or call us on
0118 939 1537
Colostomy UK also offer a range of 'Active Ostomates' activities through support groups. To find out what's happening near you call us on 0118 939 1537 or email info@colostomyuk.org