06 November, 2017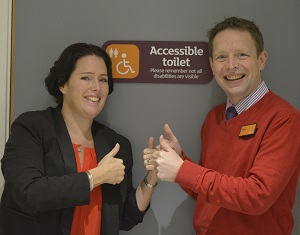 We are delighted to announce that leading supermarket chain, Sainsbury's is the first in the UK to commit to making all their accessible toilets stoma friendly. The first store with the new facilities is in Redhill, Sussex. A nationwide roll-out begins in 2018. Along with ensuring that every accessible toilet will have a shelf and a hook, Sainsbury's will be changing all their signage to promote the fact that not all disabilities are visible.
https://www.about.sainsburys.co.uk/discover-more/our-stories/2017/making-our-toilets-more-inclusive
Find out more about our campaign for stoma friendly toilets and how you can make simple changes that empower and support people with a stoma.